Alpha Natural Resources (ANR) is among the leading coal companies of the U.S. ANR has exposure to both met and thermal coal markets. The company's performance in recent quarters has been negatively affected by tough coal market conditions. Tougher environmental regulations and excess coal supply have adversely affected coal prices. Met coal markets are likely to remain challenging in the near-to-medium term due to excess supply; however, the thermal coal market will benefit from a rise in natural gas prices and higher coal-fired electricity generation. Despite the tough coal market conditions, the company has enough liquidity to survive the industry downturn. Also, the company is considering selling its stake in non-core assets to strengthen liquidity.
Challenging Met Coal Market
Weak Chinese coal demand and excess coal supply from Australian producers due to a weak Australian dollar have limited a met coal price recovery. Recently, the quarterly met coal benchmark price for 3Q14 settled at $120 per ton (a six-year low), flat quarter-on-quarter. In the last two years, 40 million tons of production cuts are being observed. Despite the production cuts, the met coal market is still believed to be 30 million tons oversupplied, calling for more production cuts, according to Moody's. Cliffs Natural Resources (NYSE:CLF) and ANR have responded to weak quarterly benchmark price settlement for 3Q14 and announced they would reduce their met coal productions. CLF and ANR have announced to close their Pinnacle mine and Cherokee met coal mine, respectively. ANR has been consistently reducing its met coal production due to consistent weak met coal prices; in February, ANR announced it would cut its met coal production by 2 million tons, and in May, additional production cuts of 1.5 million tons for 2014 were announced by the company. The following are the quarterly met coal benchmark prices.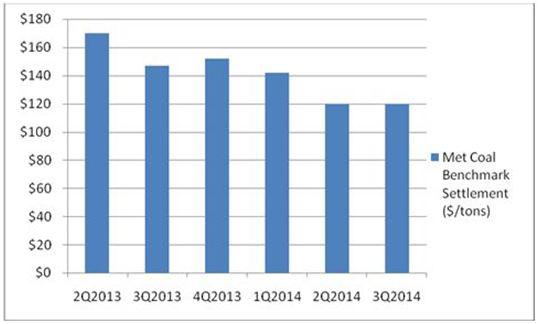 As we are heading into the earnings season, I believe weak met coal prices and rail issues will continue to challenge the performance of coal companies. ANR is scheduled to report 2Q14 results next month on August 6th. The company will provide its sales and production volume guidance. Also, as the met coal market remains weak, I believe ANR could announce additional met coal production cuts. Also, the company is likely to update its plans of non-core asset sales, including the Rice Energy shares owned by the company.
Liquidity
As conditions in the coal industry remain tough, ANR has been making efforts to preserve cash and improve its financial flexibility. The company has been focusing on costs cuts, CAPEX reduction and extending debt maturities to survive through the industry downturn. In 2Q14, ANR issued $500 million senior secured notes due in 2020. The proceeds of the issue will be used to repay a portion of the near term outstanding debt maturities. Also, ANR amended its credit facility, which suspended the interest coverage ratio until 1Q16. Moreover, to improve its liquidity, the company has an option sell its stake in Rice Energy (non-core assets), which is worth approximately $250 million. ANR ended 1Q14 with liquidity of more than $2 billion, including cash equivalents of $1.2 billion. The company has enough liquidity to survive the industry downturn for the next three years, according to UBS analyst Kuni Chen.
Conclusion
As the met coal market remains weak, I believe coal companies need to announce additional production cuts, which will help a met coal price recovery. As the industry conditions remain tough, ANR has been taking the right steps to preserve cash through cost cuts and CAPEX reduction. Also, the company has a strong liquidity position, which will allow the company to survive through the difficult industry conditions. Moreover, the company has an option to sell its stake in Rice Energy, which will boost its liquidity position and lower its balance sheet risk. I recommend investors keep track of the upcoming earnings release, as additional production cuts will portend well for the industry.
Disclosure: The author has no positions in any stocks mentioned, and no plans to initiate any positions within the next 72 hours. The author wrote this article themselves, and it expresses their own opinions. The author is not receiving compensation for it (other than from Seeking Alpha). The author has no business relationship with any company whose stock is mentioned in this article.