Transocean (NYSE:RIG)-controlled, Transocean Partners LLC (Pending:RIGP), a Scottish-domiciled company, filed an amended S1 today (July 22) further detailing their plans to commence an initial public offering. Expected net proceeds are expected to be as much as $423 million (before fees). RIGP intends to pay a minimum distribution of $1.45/unit on a quarterly basis; at the high end, $21/common unit, of the IPO range, RIGP would yield 6.9%.
Following the IPO (assuming exercise of the underwriters' provision), RIG would own 49% of RIGP and hold 27.6 subordinated units; the expected annual distributions to RIG from the common and subordinated units would be $31 and $40 million, respectively.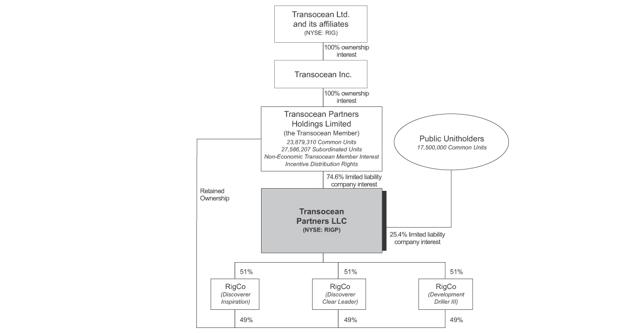 Click to enlarge
Source: RIGP S1/A
The initial assets of RIGP will be three rigs, drillships Discoverer Inspiration and Discoverer Clear Leader and the semisubmersible Development Driller III, contributed by RIG in exchange for its ownership interest and other consideration. The rigs are all under contract, two with Chevron and one with BP, with an average remaining term of 4 years.

Click to enlarge
Source: RIGP S1/A
It is contemplated, under a first right of refusal agreement, that RIG will sell RIGP 51% of six under-construction rigs. All six of the rigs are under contract, with terms ranging from approximately three, to ten years.

Click to enlarge
Source: RIGP S1/A
The Master Limited Partnership structure, commonly known as "MLP", is ideal for assets that have a consistent cash flow, as do contracted rigs. As the assets and cash flows are very specific and highly certain, it makes it easier for the manager to secure low(er) cost funding than for a larger organization with diverse assets and interests (even under a secured transaction due to cross-default and operating risks). MLP's are also tax-free (to the manager), avoiding the double taxation of dividends.
In 2012, Seadrill (NYSE:SDRL), a competitor of RIG, spun off four of its rigs to Seadrill Partners; the entity identified nine rigs in its most recent annual report. This transaction appears to have been the inspiration for this, and other, underwater driller MLP transactions. Going forward, RIG will likely spin off 51% of its new rigs to RIGP, gaining cash and a consistent distribution from the transactions, while retaining potential upside from its remaining 49% interest in the rigs.
A potential conflict of interest for future RIGP holders may derive from all of the officers and directors also serving as executive officers of RIG (or its affiliates). However, investors should realize the entity will likely serve multiple masters as the RIGP transaction is an outgrowth of activist investor Carl Icahn's challenges to RIG in 2013.
Summary
RIG is, following Icahn's prompting, creating a structure in RIGP, which will allow it to maximize the value of certain assets through access to lower cost funding while providing maximum cash flow to the parent (and unit holders). Given that distributions are healthy, and secured over the medium term by in-place contracts, at an initial +/- 7%, and the underlying assets have appreciation potential (due to the current depressed state of the rig market), RIGP appears to be a reasonable investment vehicle for investors who desire a healthy income stream. RIG should benefit by having a vehicle to raise cash (through the sale of new rigs), while also receiving a predictable stream of distributions.
The author previously wrote about underwater drillers and their financing activities.
The author makes no recommendations to investors. Always do your own due diligence and make your own investment decisions.
Disclosure: The author is long RIG, SDRL. The author wrote this article themselves, and it expresses their own opinions. The author is not receiving compensation for it (other than from Seeking Alpha). The author has no business relationship with any company whose stock is mentioned in this article.