Asia Payment Systems (ticker: APYM.ob) is developing a credit card processing network that provides clearing services to merchants, oil companies, and financial institutions in China. Here are key quotes from an interview we did with President and CEO Matt Mecke (permission to post comments granted):

On Bank of America's (ticker: BAC) recent acquisition of credit card company MBNA (ticker: KRB)
....I don't really see the MBNA deal affecting our China business. It seems these guys are so far away from the source. Chase is huge. Bank One is huge. BofA/MBNA are huge but none of these guys have any penetration in China. China is a 99% domestic pin debit market. It will take years and years for demand to pick up beyond an even 20 Million credit card level in China and already so many domestic and foreign banks are competing for such a small pie.

On credit bureaus
....As for the need for credit bureaus for domestic and international financial institutions, I believe this bodes very well for us. One government backed domestic credit bureau in China will be the first step. The second step which the Chinese govt. recognizes and I think supports is the continued growth of more and better credit information agencies to fill out the picture for banks and their related China customers.

On Beijing Purple Stars (BPS) -- a provider of credit rating services
....As for our relationship with BPS, we have intended to partner with one of the 3 US credit bureaus and allow for their participation to include ownership which will increase over time. Our goal has not been to support any one financial institution but to setup universal access to our credit files for any and all licensed users. Yes I believe there will be foreign partnership/ownership opportunities and, of course, the highest bidder will get what they want in the end, but the intent is to operate the system for the best use of all financial institutions.

On foreign competition
....I am pretty skeptical about some US credit manager or card manager dropping into China and making any headway; at least not without good local partners and a great deal of understanding of the local marketplace and consumer. This takes 2-5 years if you get it right. The other problem these guys face is they have too much money and muscle. If you pour 100-500 million USD into the country to make things "work", how will you ever setup the right kind of system to be able to cooperate with Chinese partners for a profitable 50+ year relationship? It's hard for me to see this happening from the other side of the world.

Comment: More on APYM here.
If you operate a Chinese company or a company doing business in China we would be interested in interviewing you for The China Stock Blog. Please send us an e-mail.
APYM chart.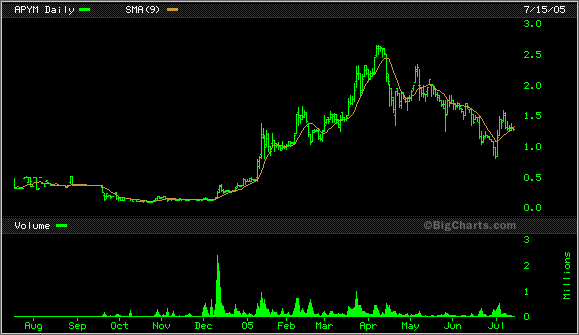 Disclosure: I am LONG Asia Payment Systems (ticker: APYM.ob).