Developer Unit9 Games just released their first game for Google's (NASDAQ:GOOG) (NASDAQ:GOOGL) new Android Wear smartwatches. The game is known as Swip3. Google's ultimate goal is to grow its search business beyond PCs, tablets and smartphones with the help of Android Wear, and the recent release of Swip3 indicates that Google is successfully advancing towards that goal. In one of my SA articles on Google nearly one and a half year ago, I pointed out that the company developed Glass for boosting its search business by making the concept of hands-free display a reality. Launch of Android Wear is another step in that direction.
Search is Google's primary business and the company has no plans to exit the business. When Google co-founders Sergey Brin and Larry Page were asked whether they could "imagine Google becoming a health company? Maybe a larger business than the search business or the media business?" Their response was a straightforward, "no."
Google's Search Business Growth May Taper Off
The latest data from comScore shows that Google's search business market share remains at last month's peak of 67.6%, while that of Yahoo (NASDAQ:YHOO) has fallen below 10% for the first time ever. Meanwhile, Microsoft's (NASDAQ:MSFT) Bing rises to an all-time high. I believe that Google's search business growth may taper off going ahead partly due to the rise of Bing, which is growing at the expense of Yahoo.
According to a research report, the global wearable computing market will grow at a CAGR of 43.4% from around $5 billion forecast for 2013 to $9.2 billion in 2014 and more than $30.2 billion forecast for 2018. Google needs new avenues in order to grow its market share, and Android Wear could act as a huge impetus for the company's stagnant search business over the long-term.
Android Wear could Boost Growth in the Long Run
In my aforementioned SA article I noted that Google X director and former head of Google Glass Babak Parviz believes that there is a history of evolution in computing and communication technology, and in the continuum of communication techniques, which currently begins with speech and ends with smartphones, Google Glass is the next innovation.
Parviz said a few days ago that the impetus behind Glass was about reducing the time it takes to make and receive results from a search query, from about 10 seconds as it stands on a smartphone to far, far less. Clearly, Glass has tremendous potential to drive Google's ad revenues from search.
Google wants to make sure that its search business thrives on Android Wear, its operating system for wearable devices. Android Wear isn't just for smartwatches; its approach is more contextual. Google developed Android Wear to grow its search business based on Google Now, which works by monitoring users' search patterns, web history and app use. Although Google will initially focus on smartwatches for the growth of Android Wear, eventually it will extend the platform to a wide range of body-fitting devices. With Android Wear, Google's real competitive advantage lies in its massive apps that already run on Android.
Android Wear aims at delivering search results that will fit on the tiny screen of a wearable device, such as Glass or smartwatch. In the smart variety, LG recently introduced its G Watch, and Motorola Mobility launched Moto 360, both of which will run on Android Wear. Furthermore, Asus (OTC:ASUUY), HTC (OTC:HTCKF) and Samsung (OTC:SSNLF) are also coming up with their smartwatches. Android Wear's appeal lies in the streamlined user interface (UI) of the wearable devices. The UI combines simple contextual information, verbal commands and swiping for retrieving and reading search results on the wrist. In case of Glass, search results appear directly on the head.
Valuation
Google's search business generates revenue by displaying ads, and I expect that the company will be successful to grow revenue from its newer products in the long run. However, revenue growth is expected to taper-off in the near term and Android Wear isn't expected to boost the growth immediately. In one of my SA articles on Google two years ago, I predicted that Google was heading towards $1200 (pre-split). At that time, Google was trading below $600, and I saw huge value in its search business.
Right now, however, Google appears expensive compared to competitors like Apple (NASDAQ:AAPL) and Microsoft in terms of Price to FCF. I believe that Google is a "hold" at the current price and a 20% correction would provide an attractive entry point for long-term investors.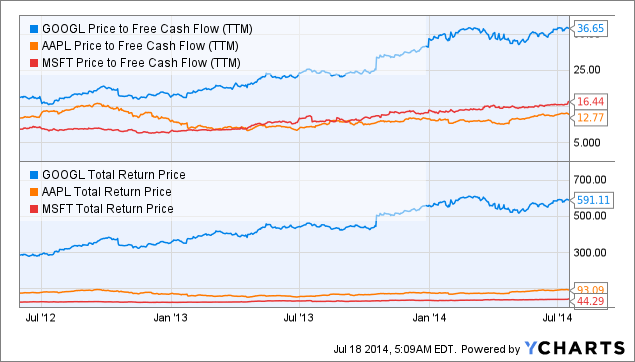 GOOGL Price to Free Cash Flow (TTM) data by YCharts
Conclusion
Google developed Android Wear in order to give its search business a new dimension, with voice taking the primary place in the overall search experience. Although smartwatches have long struggled to gain traction in the marketplace, I believe that Android Wear has the potential to completely change the scenario.
Disclosure: The author has no positions in any stocks mentioned, and no plans to initiate any positions within the next 72 hours. The author wrote this article themselves, and it expresses their own opinions. The author is not receiving compensation for it (other than from Seeking Alpha). The author has no business relationship with any company whose stock is mentioned in this article.