The last time I wrote about Amgen Inc. (NASDAQ:AMGN) I stated, "Due to the low dividend payout ratio, inexpensive valuation based on next year's earnings estimates, and the stock price going on sale after earnings, I will be pulling the trigger here right now just on a small batch." Since the article was published the stock has popped 4.67% (it even got up to an 8% gain) versus the 5.05% gain the S&P 500 (NYSEARCA:SPY) posted. Amgen is a global biotech company (the first of its kind) which discovers, develops, manufactures and delivers human therapeutics.
On April 22, 2014, the company reported first-quarter earnings of $1.87 per share, which missed the consensus of analysts' estimates by $0.07. In the past year, the company's stock is up 8.81% excluding dividends (up 10.71% including dividends) and is losing to the S&P 500, which has gained 16.64% in the same time frame. Since initiating my position back on May 28, 2013, I'm up 6.12% inclusive of reinvested dividends and dollar cost averaging. With all this in mind, I'd like to take a moment to evaluate the stock to see if right now is a good time to purchase more for the healthcare sector of my dividend portfolio.
Fundamentals
The company currently trades at a trailing 12-month P/E ratio of 19.32, which is fairly priced, but I mainly like to purchase a stock based on where the company is going in the future as opposed to what it has done in the past. On that note, the 1-year forward-looking P/E ratio of 13.61 is currently inexpensively priced for the future in terms of the right here, right now. Next year's estimated earnings are $8.74 per share and I'd consider the stock inexpensive until about $131. The 1-year PEG ratio (2.4), which measures the ratio of the price you're currently paying for the trailing 12-month earnings on the stock while dividing it by the earnings growth of the company for a specified amount of time (I like looking at a 1-year horizon), tells me that the company is expensively priced based on a 1-year EPS growth rate of 8.04%. Below is a comparison table of the fundamental metrics for the company for when I wrote all articles pertaining to the company.
| | | | | | | | |
| --- | --- | --- | --- | --- | --- | --- | --- |
| Article Date | Price ($) | TTM P/E | Fwd P/E | EPS Next YR ($) | Target Price ($) | PEG | EPS next YR (%) |
| 19Aug13 | 104.91 | 17.63 | 12.67 | 8.28 | 124 | 1.5 | 11.69 |
| 21Nov13 | 112.25 | 17.76 | 13.81 | 8.13 | 122 | 1.97 | 9.03 |
| 17Feb14 | 123.84 | 18.65 | 14.21 | 8.71 | 131 | 2.65 | 7.03 |
| 24Apr14 | 113.72 | 17.13 | 13.05 | 8.72 | 131 | 2.47 | 6.94 |
| 21Jul14 | 119.03 | 19.32 | 13.61 | 8.74 | 131 | 2.40 | 8.04 |
Financials
On a financial basis, the things I look for are the dividend payouts, return on assets, equity and investment. The company pays a dividend of 2.05% with a payout ratio of 40% of trailing 12-month earnings while sporting return on assets, equity and investment values of 7.8%, 21.7% and 10.5%, respectively, which are all respectable values. Because I believe the market may get a bit choppy here and would like a safety play, I don't believe the 2.05% yield of this company alone is good enough for me to take shelter in for the time being. The company has been increasing its dividends for the past 4 years. Below is a comparison table of the financial metrics for when I wrote all articles pertaining to the company.
| | | | | | |
| --- | --- | --- | --- | --- | --- |
| Article Date | Yield (%) | Payout TTM (%) | ROA (%) | ROE (%) | ROI (%) |
| 19Aug13 | 1.79 | 27 | 8.6 | 23.2 | 10.8 |
| 21Nov13 | 1.67 | 30 | 9.0 | 24.0 | 10.8 |
| 17Feb14 | 1.97 | 37 | 8.9 | 24.2 | 10.5 |
| 24Apr14 | 2.15 | 37 | 8.9 | 24.2 | 10.5 |
| 21Jul14 | 2.05 | 40 | 7.8 | 21.7 | 10.5 |
Technicals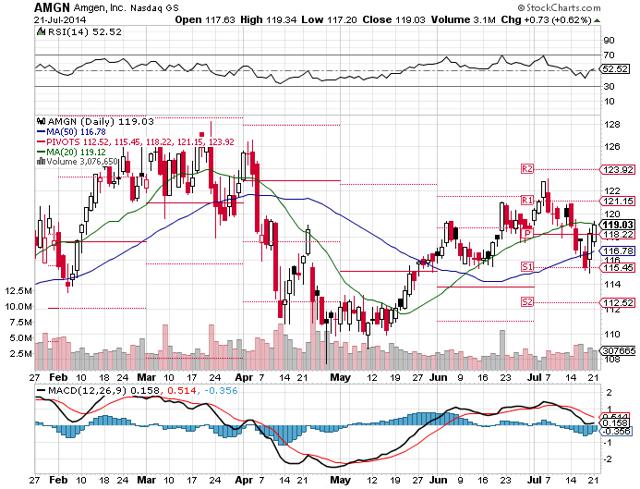 Looking first at the relative strength index chart [RSI] at the top, I see the stock muddling around in middle-ground territory with upward trajectory and a current value of 52.52. I will look at the moving average convergence-divergence [MACD] chart next. I see that the black line is below the red line with the divergence bars increasing in height. As for the stock price itself ($119.03), I'm looking at $121.15 to act as resistance and $118.22 to act as support for a risk/reward ratio, which plays out to be -0.68% to 1.78%.
A Success In The Pipeline?
Amgen recently announced successful results for its Phase 3 thyroid drug product. In testing safety and efficacy of the product AMG 416, the company found that the treatment achieves its primary endpoint and all secondary endpoints for secondary hyperparathyroidism. Secondary hyperparathyroidism is the excessive secretion of parathyroid hormone in response to hypocalcemia and associated hypertrophy of the glands. Common symptoms for this condition include bone and joint pain. Failing kidneys are the cause of secondary hyperparathyroidism because they can't break down vitamin D, thereby creating insoluble calcium phosphate, which displaces calcium. This displacement leads to hypocalcemia, thereby causing secondary hyperparathyroidism. About 4 to 5 out of 100 people in the US are affected by this problem (or roughly no less than 12,736,680 people). I can't even hazard a guess at how much this product would sell for, but just with the sheer number of individuals who may have this predicament you can imagine what it can do for the top line of the company. AMG 416 is administered intravenously in patients who have failing kidneys and are receiving hemodialysis. The mechanism by which AMG 416 works is that it binds to a receptor site and activates the calcium-sensing receptor on the parathyroid gland, which causes a decrease in the parathyroid hormone.
Upcoming Earnings Report
Amgen is by far my largest healthcare position that I'm invested in, and is set to report earnings on the 29th of July after the market closes. Of the 20 analysts covering the company, the mean estimate for the quarter is $2.07, with a high of $2.20 and a low of $1.94. Last year's second-quarter earnings were $1.89, so analysts are expecting a 9.5% increase. Revenue estimates are coming in at $4.91 billion, with a low estimate of $4.78 billion and high estimate of $5.05 billion. The company has surprised on earnings three times out of four during the past year, with a minimum beat of 8.3% and a maximum beat of 9.6%. However, last quarter's earnings were a disappointment of about 3.6% when compared to analyst estimates.
Conclusion
The stock has definitely been a rollercoaster ride during the past year, touching the $120 mark few times and then dropping back down to the $110 mark a handful of times. Fundamentally, I believe the stock to be inexpensively valued on next year's earnings estimates but expensive on earnings growth expectations. Financially, the dividend is pretty small but has room to grow in the future; however, the financial efficiency ratios have decreased from the last time I reported. On a technical basis the stock seems to be starting some bullish momentum and the risk/reward ratio looks to be a bit appealing right now. I anticipate the stock to run up into earnings next week, but I'm going to hold off on buying a new batch until after the company reports earnings.
Disclaimer: This article is meant to serve as a journal for myself as to the rationale of why I bought/sold this stock when I look back on it in the future. These are only my personal opinions and you should do your own homework. Only you are responsible for what you trade and happy investing!
Disclosure: The author is long AMGN, SPY. The author wrote this article themselves, and it expresses their own opinions. The author is not receiving compensation for it (other than from Seeking Alpha). The author has no business relationship with any company whose stock is mentioned in this article.