By Craig Bowles
Overview
Deckers Outdoor, Corp. (NYSE:DECK) is slated to report 2Q 2014 earnings after the bell on Tuesday, June 24th. The earnings release is expected at approximately 4:00 p.m. EST followed by a 4:30 p.m. conference call available at Deckers Investor Relations. The outdoor footwear and apparel company is most widely known for their UGG boots.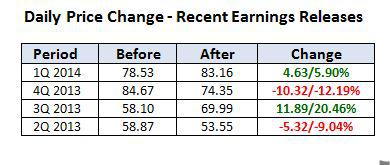 Outliers & Strategy
Key measures:
Earnings Per Share: The Street estimate is -$1.28 (range -$1.34 to -$1.12) (source: Yahoo! Finance). The company normally produces a "clean" earnings number. The estimate was -$1.02 three months ago.
Revenues: Analysts expect an increase of 12.9% y/y to $192.01 mln (range $188.50 mln to $198.10 mln).
Earnings Per Share Guidance for 3Q2014: The current Street estimate is $1.13 (range $0.82 to $1.37).
Earnings Per Share Guidance for FY2014: The current Street estimate is $4.69 (range $4.60 to $4.92).
Revenue Guidance for 3Q2014: The current Street estimate is $441.33 mln (range $421.95 mln to $459.00 mln).
Revenue Guidance for FY2014: The current Street estimate is $1.80 bln (range $1.78 bln to $1.82 bln).
Deckers insiders sold 21,788 shares over the last twelve months and 33,392 over the last three months. The company has been active doing stock buybacks of at least 5% and they have a lot of cash available but there's no information since last year indicating this is ongoing.
Price/Book of 3.4, Price Sales of 1.9, P/E of 21.1, and Price/Cash Flow of 10.2 seem reasonable for the industry but the last two have shown better value when compared to the 5-year average.
Deckers shares have a 1-day average price change on earnings of 8.30%. Options are pricing in an implied move of 10.54% off earnings.
Recent News
07/01 Macquarie downgraded Deckers Outdoor to Neutral from Outperform due to valuation and increased caution for the UGG Australia footwear line following Nike's comments regarding recent labor and material cost increases, in a post by StreetInsider.com.
06/30 Sterne Agee reiterates a Buy rating and $95 price target after meeting with Deckers' management. Sterne Agee is optimistic due to opportunities in multiple brands and the market trend for classic/comfort, according to InvestorsHub.com.
06/20 Wells Fargo initiated coverage on Deckers Outdoor with an Outperform rating and $92.00 to $98.00 valuation range while noting strong demand for UGG this past winter and the diversification of the product line. Lower production costs and investment leverage could accelerate EPS growth and operating margin expansion. The company has $7.00 per share in cash and no debt, according to a post on Benzinga.com.
05/19 Citigroup initiated coverage of Deckers Outdoor with a Buy rating due to expected strong momentum in 2014. The company had to battle an 80% spike in sheepskin costs in 2011-2012 which pushed management to focus on establishing more diversified, sustainable business models, according to a post on Benzinga.com.
Technical Review
Deckers nearly tripled since the Q4 2012 low but 2014 couldn't push above $88. Support is mostly above $76, so traders will favor the buy side above that. Shares spent much of 2011 between $80 and $100, so it's conceivable that they may return to the range. It's difficult to find more than a couple of percentage points of upside potential from chart comparisons with other shoe companies, however. (Chart courtesy of StockCharts.com)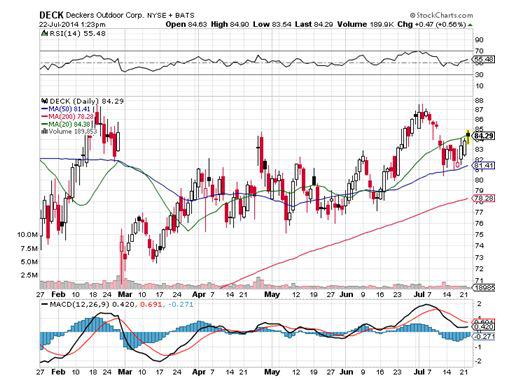 Summary
Deckers Outdoor gets most of their revenue from the famous UGG boots which is a worry as styles eventually change. Progress in diversification seems to be closely watched by analysts and appears to be progressing nicely. The company has beaten consensus estimates by close to 20c three out of the last four quarters, so probably needs to do so again with solid guidance for a positive market response.
DISCLAIMER: By using this report, you acknowledge that Selerity, Inc. is in no way liable for losses or gains arising out of commentary, analysis, and or data in this report. Your investment decisions and recommendations are made entirely at your discretion. Selerity does not own securities in companies that they write about, is not an investment adviser, and the content contained herein is not an endorsement to buy or sell any securities. No content published as part of this report constitutes a recommendation that any particular investment, security, portfolio of securities, transaction or investment strategy is suitable for any specific person.
Disclosure: The author has no positions in any stocks mentioned, and no plans to initiate any positions within the next 72 hours. The author wrote this article themselves, and it expresses their own opinions. The author is not receiving compensation for it (other than from Seeking Alpha). The author has no business relationship with any company whose stock is mentioned in this article.