It has come to my attention there has been several bearish articles permeating from the blog space that appear to be most unenlightening. Misconceptions about DCF coverage, rising interest rates, and other risks appear prevalent among some investors.
This article will not only seek to refute what are in my opinion misguided publications, but will also seek to illuminate fellow investors in a positive yet realistic perspective on Kinder Morgan Energy Partners LP's (NYSE:KMP) financial status.
Shedding Light on DCF (Distributable Cash Flow) Coverage:
For starters, the article "Take Profits In Kinder Morgan Energy Partners" was published just after Q2 earnings and in my opinion was written with somewhat of a bearish spin.
In this hit piece, the author exclaimed disappointment over DCF levels at Kinder Morgan Energy Partners LP, and highlighted inadequate DCF growth for Q2 and a displeasing distribution payout of $1.39, a 5% increase year over year. Unwittingly, however, the author singled out these 3 months of operation and tried to explain how the DCF coverage ratio of 88% for this quarter was too low for comfort, and actually decreased from last year since new unit issuances accelerated. This was an interesting maneuver, but it's highly inaccurate because KMP plans for this shortfall every year. Therefore, singling out Q2 alone would be similar to tasting a burger bun without the patty. During the Q2 conference call, Kim Dang, CFO and VP explained:
"And as we tell you every quarter, we expect to have negative coverage in the second quarter and the third quarter, positive coverage in the first and the fourth and excess coverage for the full year. Year-to-date, we are right on top of the declared distribution. We've generated $2.77 and declared $2.77, so flat coverage year-to-date."
So there you have it; 100% DCF coverage year-to-date despite new unit issuances, and an estimated possible excess coverage for full-year 2014 even after the increased distribution. Forward looking, expect another DCF coverage shortfall for Q3 as planned every year and thus a first 9-month 2014 negative coverage, but then a bountiful Q4 DCF number which will more than compensate for Q3.
The 2nd part of the DCF misconception touches on share issuances and DCF/unit, in which the author seemed concerned of KMP's ability to fund projects accretive enough to justify new unit issuances. The fact is management has done a great job of investing new unit holder money wisely, and this can be proven by 26 consecutive years of distribution increases. Incase this doesn't eliminate doubts, let's focus on more recent events, specifically the first 6 months of 2014 versus the first 6 months of 2013 DCF results:

It's fairly easy to see that although the author is correct in saying the units outstanding increased, by my calculation of 14.68%. However, DCF growth of 18.86% did in fact outpace this dilution by a net 3.74% on a per unit basis. 3.74% is not really that strong, but keep in mind the proceeds from the new units issued in the recent period have probably not had a chance to become fully accretive yet.
Like the author, I too expect a similar pace of unit issuances, as KMP's project backlog now stands at $16.4B, but this should be no surprise. If 2014's DCF coverage is 1.00x or just over, common sense says issuances and/or debt will be needed for much of KMP's expansions. Perhaps the difference in my perspective is I trust management will do it in an accretive fashion, as proven by 26 years of DCF increases while keeping the debt load steady relative to EBITDA: (click to enlarge)

The 2nd bashing of Kinder Morgan was done so in the article "Hidden Leverage At Kinder Morgan," wherein the author attempted to highlight Kinder Morgan Inc.'s (NYSE:KMI) debt load and the GP IDR relationship it has with Kinder Morgan Energy Partners.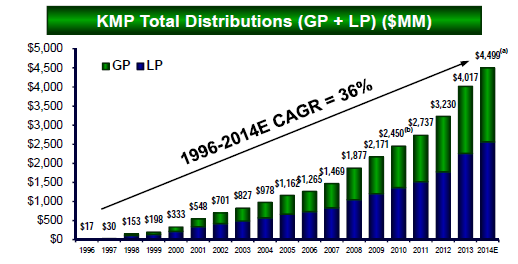 First off, it's no mystery KMI gets distributions in the form of IDR payments as well as from regular unit ownership in KMP. Kinder Morgan has more than adequately educated investors of this relationship since day one, and does so every quarter in their investor presentations. But what really strikes me as strange is the author feels KMI's debt is dangerous since it relies on KMP to perform and generate revenue, which also has debt. This perspective sort of spins the situation into a debt on top of debt-scenario, which is inaccurate. I dare to ask, how is this different than ANY other business? Does IBM's customers (source of revenue) have debt? Yes! Does Walmart's customers (you and I) have debt? Yes! So I ask you, what is the difference? There is none.
Let's entertain the naysayers and imagine for a moment KMI, the standalone GP entity as we know it, didn't exist. Instead, let's imagine KMP owned the GP IDRs and the extra KMP units, much like how Enterprise Products Partners (NYSE:EPD) is set up post buyout of their GP. Now ask yourself the question, how would KMP's debt as we know it be altered? The amazing truth is KMP would probably have very similar debt which coincides with or is backed by these same assets. I wonder, do some investors really picture some alternate MLP dimension where KMP owns the GP IDRs and extra units without the debt which levers the cash flow these assets generate? I sure hope not.
If you need a better understanding of what a GP really does for the LP, I invite you to please read this article written by Elliot Gue.
Now back to the debt issue. KMP's net debt to EBITDA is a reasonable 3.7x, which is well below the cusp for a "good" credit rating requirement by Standard & Poor's methodology. As per slide 12 of the Q2 investor presentation (linked above), a 1% point increase in interest rates would equal $53M in interest expenses over 1 year.

This $53M over one full year would be just $13.25M per quarter ($53M/4=$13.25M). In terms of DCF, KMP had DCF of $561M in Q2 2014, thus a theoretical 1% point increase in rates would impact this quarter's DCF by just 2.3% ($13.25M/$561Mx100). It appears Kinder Morgan is expecting rates to increase eventually and has their floating rate debt, or 25.8% of total debt, hedged with protection against such an increase. In my opinion, 2.3% is a drop in the bucket compared to upcoming demand for NG, like LNG export projects coming online, Mexican demand, and NG power plants still switching over from coal power. I ask the naysayers again, why are you so afraid?
Now for maturing fixed rate debt in bonds and under the revolver, Kinder will eventually have to roll this debt forward at maturity, but I see no red flags to toss over this. For the near term, I see them able to secure similar or even lower interest rates given their solid credit ratings secured by an expanding asset footprint, relatively diverse business model, fee based revenue stream, and 3.7x debt/EBITDA ratio, and 1.00x or higher DCF coverage ratio. Kinder has efficiently managed their debt in the past with great success and who knows, they might even get lower rates on new debt since interest rates have failed to meaningfully increase for now. For the longer term, there is a definite risk of rising rates, but I feel this is no more alarming for Kinder than for any other energy company, and I believe this looming headwind does not override tailwinds. For one, they have plenty of time to build this possible increase in borrowing costs into their fees and rates depending how rates change in the future.
Shedding Light on Tailwinds:
It should be of no surprise these bearish articles I've criticized were purely one sided, and thus had no mention of the positives, which in my opinion are mounting for Kinder Morgan and do in fact override the risks in my opinion.
For starters, the impressive backlog of $16.4B was twisted into a negative, as some investors apparently feel the capital needed to fund these huge projects will dramatically dilute existing holders. However, management has chosen accretive projects just as in the past, and I have no doubt they will again prove themselves as the premier management team in the space and will increase DCF/Unit with these new projects. In the recent presentation (linked above), management confirmed 87% of these booked projects is for fee-based revenue, providing clarity for success:

Next, management highlighted the demand sources for these future growth prospects on slide 9 of the investor presentation: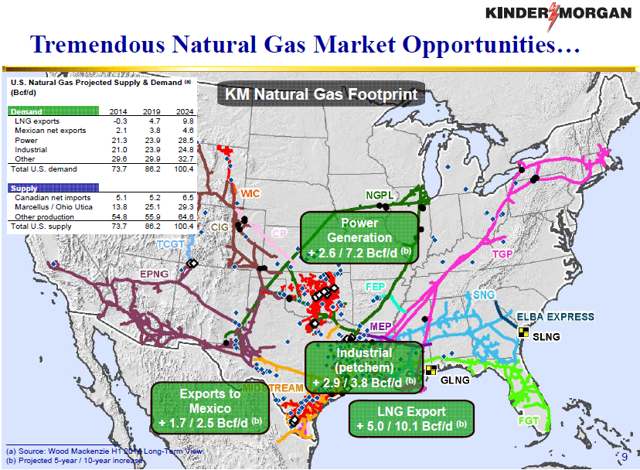 Adding up LNG exports, Mexican net exports, power plant demand, industrial, and "other" for near term, Kinder forecasts demand will increase 17% by 2019. Longer term, Kinder predicts demand will increase to 100.4 BCF/D by 2024, or 3.14% per year using a CAGR through these 10 years. If you assume Kinder will continue to move 30% of all the natural gas consumed in the U.S., as stated in the latest conference call, this for seen growth seems of reasonable expectations.
I hope this rebuttal article clears up any confusion fellow Kinder investors may have regarding DCF coverage, debt maturity, unit-holder dilution, project backlog, etc. Clearly, the MLP business model is easy to attack, as its complexity and reliance on capital demand can raise some eyebrows when not fully understood. Most of all, I hope this rebuttal article helped illuminate the naysayers - I believe they are just barking at shadows.
Disclosure: The author is long KMR. The author wrote this article themselves, and it expresses their own opinions. The author is not receiving compensation for it (other than from Seeking Alpha). The author has no business relationship with any company whose stock is mentioned in this article.
Additional disclosure: This author is long KMR, KMI and KMI+ Warrants