MacroGenics, Inc. (NASDAQ:MGNX): Top Oncology Takeover Candidate for Gilead (NASDAQ:GILD)
This report is a small section from our deep-dive research report, "An Evidence-Driven Rebuttal To Morgan Stanley & Goldman Sachs Bearish Thesis On Gilead Sciences (GILD)", analyzing and valuing GILD's Phase 1/2 pipeline, our M&A target list, the emerging market's potential in HCV, and direct evidence that sustainability concerns are misplaced.
We focus our discussion of GILD's pipeline on Phase 1/2 assets that in our assessment represent significant optionality for shareholders where no analysts have conducted any deep dive analysis for investors. Furthermore, Gilead's entry into oncology with four different drug candidates is an early indication of how Gilead will deploy its growing cash hoard over the next decade, and we contend that Gilead is set to initiate a sizeable acquisition spree ($30B+) to become one of the world's premier oncology franchises through large and small acquisitions ($1-10B+) (see M&A section). Ultimately, we see acquired assets in combination with its own Phase 1 and 2 assets will become more than 20% of U.S. HCV sales.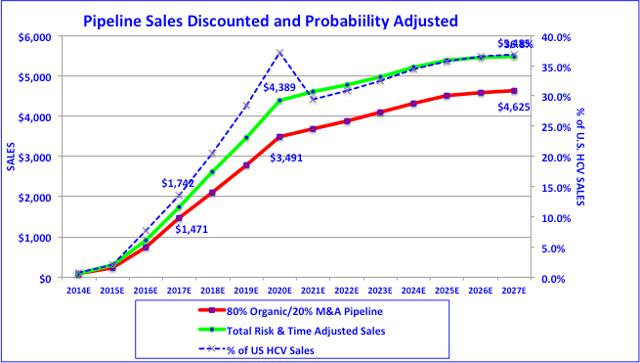 Defining the Pipeline Needs of Gilead
GILD currently has no drugs in development for the top 3 types of cancer worldwide (Lung, Breast, and Colorectal).
Only speculative exposure with idelalisib to the largest growth segment in cancer, immuno-oncology >$15B in annual sales by 2021.
GILD lacks a robust platform, with a high-throughput capacity to generate new drug candidates rapidly.
MacroGenics' platform is robust, high-throughput, and has previously targeted as many as 40 different antibodies against a single target antigen before selecting a lead development candidate.
MacroGenics conveyed at the Bank of America Healthcare Conference on May 13, 2014 that they intend on filing for at least one new IND per year, will bring two new assets into the clinic by 2015, and will be entering its wholly owned margetuximab into Phase 3 in 2014.
MacroGenics fills these voids seamlessly, and given its small market cap of only $528M, and ~$200M ($7.20) in cash, no debt, translates into an enterprise value of only ~$328M and makes MacroGenics a very attractive "bolt-on" takeover candidate for Gilead. Oppenheimer recently initiated with Outperform and a $48 price target by a sum of the parts analysis described below:
$19/share to margetuximab in HER2 low expressing MBC and HER2+ R/R gastric cancer based on a typical oncology multiple of 6x on estimated 2021 sales of $600M discounted 30% (MBC) and 35% (gastric) annually.
$17/share to MGA-271 in renal and melanoma markets based on a 6x multiple of estimated sales and a typical royalty multiple of 15x of estimated royalties discounted 40% annually. We ascribe $6/share to MGD006 in AML patients unfit for intensive therapy and r/r AML based on a 6x multiple of estimated sales and an 18x multiple of estimated royalties, discounted 45% annually.
$5/share to MGD007 in mCRC based on a 6x/15x multiple of sales/royalties discounted 50% annually. We ascribe $1/share to MGD010 based on a 6x/15x multiple of sales/royalties discounted 45% annually.
GILD's acquisition history shows that management is not shy about paying up for an asset they want with an average premium of 61% (median 45%).
GILD's M&A History

We have increased conviction based on the fact that Gilead already has a licensing deal with MacroGenics, making it entirely feasible and sensible for Gilead to buy the entire company sooner, rather than later to serve as its oncology innovation engine. Under a 2013 agreement, Gilead has a worldwide license to one DART molecule and options to two further DART-based compounds. MacroGenics is eligible for a $7.5M license grant fee for each option Gilead exercises, $20-$25M in preclinical milestones, and $240-$250M in clinical, regulatory and sales-based milestones in each of the programs. MacroGenics is also eligible to receive royalties in the range of high single digit to 12%. MacroGenics received a $7.5M license grant fee for the first target pair.
We note that GILD likely spent in excess of $1B during the 2Q14 on share repurchases, or 2x MGNX market capitalization. While we do believe GILD shares are undervalued, GILD's long-term business objectives would be better served by committing that capital toward acquiring MGNX. Finally, GILD suffered a minor setback with its Hem/Onc program with idelalisib + GS-9973 with higher rates of pneumonitis, which in our view brings forward the urgency for an oncology motivated acquisition, as GILD's combo strategy with idelalisib may not be viable without unnecessary toxicities.
Importantly, the company's Cancer Stem Cell platform (CSC) provides a source of novel cancer antigens to develop Fc-optimized antibodies, as well as provide a discovery platform to develop next-generation immuno-oncology products. Given the important role the immune system plays in the pathogenesis of cancer, primarily through the ability of cancer cells to evade detection by the immune system and its implications for metastatic progression, which we remind readers is an area of intense focus for GILD, it is our belief that GILD should immediately initiate business development in Immune/Onc as soon as possible. A survey of 159 Buy-Side clients (ISI Group), >45% of respondents expect the Global sales of PD-1/PD-L1 drugs to grow to $16-$30B/year (average $15B) by 2021, and expect an average price of over $88,200/year. Citigroup Research shows that Immun/Onc drugs currently comprise only 3% of all cancer treatments, but that it should surge to 60% by 2023 translating into $35B in annual Immun/Onc sales. Others, including Credit Suisse, anticipate peak sales of PD-1/PD-L1 drugs to reach at least $25B. Essentially, Immuno-Oncology is one of the only markets large enough to move the topline significantly for GILD after HCV.
Highlighting Gilead's Oncology Pipeline
Idelalisib (PI3K delta inhibitor) Liquid Tumors
GS-9973 (Syk Inhibitor) Liquid Tumors
Simtuzumab (LOXL2 mAb) Solid Tumors
GS-5745 (MMP-9 mAb) Solid Tumors
Multiple Undisclosed Oncology DARTs with partner MacroGenics
MacroGenics presented at the BofAML Healthcare conference disclosing that it expects entering 2 new DARTs into Phase 1 in immuno-oncology in 2015 (possibly Gilead partnered).
Dual-Affinity Re-Targeting (DART) platform technology, which is focused on dual specificity "antibody-like" therapeutic proteins capable of targeting multiple different epitopes with a single recombinant molecule.
After thoroughly reviewing the mechanistic rationale behind GILD's solid tumor assets, it is our view that Gilead is uninterested in delivering incremental improvements in clinical outcomes in solid tumors, instead seeks to significantly disrupt the paradigm similar to HIV and HCV. This should somewhat dissuade investors on takeover candidates that offer only incremental change.
Our evaluation of their early stage pipeline and related business development activities in oncology clearly establishes that they are intently focused on regulating extracellular signaling of the tumor microenvironment to diminish its ability to metastasize through a variety of mechanisms. Consequently, we can envision these assets being used in earlier lines of therapy as long-term adjuvant therapy for prevention of tumor recurrence and metastasis.
This approach of prioritizing prevention of secondary tumor formation is likely to require chronic, long-term therapy, which would mark a shift in the treatment paradigm from current practices. Thus, high usage of these drugs would be required, and would be a key differentiator relative to other oncology drugs.
We note that the majority of research and development by major players in the oncology space are still focused on treating the primary tumor, or more commonly clinical trials are focused on patients already having metastatic disease, and new drug candidates are being investigated typically as second or third line therapy in heavily pre-treated patients. But recall, >90% of cancer related death are attributed to metastasis, not the primary tumor.
Therefore, it is our expectation that Gilead will eventually investigate these assets and design clinical trials appropriately as potential anti-metastatic compounds in earlier lines of therapy as a chronic-maintenance therapy with a primary/secondary outcome of "the reduction in metastatic disease." This would be in contrast to the typical outcome measures used presently "progression free survival," "overall response rate," or "overall survival."
Thus far, Gilead has conveyed to the investment community they are actively seeking licensing deals in oncology, and repeated their approach to business development in a "smart and disciplined manner."
One of particular interest to this discussion stems from a licensing deal with MacroGenics in oncology for "multiple assets," with a $7.5M upfront payment, and up to $275M in milestones, and future double-digit royalties paid to MacroGenics. We view the MacroGenics collaboration as additional evidence of Gilead's intent to develop a very specific platform of drug candidates targeting mechanisms of metastasis. While the targets in this licensing deal remain undisclosed, it is plausible that they will be targeting two targets upstream or downstream of MMP-9, or LOXL2 pathways, building upon their strategy for assets that have "synergy" with their existing pipeline. By using MacroGenics' DART platform, it enables the simultaneous targeting of two extracellular targets, while enhancing structural stability, and delivers the ability to optimize half-lives based on clinical needs (see figure below).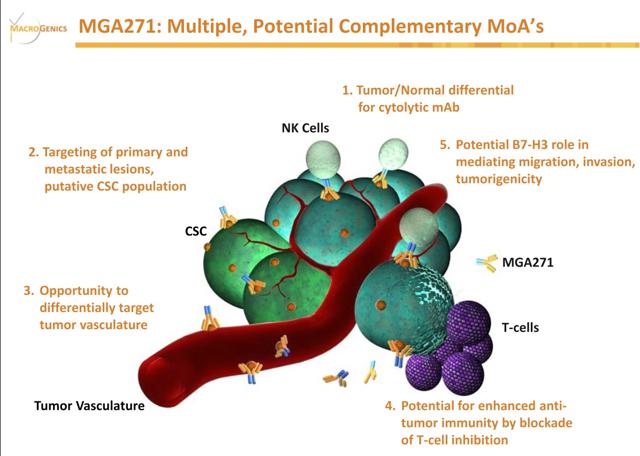 We specifically draw attention to MacroGenics' approach to Product Lead Development
What's distinctive about MGNX is that it has a scalable platform that can provide a multitude of potential drug candidates rapidly and provide a sustainable pipeline for clinical testing. Upon reviewing GILD's M&A history, it is established that this is not a prerequisite for a takeover, but in our view simply suggests just how attractive and undervalued the company is today.
MacroGenics' drug discovery strategy is uniquely suited for targeting mechanisms of metastasis not described previously, targeting cancer stem cells, which are thought to be at the center of many mechanisms metastatic disease and chemo-resistance. Importantly, their platform is highly customizable for drug targeting and optimization of pharmacokinetic parameters.
"MacroGenics' strategy has been to generate CSCs from a wide range of primary tumors, including prostate, colon, breast, lung and others. The company analyzes and characterizes the CSCs according to the following properties: (A) ability for self-renewal, (B) ability to differentiate into tumors with expected histological features, and (C) profile expression of genetic and protein stem cell markers. To date, MacroGenics has created novel antibodies, which target antigens on both CSCs and bulk tumor cells. In addition to their usage in the potential development of therapeutics, additional opportunities include usage in compound screening and diagnostics applications. MacroGenics expects to further validate its Cancer Stem-like Cell Program and move various mAbs discovered through this technology into advanced preclinical development in oncology disease indications. The company has built, and continues to build, a significant patent estate and know-how around its CSC platform."
It is our humble assessment, that any meaningful improvements in clinical outcomes in oncology requires targeting three key mechanisms of metastasis, (1) targeting the tumor microenvironment, preventing invasion of the primary tumor in the ECM (simtuzumab, GS-5745), (2) Targeting cancer stem cells (MGNX DARTs), which are implicated as the primary culprit in many key mechanisms that translate to poor clinical outcomes: chemo-resistance, tumor invasiveness, metastasis, and the epithelial to mesenchymal (EMT) shift to an aggressive phenotype; (3) immuno-oncology, reactivating the immune systems surveillance and apoptotic properties (MGNX DARTS).
In conclusion, we view Gilead's partnership as an early indication of their approach to oncology, highly focused on preventing metastasis. MacroGenics' platform is uniquely suited for developing bi-specific antibodies targeting both cancer stem cells and pathways involved with the primary tumors invasion into the ECM. These qualities are natural extensions of Gilead's Simtuzumab and GS-5745 targeting LOXL2/MMP-9 pathways, respectively.
Key steps in the metastatic process
Intravastation: Invasion of the tumor through the ECM into the blood or lymphatic system mediated through cell adhesion molecules and matrix metalloproteinase's (MMP's).
Simtuzumab/GS-5745
Anti-VEGF's (Avastin)
Extravasation & Migration: Movement of tumor cells to distant organs and colony formation mediated through cell adhesion molecules, MMP's, ECM signaling, growth factors, and chemokine's.
Metastatic Colony Survival: Evading host defense mechanisms through anti-apoptotic expression, growth factors, and signaling molecules, loss of immune antigen presenting receptors evading T-cell cytotoxic clearance.
Immuno-Oncology drugs (anti-PD1)
Distant Metastatic Colony Growth: Cell adhesion molecules, MMP's, ECM signaling, growth factors, and chemokine's.
Metastatic Disease: Angiogenesis (VEGF), ECM signaling, growth factors, and MMP's.
Simtuzumab/GS-5745
Immuno-Oncology drugs (anti-PD1)
Anti-VEGF's (Avastin)
MacroGenics' platform enables one molecule to target two of these steps simultaneously.
With multiple data readouts through year end 2014, and an even more eventful 2015, we anticipate news flow to pickup in 2H2014, and lead to additional licensing deals or possibly GILD announcing a takeover offer.
Safety data is expected by year-end 2014 that is likely to significantly de-risk MGD006, preclinical data for MGNX's first DART (MGD006-CD123xCD3) demonstrates that the drug recruits, expands and activates human T-cells that elicit dose-dependent killing of IL-3R positive tumor cells. Preclinical evidence suggests that MGD006 causes a cellular immunologically mediated anti-cancer effect against primary human AML samples. Initial data from an open-label Phase 1 study of MGD006 in the advanced
MGA271, targeting B7-H3, may have an immunemodulatory role similar to other immunotherapies. It is anticipated that MGA271 will enhance the potency of other immunologically active therapies or as a sequential, step-therapy that depletes T-regulatory cells. Immunotherapies with combination potential creates scarcity value, as these drugs do not directly compete with larger more established Pharma companies.
Phase 1 data in patients with advanced solid tumors is expected in 2015 and would cause a rapid rerate of MGNX pipeline.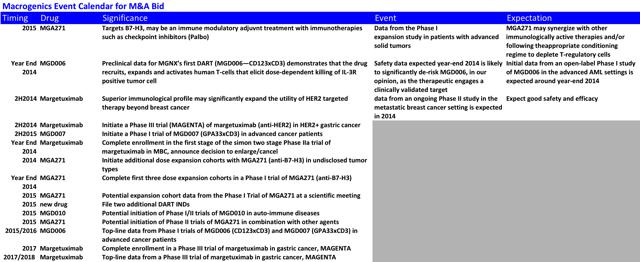 MGNX lead product candidate margetuximab is considerably under appreciated for the competitive threat it represents to Roche's (OTCQX:RHHBY) Herceptin. Moreover, its internally developed immunoregulatory agent MGA271 may be used in combination with margetuximab, presenting the opportunity for incremental clinical benefit above margetuximab monotherapy, which increases its scarcity value and competitive threat to Herceptin's franchise.
But above all, we highlight that MacroGenics' unique process of lead drug development is centered on developing active agents against cancer stem cells, admittedly early in development, but has the potential to deliver extended survival rates relative to other checkpoint inhibitors in development based on the fact that they should have enhanced potency against cancer stem cells, a common mechanism of chemoresistance, tumor repopulation post-chemo, and subsequent metastasis.
MGA271 targeting B7-H3 antigen studies have identified B7-H3 on a broad rage of solid tumors including kidney, glioblastoma, thyroid, gastric, breast, pancreas, prostate, melanoma, and ovarian cancers and colorectal cancer.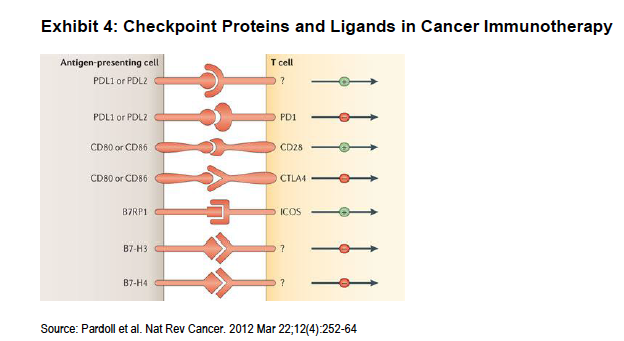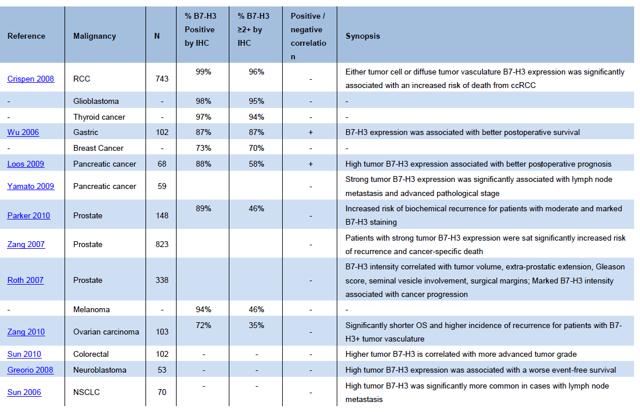 Thus far, MGA271 is in an ongoing Phase 1 dose finding study in overexpressing B7-H3 tumors demonstrated in 10 of 26 (38%) patients experienced an objective response rate in heavily pretreated refractory patients.
MGNX began dosing patients in an expansion phase of the trial with MGA271 in August 2013, at a weekly of 15 mg/kg IV in three cohorts. 45 will be enrolled across three cohorts, two 15-patient cohorts of undisclosed tumor types and a third comprised of all B7-H3 overexpressing tumors. MacroGenics expects completion of the dose expansion phase by year-end 2014 and intends to initiate additional monotherapy trials in 2H14 as well as combination trials in 2H15.
A Phase 3 study of margetuximab in 3rd line gastric cancer setting will begin during the second half of 2014, and data from an ongoing Phase 2 study in the metastatic breast cancer setting is expected during 2014. We highlight that GILD's management constantly reiterates their focus on Phase 2 assets, and note that MGNX has the bulk of its assets in Phase 1 or entering Phase 2 next 6-12 months with its lead asset already in Phase 3.
Oppenheimer values MGNX at $48 per share. We view this as conservative, and upon positive data by year-end, we expect GILD to pay above fair value for MGNX reflecting its scarcity value delivering both immuno-oncology exposure, and a high-throughput drug development platform. Recall MGNX's Enterprise Value is only $342M or about <2 weeks of Sovaldi sales. Thus, we conclude there is at least 2x return from its current levels setting up a very favorable risk/reward.
The stock has been languishing since the sector wide biotech sell off in March and April, but has failed to recover with its respective sector as lack of news flow until year end has dissuaded investors. But with GILD set to report $3.8-$4.1B in Sovaldi sales on Wednesday with net product revenues of $6.5B, earning $1.975-2.06 (depending on reported buyback) GILD is facing increasing pressure to begin addressing pipeline replenishment and business development. After surveying across oncology, MGNX represents a low risk, high reward takeover opportunity for GILD.
Disclosure: The author is long MGNX, GILD. The author wrote this article themselves, and it expresses their own opinions. The author is not receiving compensation for it. The author has no business relationship with any company whose stock is mentioned in this article.