Pershing Square Founder and CEO, Bill Ackman, has taken the offensive once again in his billion dollar short of Herbalife (NYSE:HLF). Ackman claims to have spent $50 million over the course of his investigation into Herbalife's allegedly fraudulent multi-level marketing model, a number he admits is troubling. He claims to have sent investigators to 140 Nutrition Clubs during this process. The billionaire hedge fund manager has racked up significant losses to date. Monday, he said of this presentation: "You're going to learn why Herbalife is going to collapse." Shares of Herbalife shed 11% yesterday. Throughout today's presentation, Ackman repeatedly referenced some of history's largest frauds and Ponzi schemers, such as Enron and defamed investor Bernie Madoff, in an attempt to make parallels to Herbalife's "pyramid scheme."
The Presentation:
Ackman began by noting that Herbalife's entire model thrives on the exploitation of impoverished and ethnic populations in the US and abroad, primarily the Latino community. The following slide contains an internal warning to Nutrition Clubs that their trainees may be viewed under Federal Law as unpaid workers.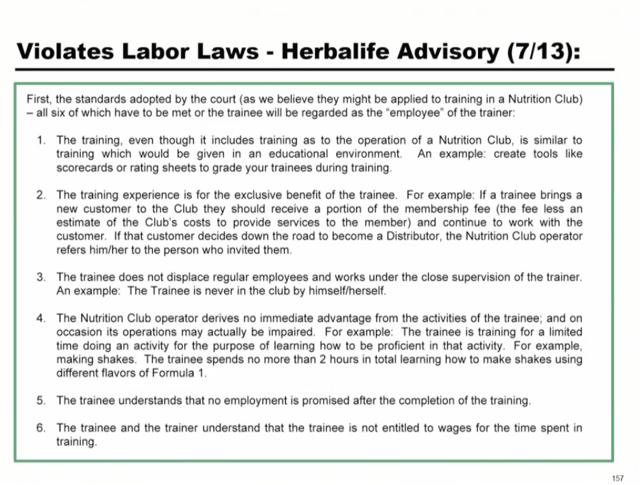 He followed this by showing a video testimonial of a recruiter claiming that money is not earned serving consumers, rather it is earned in recruiting new distributors.
Ackman estimates that the average store in Queens, NY loses roughly $12,000 per year, before even paying upstream distributors.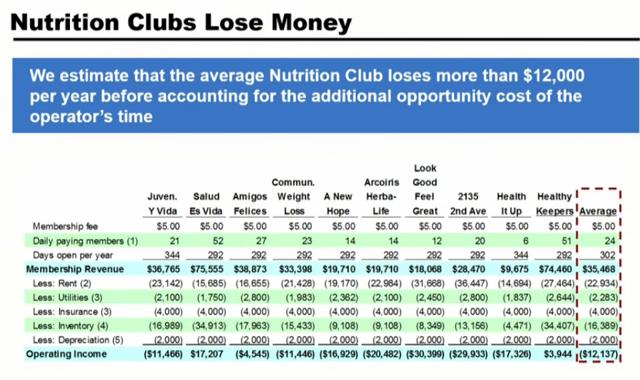 He also noted that the Herbalife brand is so heavily guarded that "Club" owners are forbidden from advertising entirely. CFO John DeSimone stated on the topic of advertising restrictions, "They can't know it has anything to do with Herbalife. So the windows are blocked…you can have no reference where somebody walking by will know it is Herbalife."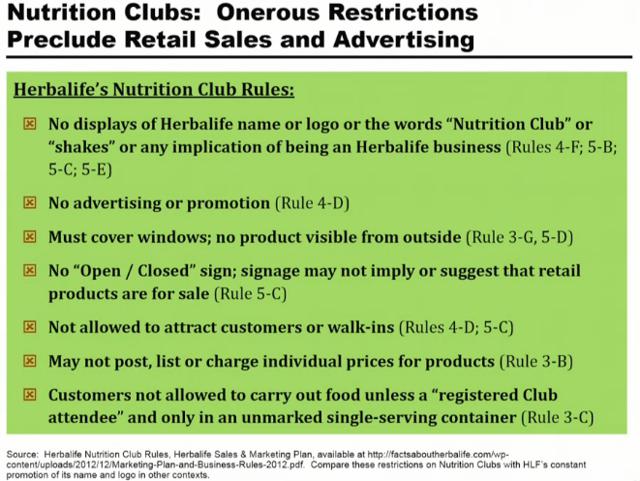 As the topic shifted to the internal recruiting process at Herbalife, Ackman rifled through various internal documents, referencing statements made by executives and recruiters alike. He showed the following internal chart, which Ackman claims is a direct representation of the "pyramid scheme's" exploitation.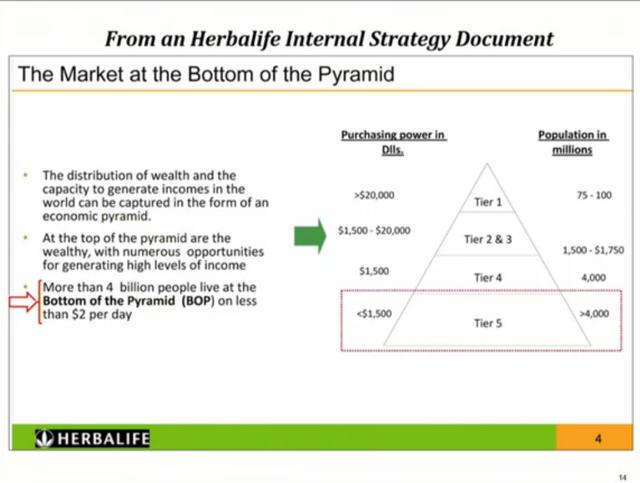 He pointed out that there are 4 billion people at the bottom of the pyramid, who live on just $2 per day. Ackman then showed a quote from Herbalife's COO, Greg Probert, who stated in 2007 that "The main driver of Mexico's success has been a highly unified distributor leadership group and the adoption of the innovative Nutrition Club DMO, which has enabled our distributors to increase penetration in the lower social economic segments of the Mexican market." Ackman then alleged that this Nutrition Club DMO is an exact demonstration of the predatory efforts of distributors to recruit new, downstream distributors.
From an internal recruiting document, Ackman pointed to the following slide.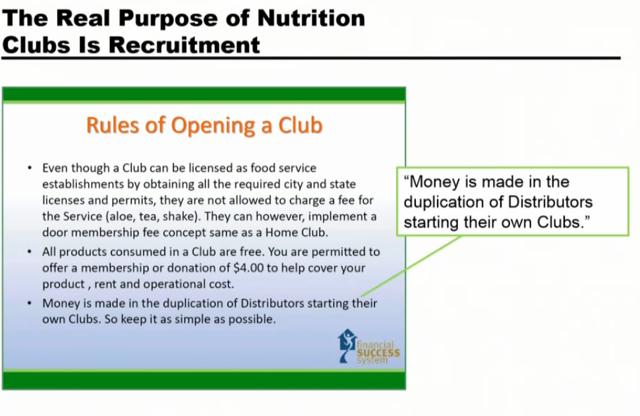 The highlighted quote, according to Ackman, is direct evidence of the pyramid structure.
Toward the end of the presentation, Ackman continued to reference the "get rich quick" notion that he believes is driving the recruiting process. He played various audio recordings of distributors being promised earnings of up to $22,000 per month. Christine Richard, a former Dow Jones reporter, stated that "We think what they (Herbalife) are selling is smoke and mirrors. I think it is pretty obvious what is wrong with Club 100." Club 100 is a grouping of higher-level distributors that is used primarily, as believed by Ms. Richard and Mr. Ackman, as a marketing tool for recruiting. As Ackman became choked up on stage during his concluding remarks, he said "Michael Johnson is a predator. This is a criminal enterprise. I hope you're listening, Michael, and it's time to shut this company down."
Shares of HLF are currently trading up 15%.
Disclosure: The author has no positions in any stocks mentioned, and no plans to initiate any positions within the next 72 hours. The author wrote this article themselves, and it expresses their own opinions. The author is not receiving compensation for it (other than from Seeking Alpha). The author has no business relationship with any company whose stock is mentioned in this article.