By David Russell
Harbin Electric (NASDAQ:HRBN) popped on a takeover report earlier in the month, and now the bulls are back.
optionMONSTER's Heat Seeker tracking program detected the purchase of 4,000 March 20 calls for an average premium of $3.05 and the sale of an equal number of 4,000 March 25 calls for $0.525. Volume was above open interest in both strikes, and it is the second time we've seen unusual action in the name this week.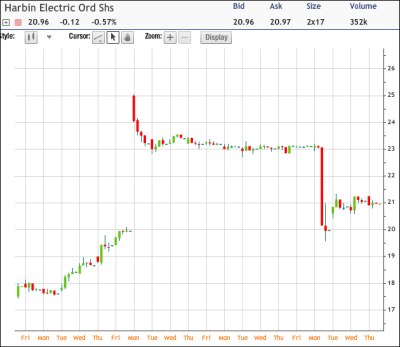 The China-based maker of electric motors is down 0.57 percent to $20.96 in afternoon trading. It gapped up on Oct. 11 after its chairman and Baring Private Equity Asia Group offered to take the company private for $24 a share.
HRBN traded as high as $25.05 that session before rolling over and has been edging lower since. The next potentially important event is the release of third-quarter results after the market closes on Nov. 9.
Today's option trade, known as a bullish call spread, resulted in a cost of $2.525 and will earn a maximum profit of 98 percent if HRBN closes at or above $25 on expiration. The investor apparently thinks that the shares have pulled back enough to expect some kind of progress on the takeover.
If the stock fails to hold $20, however, he or she will lose their entire investment.
The transaction pushed total options volume in the stock to 5 times greater than average, with calls outnumbering puts by more than 110 to 1.

Disclosure: No position