Canadian Pacific Railway Limited (NYSE:CP) recently reported a record second quarter as North American rails remain hot. This Zacks Rank #1 (Strong Buy) is expected to see double digit earnings growth in both 2014 and 2015.
Canadian Pacific is a Canadian transcontinental railroad with links to 8 major ports including Vancouver and Montreal as well as to the United States Midwest.
Record Revenue in Q2
On July 17, Canadian Pacific reported second quarter results in which revenue jumped 12% to a record $1.6 billion. It actually missed on the Zacks Consensus by a penny, reporting $1.96 versus the Zacks Consensus of $1.97.
Canadian Pacific saw revenue growth across several segments. Canadian Grain was up 32%, US Grain rose 26%, Crude gained 18%, Domestic Intermodal jumped 17% and even coal rose 10%.
While the energy business is jumping, as an overall percentage of Canadian Pacific's revenues it still only accounts for 7%. It remains diverse in its revenue streams.
Full Year Estimates Jump
Despite the slight miss on the earnings, the analysts are still bullish on the longer-term outlook for this railroad.
In the week since the earnings report, 6 estimates have been adjusted higher for 2014 pushing the 2014 Zacks Consensus Estimate up by ten cents to $8.01 from $7.91.
That is earnings growth of 38.8%.
The story is expected to stay bullish through 2015. 9 estimates have been raised for 2015 in the last 7 days, pushing the Zacks Consensus up 14 cents to $10.04 from $9.90.
That is another 25.4% earnings growth.
The pretty price and consensus chart shows the steady earnings growth for the past 5 years.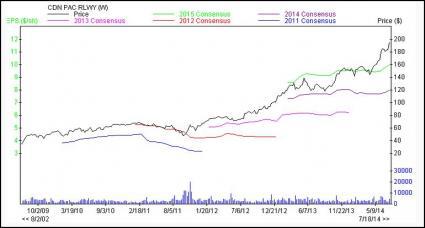 Shares at 5-Year Highs
Shares have been hot, hitting new multi-year highs off this earnings report.
Canadian Pacific now has a forward P/E of 24.6 which means it's not much of a value at these levels. But investors are willing to pay a higher premium to get that growth.
Investors are also rewarded with a dividend yielding 0.7% and the company has been buying back shares.
If you're thinking about investing in the rails, Canadian Pacific is certainly one to keep on your short list.