Overview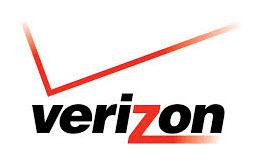 Verizon (NYSE:VZ) just reported stellar quarterly results. The company appears well positioned to provide dividend investors with an opportunity for both capital appreciation and income production. The internet content streaming boom and uptick in wireless and wireline services should augur continued organic growth, spur capital gains and buttress the dividend. Furthermore, Verizon is making all the right moves with regard to leveraging the company's position as a wireless service provider which may increase profitability going forward. Finally, the company appears to be a great high yield buying opportunity for dividend investors due to the fact the stock hasn't really moved substantially on the news. In the following sections I will lay out my bull case for dividend investors.
Current Chart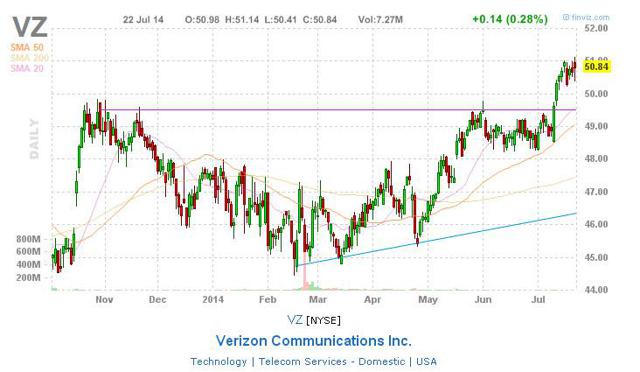 (Source: Finviz.com)
Last quarter earnings review
Verizon just reported its sixth consecutive quarter of operating income and earnings per share growth driven by strong wireless and FiOS revenues, and continued margin expansion. The following are the highlights from the report:
$1.01 in earnings per share (EPS), compared with 78 cents per share in 2Q 2013.
91 cents in adjusted EPS (non-GAAP), compared with 73 cents in adjusted EPS in 2Q 2013, excluding non-operational gains in both periods.
Added 1.4 million net retail connections, low retail postpaid churn of 0.94 percent, 104.6 million total retail connections, 98.6 million total retail postpaid connections.
5.9 percent year-over-year increase in service revenues, 5.3 percent year-over-year increase in retail service revenues, 32.5 percent operating income margin, 50.3 percent segment EBITDA margin on service revenues (non-GAAP).
5.3 percent year-over-year increase in consumer revenues, the eighth consecutive quarter of more than 4 percent growth, consumer ARPU (average revenue per user) up 11.0 percent.
14.4 percent year-over-year increase in FiOS revenues, 139,000 FiOS Internet and 100,000 FiOS Video net additions.
Chairman and CEO Lowell McAdam stated:
"Verizon's second-quarter results continue to demonstrate our ability to deliver strong customer growth, with equally strong financial performance, in a dynamic and competitive environment. We have great momentum heading into the second half of the year. We remain focused on profitable growth and on meaningful network investments that provide our customers with the best, and with a continuously improving, overall experience."
Further, the company reiterated 2014 guidance. Verizon is targeting 2014 capital expenditures in the range of $16.5 billion to $17 billion. This is a decrease in capital spending as a percentage of total revenues for the full year. Verizon seems to be in the right place at the right time. Moreover, the company is making all the right moves in regards to strategy.
Verizon is in the right place at the right time
The company is well positioned to profit from extremely high data streaming demands from a multitude of content providers as well as from other intermediaries such as Cogent (NASDAQ:CCOI) and Level 3 (NYSE:LVLT). These companies supply websites with connectivity. Nevertheless, Verizon does the heavy lifting of delivering the data from the internet backbone to the door step, as it were. This is an extremely advantageous position to be in, I surmise. The demand for the interconnection required to deliver high quality service continues to grow exponentially as more and more content and data is delivered over the internet.
Further, the company holds a fairly secure market position as it is extremely unlikely for a new ISP player to run fiber to households for the last leg of the journey. I posit the recent deal with Netflix (NASDAQ:NFLX) is the first sign the balance of power is shifting in Verizon's favor. Netflix recently signed a deal for Verizon to provide a direct connection from the Netflix video streaming service to Verizon's broadband customers. Verizon will provide a direct connection from the Netflix content delivery network. This will vastly improve the quality of the streaming experience for Netflix subscribers by lowering buffering delays.
I posit this is just the tip of the iceberg with regard to these types of opportunities. Verizon has a large moat by already having the infrastructure in place to properly deliver the content to each household. I expect more of these types of deals in the future.
Premium pricing model worked
Verizon had 1.4 million retail postpaid net adds in the second quarter, up from 941,000 a year ago and increasing the total base to 98.6 million. 1.15 million tablet net adds contributed heavily to the gains. Phone net adds were 304,000. These postpaid figures vindicate Verizon's decision to stick to a premium pricing strategy. The company was correct in assuming its superior network and coverage edge over the competition would keep high-ARPU postpaid subscribers loyal. This was a high risk/reward play by management that paid off in the end. I'm glad Verizon did not join the race to the bottom so to speak.
The company is focused on return of capital to shareholders with a robust dividend
The current yield is 4.18%. The dividend looks safe based on the consistent earnings growth performance by the company. Double-digit increases were reported in eight out of the last nine quarters. Verizon recorded its highest quarterly revenue growth rate in the past six quarters. Total operating revenues in second quarter 2014 were $31.5 billion, a 5.7 percent increase compared with second quarter 2013.
Verizon has a solid long-term growth story and pays a hefty dividend. These facts, coupled with the Fed's announcement that rates will remain at ultra-low levels for at least the foreseeable future, leads me to believe the company is a better hedge against inflation than fixed income instruments such as bonds and CDs.
Verizon's weak spot
Verizon's weak point is the heavy debt load of $109 billion. The company sports a total debt to equity ratio of 8.64, vastly higher than the company's peers and the industry average. Nevertheless, the company is well aware of the debt burden and appears well positioned to tackle it over the next few years as earnings growth appears to be ramping up.
Downside Risks
There are multiple downside risks for Verizon going forward. The space is highly competitive with a lot of moving parts. Verizon will have to double down on the company's efforts to ensure it continues to improve margins and pay down debt. The company has a large debt burden that will require constant management to ensure it does not get out of hand.
Furthermore, geopolitical uncertainty is on the rise as the Russia/Ukraine and Israel/Palestine conflicts appear to be escalating. This may hamper a global recovery in its infancy just as the market hits all-time highs. This is an extremely precarious position to be in for the markets. If some type of major geopolitical event occurs no stock will be immune to a selloff.
Conclusion
Verizon seems to have the wind at its back, so to speak. On top of that, I surmise we are in the early innings of Verizon's growth story. The company appears to be in the right place at the right time with regard to the internet streaming and wireless and wireline service boom. Moreover, management appears to be making all the right moves when it comes to increasing profits. Nonetheless, the stock hasn't moved that dramatically as of yet. This is why I see the stock as an excellent buying opportunity currently. Verizon is a model stock for long-term dividend investors in my eyes. The stock has significant capital gain potential and an exceptional dividend yield. This makes for an excellent total return play.
Disclosure: The author has no positions in any stocks mentioned, and no plans to initiate any positions within the next 72 hours. The author wrote this article themselves, and it expresses their own opinions. The author is not receiving compensation for it (other than from Seeking Alpha). The author has no business relationship with any company whose stock is mentioned in this article.