The following is a list of stocks that have recently reached new 52-week highs on unusually high volume. For each stock, we'll list today's relative volume indicator, which expresses today's volume as a multiple of the 3-month average daily volume.

In addition, all of these stocks have seen significant institutional buying over the last three months. The smart money seems to think there's more upside to these names, what do you think?

To give more perspective on investor sentiment, we'll also include data on short float and performance.

Institutional data sourced from Reuters, performance and short float data sourced from Finviz.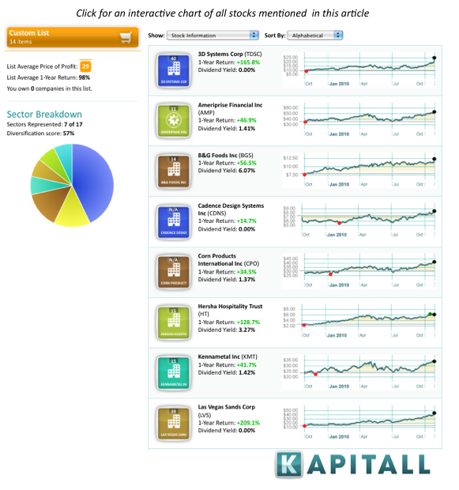 The list has been sorted by change in institutional ownership over the last three months.

1. Rare Element Resources Ltd. (NYSEMKT:REE): Industrial Metals & Minerals Industry. Market cap of $410.17M. Today's Relative Volume at 10.73. Institutional investors currently own 222,069 shares vs. 182,619 shares held three months ago (+21.6% change). Short float at 0.99%, which implies a short ratio of 0.15 days. The stock has gained 340.34% over the last year.

2. TriQuint Semiconductor, Inc. (TQNT): Semiconductor Industry. Market cap of $1.6B. Today's Relative Volume at 1.65. Institutional investors currently own 128,433,959 shares vs. 109,269,790 shares held three months ago (+17.54% change). Short float at 6.99%, which implies a short ratio of 2.56 days. The stock has gained 87.43% over the last year.

3. MDC Partners Inc. (NASDAQ:MDCA): Marketing Services Industry. Market cap of $409.25M. Today's Relative Volume at 3.75. Institutional investors currently own 22,379,866 shares vs. 20,165,178 shares held three months ago (+10.98% change). Short float at 0.52%, which implies a short ratio of 3.14 days. The stock has gained 72.78% over the last year.

4. Hersha Hospitality Trust (NYSE:HT): REIT. Market cap of $866.01M. Today's Relative Volume at 1.39. Institutional investors currently own 102,556,621 shares vs. 99,490,483 shares held three months ago (+3.08% change). Short float at 3.64%, which implies a short ratio of 3.13 days. The stock has gained 142.97% over the last year.

5. Quantum Corp. (NYSE:QTM): Data Storage Devices Industry. Market cap of $696.64M. Today's Relative Volume at 6.39. Institutional investors currently own 176,679,319 shares vs. 172,477,179 shares held three months ago (+2.44% change). Short float at 3.45%, which implies a short ratio of 2.4 days. The stock has gained 96.32% over the last year.

6. Cadence Design Systems Inc. (NASDAQ:CDNS): Technical & System Software Industry. Market cap of $2.15B. Today's Relative Volume at 2.8. Institutional investors currently own 238,409,265 shares vs. 232,978,577 shares held three months ago (+2.33% change). Short float at 6.33%, which implies a short ratio of 4.85 days. The stock has gained 10.07% over the last year.

7. LogMeIn, Inc. (NASDAQ:LOGM): Information Technology Services Industry. Market cap of $862.94M. Today's Relative Volume at 5.31. Institutional investors currently own 23,474,742 shares vs. 23,100,979 shares held three months ago (+1.62% change). Short float at 14.63%, which implies a short ratio of 9.35 days. The stock has gained 84.09% over the last year.

8. B&G Foods Inc. (NYSE:BGS): Processed & Packaged Goods Industry. Market cap of $570.73M. Today's Relative Volume at 5.81. Institutional investors currently own 29,429,580 shares vs. 28,984,691 shares held three months ago (+1.53% change). Short float at 3.85%, which implies a short ratio of 8.37 days. The stock has gained 60.16% over the last year.

9. Vocus Inc. (NASDAQ:VOCS): Internet Software & Services Industry. Market cap of $432.32M. Today's Relative Volume at 2.4. Institutional investors currently own 18,379,304 shares vs. 18,108,945 shares held three months ago (+1.49% change). Short float at 7.87%, which implies a short ratio of 11.39 days. The stock has gained 19.18% over the last year.

10. Las Vegas Sands Corp. (NYSE:LVS): Resorts & Casinos Industry. Market cap of $27.13B. Today's Relative Volume at 2.59. Institutional investors currently own 238,243,957 shares vs. 234,941,915 shares held three months ago (+1.41% change). Short float at 15.47%, which implies a short ratio of 1.66 days. The stock has gained 186.93% over the last year.

11. Ameriprise Financial Inc. (NYSE:AMP): Asset Management Industry. Market cap of $12.77B. Today's Relative Volume at 1.51. Institutional investors currently own 228,550,972 shares vs. 225,512,471 shares held three months ago (+1.35% change). Short float at 3.19%, which implies a short ratio of 3.05 days. The stock has gained 43.48% over the last year.

12. Corn Products International Inc. (CPO): Processed & Packaged Goods Industry. Market cap of $3.09B. Today's Relative Volume at 1.44. Institutional investors currently own 66,090,128 shares vs. 65,334,022 shares held three months ago (+1.16% change). Short float at 0.82%, which implies a short ratio of 1.18 days. The stock has gained 35.46% over the last year.

13. Kennametal Inc. (NYSE:KMT): Machine Tools & Accessories Industry. Market cap of $2.74B. Today's Relative Volume at 3.36. Institutional investors currently own 77,510,540 shares vs. 76,775,295 shares held three months ago (+0.96% change). Short float at 4.41%, which implies a short ratio of 4.94 days. The stock has gained 42.26% over the last year.

14. 3D Systems Corp. (TDSC): Multimedia & Graphics Software Industry. Market cap of $466.1M. Today's Relative Volume at 13.14. Institutional investors currently own 13,996,919 shares vs. 13,868,445 shares held three months ago (+0.93% change). Short float at 6.03%, which implies a short ratio of 23.21 days. The stock has gained 115.85% over the last year.

Disclosure: No positions