Q2'14 Preview
Gilead (NASDAQ:GILD) is scheduled to report Q2'14 results July 23. Based on IMS Sales data, Q2'14 Sovaldi sales are tracking $2.9B on reported 43,516 cumulative NRx and 103,329 TRx during Q2'14. However, if we apply the Q1'14 correlation of 0.88 of reported sales, while using a mean price of $70,000/12 weeks ($23,300/month) of therapy, and accounting for the following variables not captured by IMS data:
V.A. & Medicaid patients at 4,500NRx/month 13,500 TRx for Q2'14.
Patients continuing therapy from Q1'14 6,000 TRx (liver transplant and cirrhotic patients).
These adjustments give us an adjusted 48,016 NRx and 122,829 TRx, implying projected U.S. sales of $3.21B. Taking into account WW sales ex-U.S., we simply apply Q1'14 reported 11% of U.S. sales, implying $353M ex-U.S. estimate and $3.53B WW demand for Sovaldi. Accounting for 2 weeks of inventory build would imply $548M in sales. Alternatively, Q1'14 Olysio IMS NRx correlated with a 5.06 multiple for Sovaldi scripts during Q1'14. Applying this to Sovaldi implies sales >$3.5B.

Click to enlarge

Click to enlarge
Putting this all together gives us our Q2'14 WW Sovaldi estimate of $4.1B ($2.5B sell-side consensus, $3.5B buy-side consensus), and we are now expecting $12.6B for FY2014E WW Sovaldi sales. We estimate GILD repurchased $1.2B in stock during the panic sell-off during Q2'14 at an estimated price of $76 per share (50-day moving average on 4/29), reducing share count by 16M to 1.663B shares, from 1.679 in Q1'14. This results in our forecasted Q2'14 EPS of $1.98E. Our full GILD model for U.S. and WW can be found here.
However, there has been heavy insider repurchase activity recently, and we could see significant upside to this given that GILD is rumored to have purchased more than 9.12M shares in the first weeks of Q3'14, representing 20% of total volume in the week of July 07th-14th (ISI Dr. Mark Schoenebaum). We note that Johnson & Johnson (NYSE:JNJ) reported Olysio sales of $841M, better than IMS forecasted sales of $720M, implying ~80% capture rate. Recall, Olysio is almost exclusively used with Sovaldi for 24 weeks; this provides additional tail winds for Q3'14 Sovaldi sales.
This may suggest an imminent approval of additional share repurchases, and reveals that it intends to expend its current $5B share repurchase program before the end of Q4'14. This leaves upside to our estimates if they were more aggressive than our model in Q2 share repurchases. 8 of 25 analysts have revised estimates upwards the past 2 weeks, and while 2014 Sales and EPS estimates for GILD have increased 53% and 95% respectively, there remains strong earnings and sales diffusion among analyst estimates; this is bullish.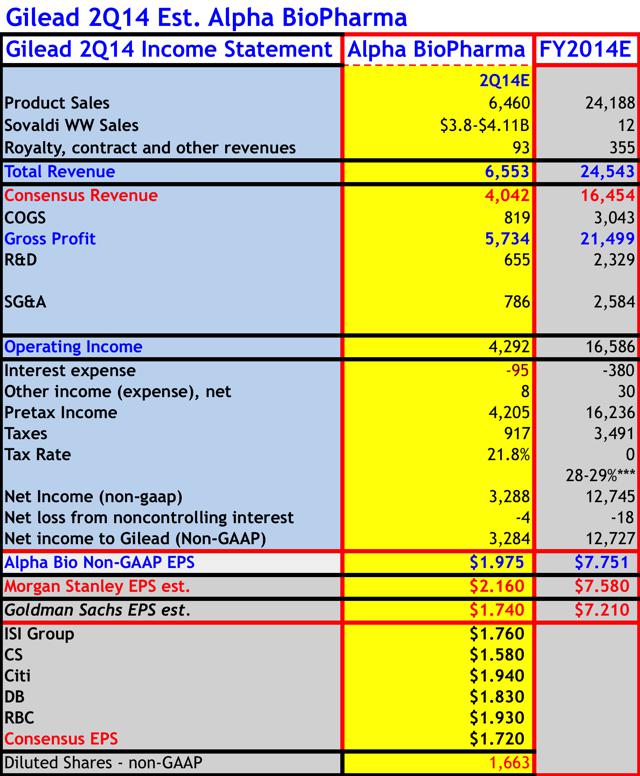 Click to enlarge
Historical Options Analysis on Earnings Day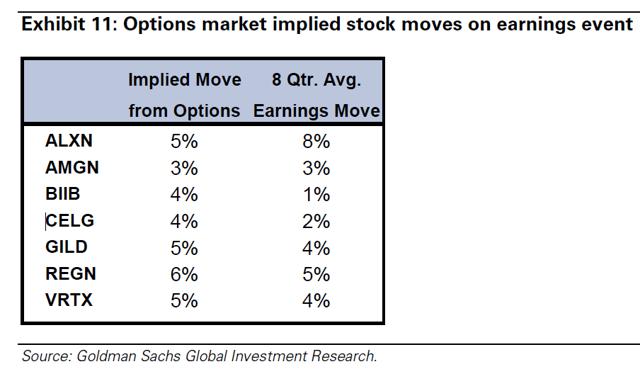 Click to enlarge
Estimates Revisions

Click to enlarge
Estimates Diffusion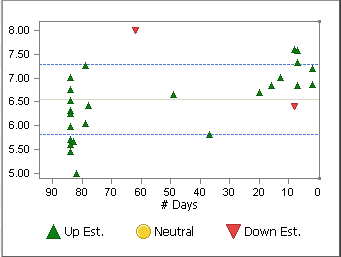 Key Updates on Q2'14 Conference Call
Commentary on how to compete with a potential 4-week MRK regimen.
Progress on Sovaldi reimbursement negotiations with state Medicaid plans, 15 approved in Q1'14, so expect broad uptake in >30 states.
More progress in EMs; thus far, Sovaldi is available 13 countries, but has plans to expand to over 26 by H2 2015.
Hopefully, get some clarity on Sovaldi/Ledipasvir and idelalisib pricing with approval imminent for both.
Most important will be refined timelines on data updates for Sovaldi/GS-5816, Simtuzumab in NASH, IPF, and Jakafi/Simtuzumab final data collection for primary outcome in August.
Possible commentary on GS-9973, and plan for future combination regimens in Hem/Onc.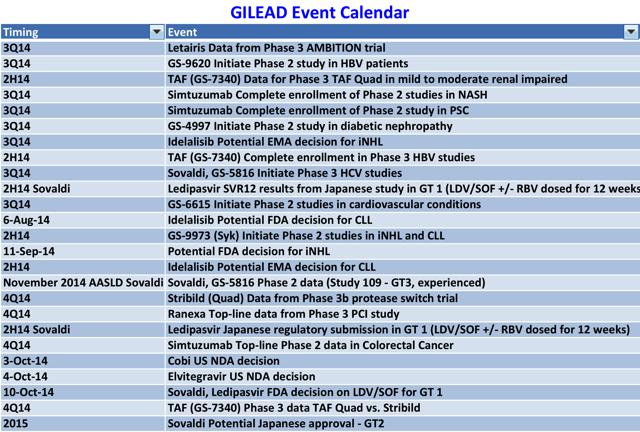 Click to enlarge
(Gilead Quantamental Valuation vs. Peer Group)
Biotech Sector vs. S&P NTM P/E & PEG Basis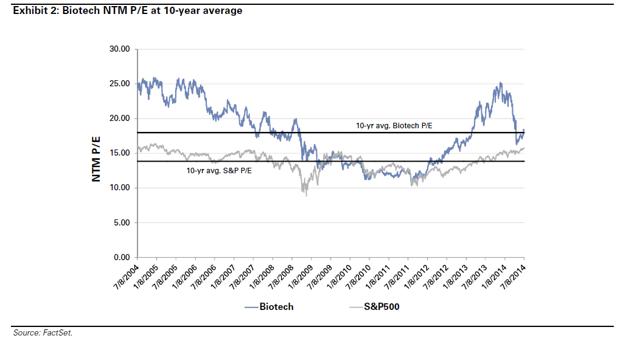 Click to enlarge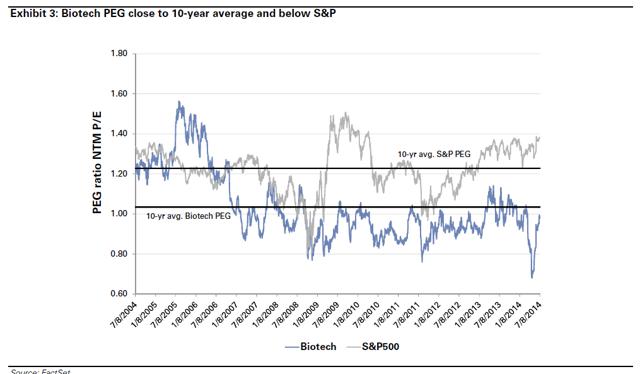 Click to enlarge
GILD vs. Peer Group EPS & PEG Analysis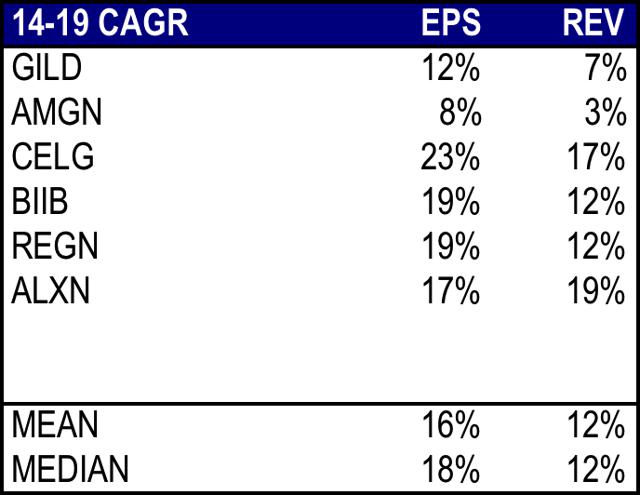 Click to enlarge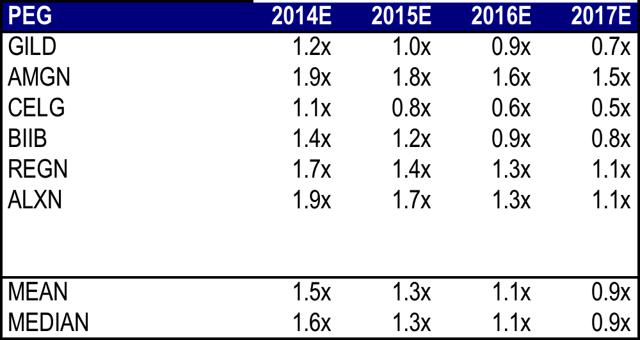 Click to enlarge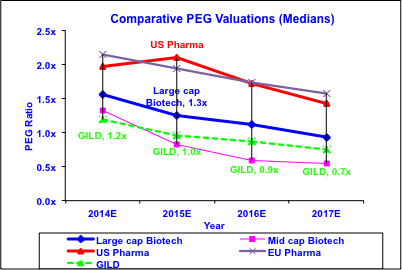 GILD vs. Peer Group 2014-2017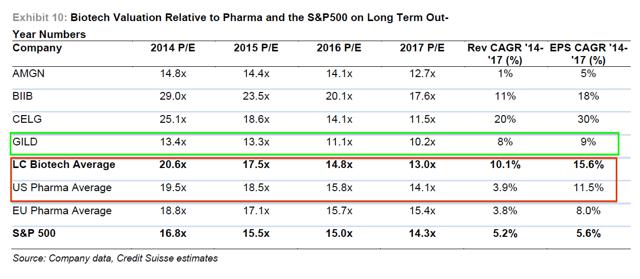 Click to enlarge
GILD YTD and Historical P/E Charts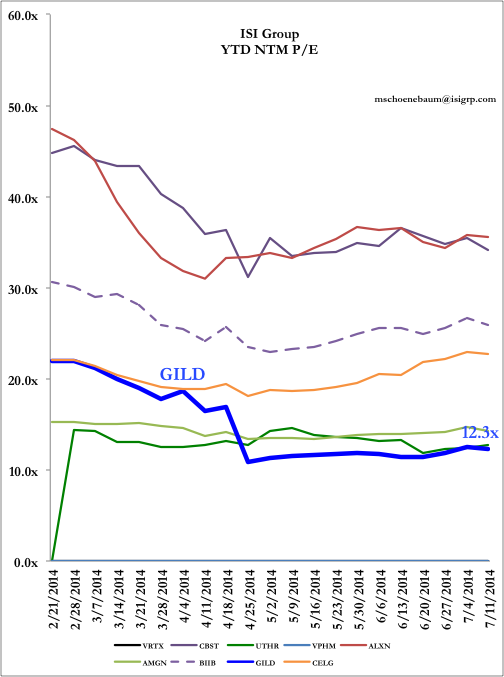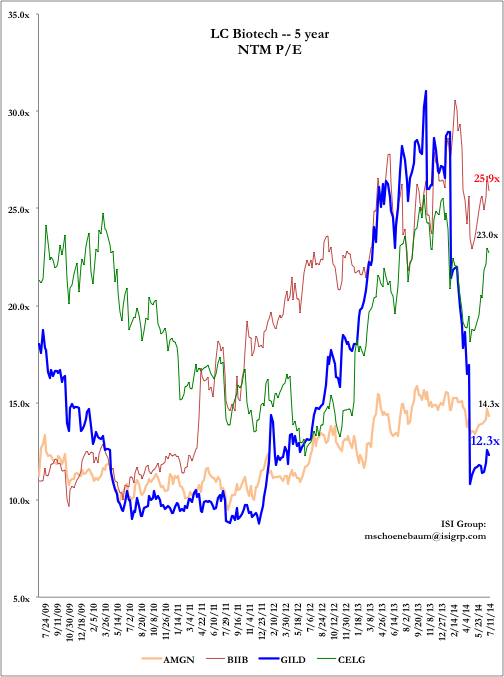 (Alpha BioPharma's Sovaldi Tracker and Model)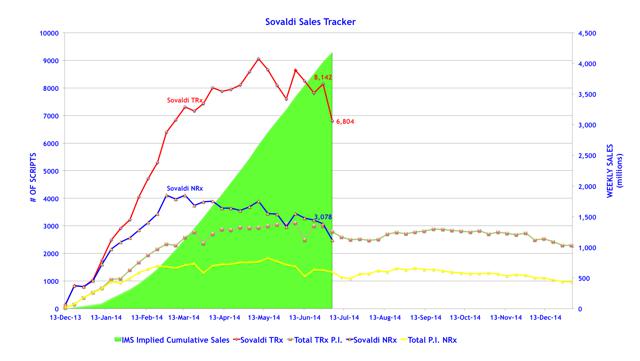 Click to enlarge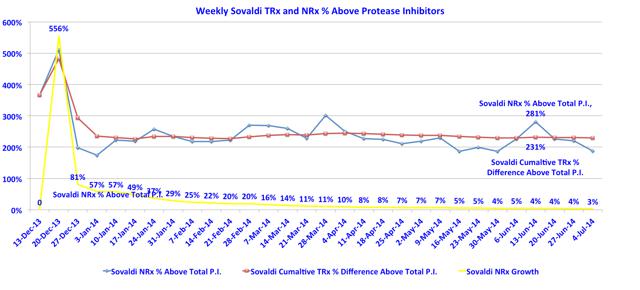 Click to enlarge
Warehousing Scenario Analysis

Click to enlarge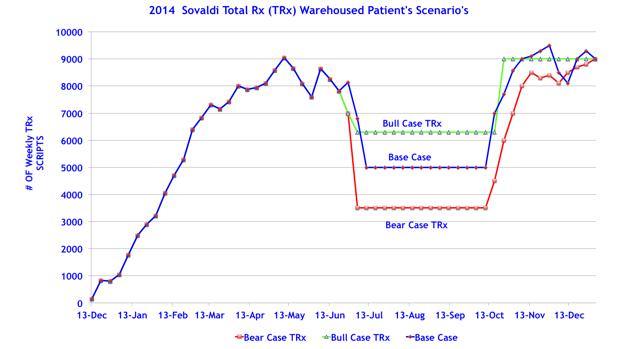 Click to enlarge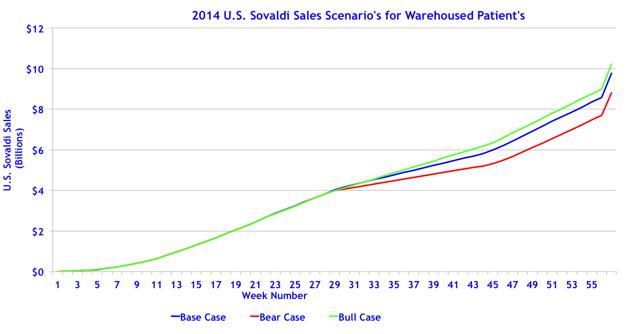 Click to enlarge
Disclosure: The author is long GILD. The author wrote this article themselves, and it expresses their own opinions. The author is not receiving compensation for it. The author has no business relationship with any company whose stock is mentioned in this article.