By Richard Bloch
In a recent ZeccoPulse post on Apple (NASDAQ:AAPL), (also published on Seeking Alpha) I mentioned that the company's latest earnings release showed $25.6 billion in cash and cash equivalents plus short-term marketable securities – about $28 per share.
But Yet Another Steve left a comment:
Actually you've left out the "long term marketable securities." Since Apple has stated that security of principal is its investment goal, it's pretty close to cash as well.
Actually he's right. I did leave it out – mainly because the two news sources I checked don't include long-term securities in their cash-per-share figures.
But a closer look shows those long-term securities, although not exactly cash, seem pretty darned close to cash. They are certainly a lot more liquid than the long-term assets on other company balance sheets.
Apple's 10-Q filing for the June 2010 quarter (available here) includes a table that looks like this:
click to enlarge
The latest earnings release shows that for the September 2010 quarter, this total grew to $51 billion.
That's more like $55 per share. How many companies even have a market cap of $51 billion? (well, only 120 according to the stock screener at Zacks).
I suppose most companies would keep most or all of their cash into short-term securities, but with a hoard like that, diversifying into some longer (1+ year) maturities would seem to make sense.
But what's really amazing is that Stephen Rosenman predicted this nearly two years ago.
His Seeking Alpha post from a few days ago discusses how the "Bank of Apple" keeps growing and growing and refers to another post of his from January 2009.
Stephen, you didn't give yourself enough credit. This is the chart you made back in early 2009 illustrating "Rosenman's Law." I added the green arrow to show how accurate your prediction was if you include those long-term investments.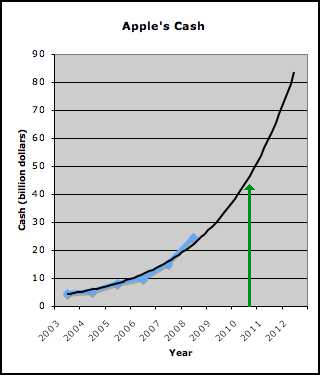 If this keeps up, Apple will soon be able to buy almost any company it wants and still have billions of dollars left over.
But if they decide not to spend it, the cash balance could keep on following "Rosenman's Law."
Take note of this: Zacks cites a forward PE ratio of 16.7 for Apple based on projected consensus earnings estimates for the current year of $18.60 per share.
However, if you "back out the cash" (subtract that cash including long-term securities from the share price), Apple's forward PE drops to less than 14.
Disclosure: None