Those of you who have not read the part-1 or part-2 of this series of articles, you can read them here and here.
In the part-2 of this series, I attempted to demonstrate the strength of a Dividend Growth portfolio and the power of compounding with the help of back-testing results going back 20 years, performed on a portfolio of 20 dividend growing stocks. While back-testing the performance of a portfolio of stocks, looking back a number of years in the past, is an interesting exercise and can provide meaningful insights, however, there is often a criticism that we may have cherry-picked the stocks or maybe the previous 10 or 20 years were the best years for the selected set of stocks. Also, there is often a doubt about the future performance of the same set of stocks that may not be as promising as their past. All of these points of criticism are valid ones. This made me think what if I apply the same principles, but build a portfolio for the future, for the next 10 years and beyond.
First I thought of publishing my personal DGI portfolio, but there were a couple of problems. First that it was an existing portfolio that already had a few years of growth built into it, secondly some of the positions are not truly DGI positions. Also, I tend to make too many trades in my personal portfolio for it to be truly called a "passive" portfolio.
So, I decided to build a brand new portfolio applying the same core principles that I outlined in the-part-2 of this series, and keeping this mostly a passive portfolio. I am sure we will need to make some tweaks in the future, but largely our portfolio will be on auto-pilot. Periodically, I will report the portfolio's progress and growth of the dividend income on this forum. For the sake of future reference, I will name this portfolio "Financially Free Passive DGI (FFP-DGI)" portfolio.
Selection Criteria:
In the previous article [part-2], I described our simple stock selection criteria as below:
Select companies that have paid dividends for at least 15 years, preferably 20 years or more.
They must have increased the dividend in the previous 10 years.
They must have a market cap of $5 billion or more.
Not to pick more than three companies (of the 30 stocks) from the same industry/segment.
Pick at least one company from each industry segment, if possible.
The company's products or services were well known, in other words, it had a wide moat.
Let's define a few basic rules and principles on how to structure this portfolio:
We will have 30 companies in the portfolio at all times, with a starting cash investment of $90,000, but spreading the initial purchase.
We will invest $3000 in each of the 30 companies, with the first $1000 immediately (on August 1

, 2014), another $1000 after 3 months (Nov 1, 2014) followed by the third installment of $1000 on Feb 1, 2015.

Thereafter, we will add/contribute $15,000 cash to the portfolio every year, and on the 1st trading day of each year (starting 2016), investing $500 in each of the 30 companies.
All dividends will be re-invested in the original security automatically.
For the sake of simplicity, we will not account for any trading commissions. We will incur some significant trading commissions right in the beginning as we will be spreading our purchase. But all in all, during the 10-year lifetime of the portfolio, we should be spending under $3000 in commissions assuming $7 a trade.
SELL Criteria:
Ideally, we should not be selling any of the positions in this portfolio, but still there will be situations when we may need to review a position, and it may just be prudent to sell a position and replace with another one:
If a company cuts the dividend.
Fundamentals of a company have significantly deteriorated.
The current yield of the company falls too low (below 1%) or goes up in excess of 8% and at the same time payout ratio has become excessive (above 80%). This will not apply to MLPs or REITs.
The company has been acquired and the new company no longer fits the portfolio.
Based on the selection criteria and using the list/spreadsheet of dividend champions and contenders provided by SA contributor David Fish, I selected 15 companies from the list of champions and 13 from the list of contenders. I also selected Abbott Laboratories (NYSE:ABT) from the dividend aristocrats (which is not present on the champions list). Since our portfolio is heavily concentrated in US based companies, I included SPDR S&P International Dividend ETF (NYSEARCA:DWX) to provide a broad representation to foreign dividends. To make the selection process easy, I wanted to know which companies were likely to grow their dividends into the future. So, I calculated a ratio as below:
Future Dividend Growth Likelihood Ratio (FDGL Ratio) =
(Current yield x Dividend-growth of last 10 years x Projected EPS growth for 5 years) / Payout-Ratio
The companies that had relatively high FDGL ratios compared to their peers in their respective industries were accorded preference. For example, I wanted to choose one of two great companies in the Beverages sector, Coca-Cola (NYSE:KO) and PepsiCo (NYSE:PEP). PEP had a higher FDGL ratio compared to KO, so PEP was selected. The same was true for Monsanto Company (NYSE:MON) in the Agriculture sector, MON with a much higher FDGL ratio compared to Archer Daniels Midland (NYSE:ADM). Though this method of final selection is a bit subjective, but all in all it came up with a good list.
Sector

Company Name

Aerospace & Defense

Lockheed Martin Corp (NYSE:LMT)
United Technologies Corp (NYSE:UTX)

Agriculture

Monsanto Co "MON"

Technology

Microsoft Corp (NASDAQ:MSFT)
Qualcomm Inc (NASDAQ:QCOM)
Intel Corp (NASDAQ:INTC)

Beverages - Non-Alcoholic

PepsiCo Inc "PEP"

Business Services

Automatic Data Processing (NASDAQ:ADP)

Chemicals

Air Products & Chemicals (NYSE:APD)

Consumer Goods

(Packaged products, Cleaning products)

Colgate-Palmolive Co (NYSE:CL)
Nestle SA ADR (OTCPK:NSRGY)
Procter & Gamble Co (NYSE:PG)
Clorox Co (NYSE:CLX)

Drug Manufacturers

Johnson & Johnson (NYSE:JNJ)
Teva Pharmaceutical ADR (NYSE:TEVA)

ETF - International Dividend (Foreign Large Value)

SPDR S&P International Dividend "DWX"

Industrial Products

Emerson Electric Co (NYSE:EMR)

Insurance - Life

Aflac Inc (NYSE:AFL)

Medical Devices

Abbott Laboratories
Medtronic Inc (NYSE:MDT)

Oil & Gas

REITs

Realty Income Corp (NYSE:O)
HCP Inc (NYSE:HCP)
Omega Healthcare Investors Inc (NYSE:OHI)

Restaurants

McDonald's Corp (NYSE:MCD)

Retail - Defensive, Drugstores

Wal-Mart Stores Inc (NYSE:WMT)
Walgreen Co (NYSE:WAG)

Tobacco Products

Altria Group Inc (NYSE:MO)

Waste Management

Waste Management Inc (NYSE:WM)

The other metrics related to dividend growth, total return, P/E ratios, etc. are presented in the table below: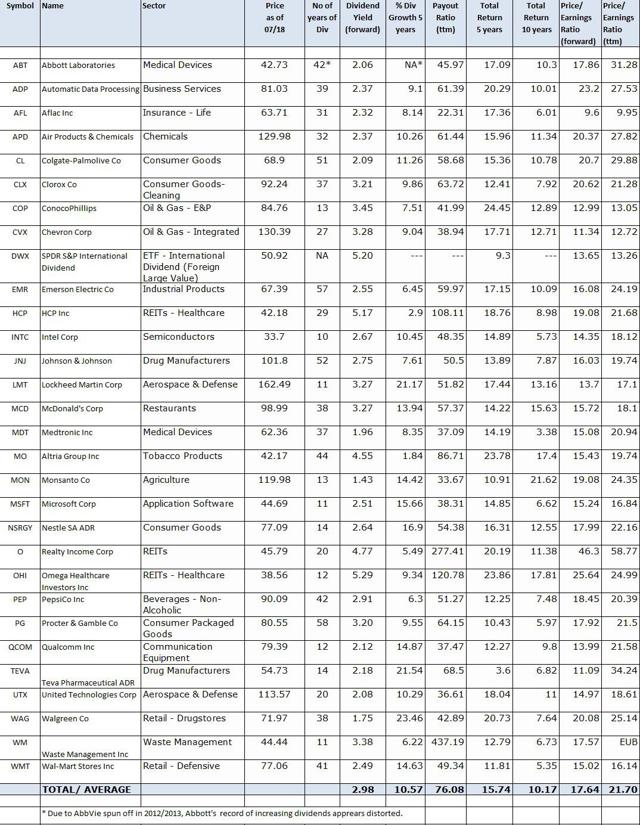 So here we go, we have our portfolio ready to be launched on August 1st. I will provide the portfolio updates on SA (as well as on my website) whenever one of the following events occurs:
A stock is bought or sold.
New money has been added to any of the positions.
Quarterly update of the portfolio
Yearly progress report of the portfolio.
5- and 10-Year Targets:
For any meaningful portfolio, it must have some goals and targets. Since this is a Dividend growth and Income portfolio, the main goal is to generate increasing income.
At year 0

(Year 2015)

Five years

(Year 2020)

Ten Years

(Year 2025)

Invested Capital

(excl dividends)

$90,000
$165,000
$240,000

Dividend Income (annual)

$2700
$8250
$24,000
YOC (Yield On Cost)
3%
5%
10%
Concluding Remarks:
Please keep in mind the actual compounding magic will probably happen after 10 years. Since that is too far in the future, I would like to stay away from making any targets. But in my humble opinion, if we are able to meet the stated goals for the first 10 years and thereafter let the dividends be re-invested without adding any new money, in 20 years this portfolio should be yielding ~$70,000 or more of yearly income.
Finally, this will be a portfolio in progress for a long time and I will try to provide timely updates as and when needed, but at least 4 times a year.
Full Disclaimer: The information presented in this article is for information purpose only and in no way should be construed as financial advice or recommendation to buy or sell any stock. Every effort has been made to present the data/information accurately, however the author does not claim for 100% accuracy. The stock portfolio presented here is a virtual portfolio for demonstration purpose, however the author holds many of the same stocks in his personal portfolio.
Disclosure: The author is long ABT, ADM, CL, CLX, COP, INTC, JNJ, MCD, MSFT, NSRGY, O, PG, WAG, WMT. The author wrote this article themselves, and it expresses their own opinions. The author is not receiving compensation for it (other than from Seeking Alpha). The author has no business relationship with any company whose stock is mentioned in this article.
Editor's Note: This article discusses one or more securities that do not trade on a major U.S. exchange. Please be aware of the risks associated with these stocks.