Homes Sales Help Spark Rally
The S&P 500 posted a new intraday high Tuesday after encouraging housing (NYSEARCA:XHB) data was released. From Reuters:
U.S. home resales hit an eight month-high in June, suggesting the housing market was gradually regaining momentum and would help the economy to stay on a higher growth path this year. The third straight month of home sales gains, reported by the National Association of Realtors on Tuesday, added to employment and retail sales data that have indicated economic growth ended the second quarter on a firmer note.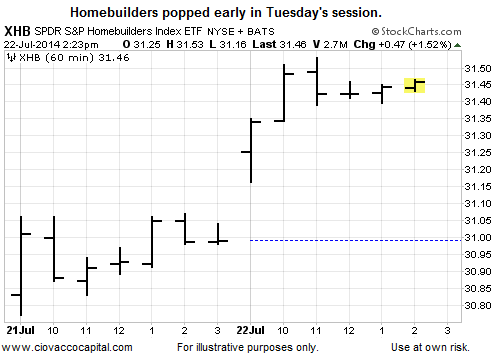 S&P Has Not Done This Yet
While the headlines referenced new highs, the S&P 500 needs to close over 1985 and change to make a new closing high. Tuesday's close fell just short with the final print for the day coming in at 1983.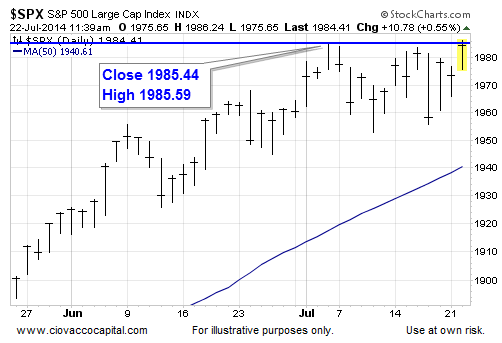 As noted on Twitter, investors can gain some short-term insight based on where stocks head next.

Earnings Playing A Big Role
Earnings have been pleasing to stock market bulls thus far. However, less than half of the companies in the S&P 500 have pulled back their quarterly curtain. From The Wall Street Journal:
Eighty three of the 116 companies in the S&P 500 that have reported earnings to date have beat expectations, according to FactSet. For the Dow, 11 companies of the 14 that have reported have topped estimates. There's been "a really healthy earnings picture for U.S. corporations so far," said Michael Marrale, head of research, sales and trading at brokerage firm ITG.
Investment Implications - Bulls Still In Control
As noted on July 21, recent volatility can be put into the "normal" basket. How concerned should we be about the failure of the S&P 500 to post a new closing high? At this point, it is not something to lose sleep over. Our concerns would increase if stocks have not posted a new closing mark over the next couple of weeks. The evidence in hand continues to call for U.S. equity exposure (NYSEARCA:SPY), coupled with leading sectors, such as transportation (NYSEARCA:IYT).
Disclosure: The author is long SPY, IYT. The author wrote this article themselves, and it expresses their own opinions. The author is not receiving compensation for it. The author has no business relationship with any company whose stock is mentioned in this article.