Please note that this article is based on information I have come across in my due diligence of Karyopharm Therapeutics (KPTI), which I have extensively linked and shared. Any opinions I share or conclusions that I draw based on this information are my own, and are not investment advice.
Run up on Phase I data
On June 13th, 2014, Karyopharm released PR about the results of their Phase I data, especially highlighting the impressive results of Selinexor + the low Dex in 8 individuals. This resulted in a near 100% gain from the previous day's closing price. At the June EHA Annual Meeting, the below chart was made available summarizing these results:

Source: Karyopharm Therapeutics. June EHA Annual Meeting Poster
First off, in comparison with the other groups, the Low Dexamethasone group had just over half as many participants as the other control groups. A more even study would have made the Low Dex results statistically more significant.
Secondly, the Clinical Benefit Response (CBR), Overall Response Rate (ORR), and Stringent Complete Response (SCR) are the key success indicators. The chart shows significantly improved responses in Selinexor + Low Dex compared to Selinexor alone. In fact Selinexor treatments alone yielded less than impressive results. Dexamethasone is already an existing treatment for Multiple Myeloma. In fact, a 1992 study of Primary Dexamethasone Treatment of Multiple Myeloma in 112 patients has already shown to have significant response rates by itself:
"Using criteria based on a 75% or greater reduction of calculated tumor mass, the overall response rate was 43%."
The 43% overall response rate (ORR) in Dexamethasone alone in the 1992 study + the 6% ORR reported in the chart above for a high dose of Selinexor alone would equal a 49% ORR, very close to the 50% ORR touted by Karyopharm's test results for the combination of the two drugs. From this analysis, it appears Dexamethasone itself could be responsible for the favorable results. Selinexor by itself had a mild-to-moderate results in both the low and high dosages, and are not significant without Dexamethasone. The study is seriously flawed in that it did not have a group being treated with Dexamethasone to show its results by itself.
Thirdly, the Adverse Events in standalone treatments of Selinexor are significant, but according to the June EHA presentation poster, they are significantly reduced with Dexamethasone. The stark contrast between the high dose and a higher dose with Dexamethasone raises questions about if the low sampling size was not a significant contributor to the near-complete reversal of any adverse event in the 6 participants sampled (N=6) compared to the low and high dose which had 17 participants. The low number of participants affects the significance of these results, and a larger Phase II or Phase III trial may not yield the same results.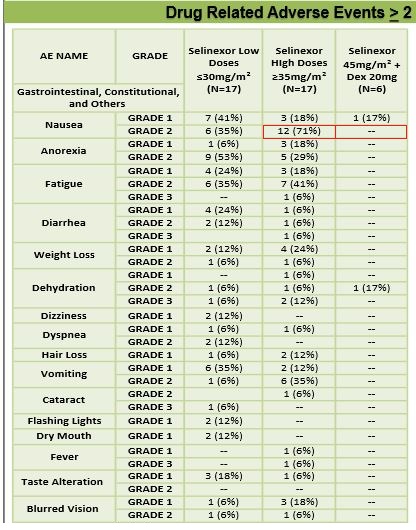 Source: Karyopharm Therapeutics. June EHA Annual Meeting Poster
For example, in patients who got the "high" dose of Selinexor, 71% had GRADE 2 nausea. However, of the 6 patients with an even higher dose of Selinexor combined with the Dexamethasone reported no nausea, so we are led to believe from the data that Dexamethasone is countering nausea caused by Selinexor.
This again seems to make a strong case for Dexamethasone as a treatment for Multiple Myeloma and to counter the side effects of Selinexor, but where does Selinexor actually add any value if Dexamethasone is largely responsible for the tumor reduction?
In a message submitted on July 18th to Karyopharm's Investors Contact Us page, the questions were asked:
If they are aware Dexamethasone is already used in the treatment of Multiple Myeloma, and studies have shown significant ORR of 43%?
If they agree that a patient trial should have been done on Dexamethasone alone to distinguish if it or Selinexor was responsible for favorable results including 1 complete response in the group that received the combination of the two drugs.
No response from Karyopharm Therapeutics was received.
June Insider Selling
Kauffmann and Shacham, who are married, sold a total of 220,000 shares in June on the heels of the near 100% run up on the Phase I data news. The first Form 4 was filed on June 19th, for the sale of 20,000 shares (10,000 each). The second Form 4 was filed July 2nd, for the sale of 200,000 shares (100,000 each). While the insider selling may have been part of a 10b5-1 Plan, according to the Boston Business Journal, this plan was entered June 13, the same day of the Phase I PR release, which really undermines the whole point of having a 10b5-1 plan if you can plan your sales to coincide with significant PR and resulting price run ups and basically turn it around in 1 week.
In SEC filings June 25th, 26th, and 27th for the sale of 200,000 common shares Kauffmann and Shacham were referred to as "Certain Shareholders," and were not identified as the sellers until July 2nd in the Form 4 filing after the offering was completed and the underwriters had elected to exercise their option to purchase 397,087 shares. This was likely done to avoid affecting the stock price until after the offering was completed and the underwriters had claimed their shares. As you can see from the below chart, following June 2nd shares significantly dropped.
In a message submitted on July 18th to Karyopharm's Investors Contact Us page, the question was asked:
How do you explain the timing of over $8M in insider selling and $110M dilution at $42.50 on Phase I results PR run up?
No response from Karyopharm Therapeutics was received.
June $110M Offering
On June 25th Karyopharm registered 2,447,247 common shares and an additional 397,087 shares optional for underwriters to purchase, which they did exercise, making the total dilution 2,844,334 shares. The offering price was $42.50.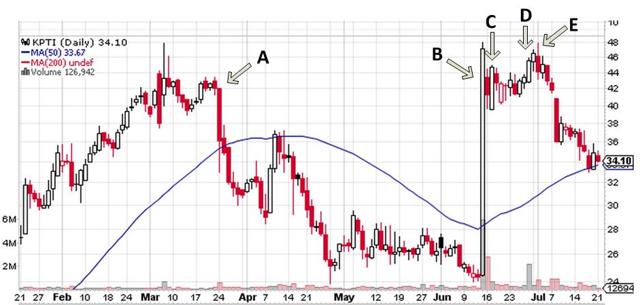 Source: StockCharts.com
A. March 21, 2013 - Registration of 4,400,000 shares for employee
B. June 13, 2014 - Phase I Data PR released
C. June 19, 2014 - $115M Secondary Offering Filed
D. June 30, 2014 - Underwriters announce full exercise
E. July 2, 2014 - CEO, CSO disclose 200,000 share sale
From the looks of the chart, whatever was holding the price up through the 2nd half of June suddenly quit once the underwriters had taken their options and insider sales were completed. The chart is looking like it may repeat the pattern started back in March (Point A) when the dilution for the employee stock program was announced and head back to the mid-$20 range.
EPIX Pharmaceuticals: Kauffmann and Shacham's EPIC Fail
Prior to starting Karyopharm, Kauffmann was CEO from 2006-2008 of a company called EPIX pharmaceuticals. Shacham was head of drug development activities at EPIX. At its IPO in 1997, EPIX traded for $7/share. Under Kauffmann's management from 2006-2008, the company was delisted from the NASDAQ exchange for failure to meet listing requirements, and traded on the OTC boards before bankruptcy and liquidation. By August 2009, EPIX was trading at $0.001 per share making it a near perfect 100% loss.
EPIX had many of the major accomplishments clinical phase biotech companies (and their shareholders) dream of.
Despite these catalysts, all of which would be considered major accomplishments for a development stage biotech company, EPIX was doomed by debt. The best way to summarize Kauffman's time at Epix was said by Dr. Elkan Gamzu in July 2009, who took over as President and CEO of Epix shortly after Kauffman's departure:
"It is with great disappointment that the Company must precede with this decision (liquidation and termination of all employees). Over the past several months we had taken several actions in an effort to improve the financial health of EPIX, including the retirement of our $100 million aggregate principle amount of 3.00% Convertible Senior Notes due 2024. Despite this and the efforts of our financial advisors who approached numerous third-parties over the past several months, we were unable to obtain additional funding to continue our operations or consummate a strategic transaction."
Just prior to the bankruptcy filing and liquidation of EPIX, Kauffman as CEO, out-licensed EPIX's computational chemistry technology intellectual assets to his wife Shacham. The two then went on to form Karyopharm with the technology, which is now a $1 billion + company.
In a message submitted on July 18th to Karyopharm's Investors Contact Us page, asking for:
An explanation of the EPIX bankruptcy and liquidation despite many promising milestones?
If any consideration was paid to EPIX for the out licensing?
What role, if any has the computational chemistry technology played in Karyopharm's drug pipeline?
No response from Karyopharm Therapeutics was received.
Sticker Shock
Karyopharm's IPO price was $16.00 last November. On June 12 trading closed at $24.35. June 13th upon release of the Phase I PR, shares jumped to a high of $47.98, nearly a 100% gain from the previous day's close, and 200% gain since their IPO only 7 months ago. In that time they have:
March 21, 2013 - Registered an additional 4,479,057 shares for an "employee stock program." Karyopharm has 31 full-time employees.
June 26th - Registered an additional 2,447,247 shares for a secondary, plus an additional 397,087 for their underwriters.
The secondary offering and insider selling was done at $42.50. According to SEC filings, Karyopharm will have an outstanding aggregate of 32,209,746 shares after the June 26th offering is complete. This represents significant dilution since the IPO.
According to Boston Business Journal, with the amount of stock owned by Kauffmann and Shacham, the post Phase I data release valuation puts their combined net worth at more than Vertex Pharmaceuticals (NASDAQ:VRTX) founder Josh Boger as well as Boston Scientific (NYSE:BSX) co-founder and Chairman Peter Nichols.
My 2 Cents
The Phase I data for Selinexor adds little value to the company at this stage because it is only Phase I data, the combined Dexamethasone + Selinexor results that were so highly touted were only done with a sampling of 6 patients, and the data fails to show that Selinexor rather than Dexamethasone was responsible for the positive results reported. It appears Selinexor is "piggybacking" on Dexamethasone's test data. This is concerning because of the cash windfall the questionable Phase I data created for Karyopharm and its CEO/CSO couple. Investors who bought into the Phase I data PR and secondary offering are already realizing significant losses on their investment.
Investors should also note the behavior patterns of the company and its executives. As seen with EPIX Pharmaceuticals, there was a history of not properly managing debt and finances despite significant progress in drug pipelines. The timing of the large secondary offering and insider selling coincided with the Phase I run up to raise the maximum amount of money possible is somewhat indicative of a leadership that knows how to play Wall Street, which does not benefit investors.
The registration of over 4 million additional shares for the employee stock program last March also raises some eyebrows. At the offering price of $42.50, that is over $190M worth of stock. Kauffmann and Shacham already have significant ownership of over $70M in Karyopharm stock. Investors will need to watch how these shares are distributed to the 31 employees, especially the executives who will likely receive larger distributions. If Kauffmann and Shacham are going to sell 220,000 shares only to register and re-issue themselves additional shares, investors will see significant dilution of the value of their stock.
With most of their pipelines in Phase I or II, Karyopharm is many years from regulatory approval and generating meaningful revenue. Per recent filings, Karyopharm has already accumulated a growing $41M debt, and had only $233,000 in revenue in 2013. EPIX in comparison, had $100M debt at the time of their bankruptcy, but had several revenue generating deals with several BP companies. We are likely to see several years of the pattern where PR is followed by secondary offerings and insider selling to keep Karyopharm afloat with money to continue conducting its trials and support its operations, which is pretty much typical in the biotech game. With institutional ownership of only 31.34%, you can expect the largely retail trading of Karyopharm to be very volatile.
Given the significant dilution since the IPO @ $16 last November, it is hard to justify the current valuation of this stock and significant downside of 50% or greater is expected. Investors here could easily conclude that the Phase I data released June 13th is questionable and that a price higher than the closing of $24.35 on June 12th cannot be justified. Investors could further conclude that given the questionable Phase I data plus the additional dilution and insider selling since the IPO, that a price above $16 cannot be justified. There is little or no basis that can be used to value this company with 2013 revenue of $233,000 at over $1 billion, and making the CEO and CSO some of the richest people in Boston.
My advice here is to do your due diligence. Scrutinize the underlying data of clinical trial results, and do not take the words of executives in PR released by the company for granted. Send emails, ask questions. If you don't get a response from Investor Relations in response to some serious objective questions about events and data as occurred in my situation, not even a "we will get back to you" in a timely fashion, move on. There are plenty of other worthy stocks without so many open questions out there.
Disclosure: The author is short KPTI. The author wrote this article themselves, and it expresses their own opinions. The author is not receiving compensation for it. The author has no business relationship with any company whose stock is mentioned in this article.