Bad enough that the Brazilian national team was embarrassed by Germany in their home stadium during the recent World Cup. But Petrobras (NYSE:PBR), the once iconic national oil company, has stumbled badly in recent years. Even a recent 60% jump in the share price - predicated on anti-business Brazilian President Dilma Roussef losing the October elections - seems more of a selling opportunity than a chance to get in on a multi-year revival. Petrobras has many unique assets, first among them prodigious reserves and reserve growth. But the old saying "too much of a good thing can be bad" certainly rings true with Petrobras. And Petrobras' in-state cronyism has been well-documented.
You can see Petrobras' horrible longer-term performance since the Credit Crisis versus its peer group here: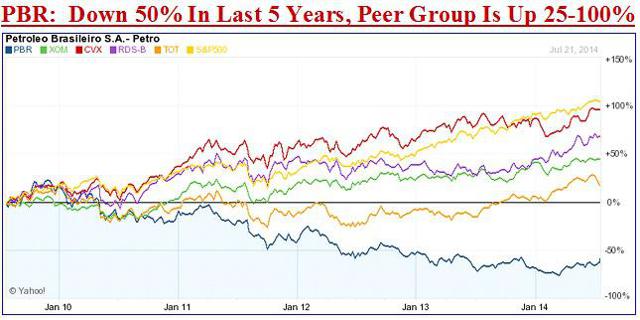 All of the supermajors have had problems, some unique, some common to Petrobras. Total SA (NYSE:TOT) has been plagued by outages in Africa and production shortfalls in the upstream portfolio. But Total has recently been leading the way on curbing CAPX growth and actually reducing it, which is what the investment community wants to see. ExxonMobil (NYSE:XOM) has been burning off the indigestion of the natural gas-heavy XTO Energy acquisition from 2010, one of the few mistimed purchases in Exxon's long, glorious history. Royal Dutch Shell (NYSE:RDS.B) has been plagued by foreign production shortfalls like TOT and also made an ill-timed entry into U.S. shale energy, overpaying for non-core acreage. Finally, Chevron (NYSE:CVX), similar to Petrobras in being heavily-tilted to oil, continues to await resolution on the massive Gorgon project in Kazakhstan, which is running years behind schedule (and tens of billions in cost overruns, too).
Petrobras' problems are somewhat unique to this government-controlled entity. Specifically, Petrobras has been forced to focus on ultra-long term reserve potential that outstrips its ability to develop the resources in the short-term; a lack of attention to profitability measures like ROE and ROIC; high-cost services and contracts as a result of local content rules and regulations; and low-cost diesel and gasoline pricing to bribe voters to support political interests. All of these policies can be traced to the Brazilian government's 56% voting control of Petrobras stock, which means minority shareholders' interests are not being looked after. The Brazilian government is using Petrobras as a piggy-bank to fund a smorgasbord of 'social justice' needs and wants. When Brazil was booming and CAPX was one-third the current level that was affordable. Not so today.
But the biggest problem has been the government granting Petrobras 'the honor' of oil rights to the prodigious pre-salt and surrounding areas. The problem is, even if the price was fair (and there is some dispute although the per-barrel costs are in-line with global norms) there is simply no way that Petrobras can justify adding all the reserves at the present time. Aside from a massive injection of reserve rights a few years ago, the Brazilian government recently reached an 'agreement' with Petrobras for auxiliary reserves surrounding existing pre-salt basins.
There is no doubt that the reserves in the pre-salt region are lucrative in today's environment -- when they are flowing oil. At 520,000 barrels of oil per day from just 25 installed wells, Petrobras is producing almost 21,000 barrels of oil per day from each well. Some pre-salt wells in the Santos Basin are even producing upwards of 30,000 barrels of oil per day. This compares to average well productivity of around 15,000 barrels per day in the North Sea and 10,000 barrels per day in the Gulf of Mexico.
Petrobras goal - or rather, the Brazilian government's goal/mandate - is to nearly double production output in 6 years (10% growth per annum):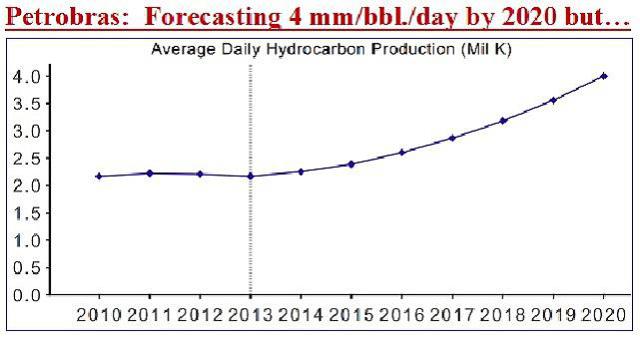 Based on recent production delays and the enormous amount of CAPX needed to develop all the reserves, not a single sell-side firm believes in Petrobras' 2020 production forecast (at least we know the analysts have passed their sanity checks). At a time when other Big Oil companies are getting religion and slowing or even trimming CAPX - and being rewarded with higher stock prices - Petrobras is flooring the accelerator on reserve growth which will hopefully translate into production growth down the road. The company expects to spend close to $175 billion in CAPX the next 4 years, which exceeds even ExxonMobil's CAPX spending plans, a company that produces nearly twice as much oil & gas and which has a market cap over 3x as large.
Petrobras is simply biting off more than they can chew. Too many variables - rig supply, quality of manpower, competency of suppliers, the Brazilian economy, global oil prices, continued domestic fuel subsidies - need to turn positive or not deteriorate further to allow this to have even an outside chance of happening. Even a small 5% miss to production targets translates into big cash flow shortfalls: in a few years, a 5% miss from expected levels will be anywhere from $2 - $5 billion in revenue and commensurate cash flows.
One sell side firm sees mid-to-high single digit misses in production going out to 2018: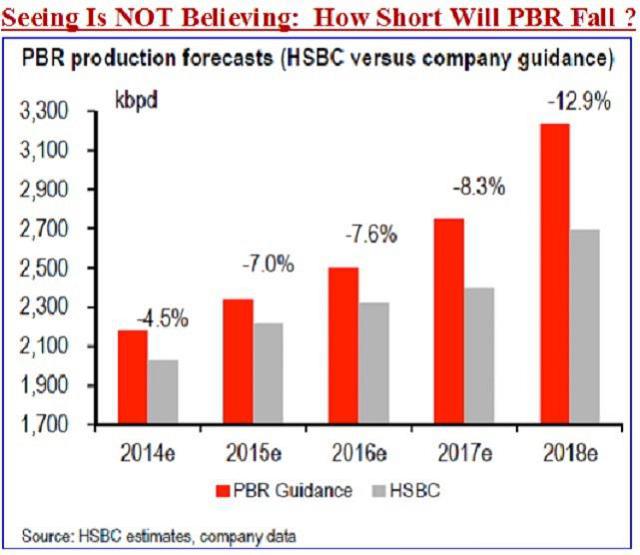 All of this explains the horrible stock performance in recent years but what about going forward? Well, this translates into a VERY DANGEROUS situation if the Brazilian economy or world oil prices weaken. The threat of bankruptcy will actually be discussed. I do not think it will happen, but a stock price in the single-digits with conditions in Brazil anywhere close to Europe's in 2011 and/or with global oil prices at $90/bbl. or less will make such a discussion a reality.
Check out the forecasted debt/EBITDA levels for Petrobras as it outspends its cash flows. These are debt levels more suited for an aggressive wildcatting E&P, not a global supermajor. For comparison, here are the debt/EBITA levels for 2014 for the Petrobras peer group:
ExxonMobil…………... 0.31x
Chevron……………..... 0.30x
Royal Dutch Shell....0.47x
Total SA……………..... 0.71x
Most large oil companies have net debt/EBITDA levels under 1.0x. ExxonMobil and Chevron have often been net cash positive (cash > debt). And they are paying higher dividends AND buying back stock; Petrobras pays a reduced dividend but has not been repurchasing shares (they've been issuing them!). The low levels of net debt/EBITDA for XOM, CVX, RDS.B, and TOT also mean they could use their balance sheet to fund share buybacks, dividends, or even CAPX during the next downturn. PBR's balance sheet looks like it has already entered a downturn: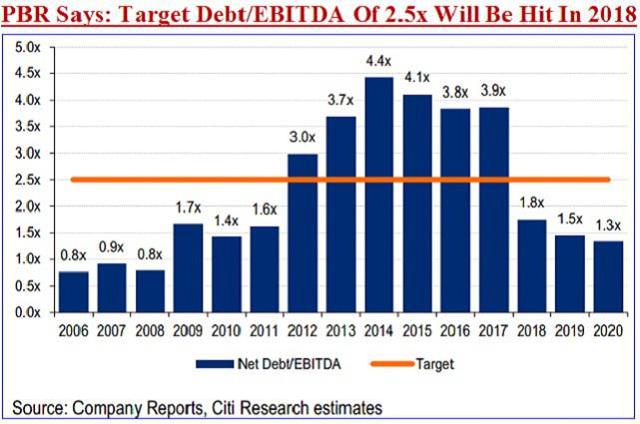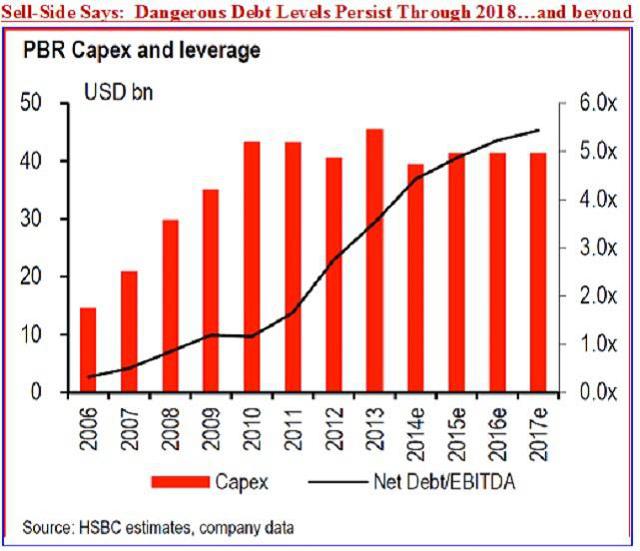 Right now, Petrobras' credit rating (BBB-, right above junk) is in-line with the Brazilian sovereign rating, but if the debt/EBITDA level hits 5x, that could change. The company could be downgraded to junk-status, and the cost of debt from that point could go higher as many institutions might dump PBR debt once it is no longer investment grade (this happened to the U.S. auto companies back in 2005). So either PBR pays even higher costs for debt financing of CAPX, or it does a massively dilutive stock deal. A dividend cut would also be in the cards.
After four years of disappointing production performance and continuous losses in the downstream segment, investors continue to wait to see the company delivering some short term positives, like closing the price parity of domestic fuels or growing production, before they turn positive. PBR is forecast to spend close to $35 BB/yr. in E&P (upstream) CAPX from 2013-20 period (total CAPX of $45 BB/yr.) but is then forecasting about $23 BB/yr. in E&P CAPX from 2021-30 Yes, if you believe the production, cash flow, oil price, and GDP forecasts going out 16 years it makes PBR a cheap stock today. But how often does reality line up with the cells in an Excel spreadsheet ?
Petrobras is cheap on EPS, less so on debt/EBITDA (because of the massive debt overhang):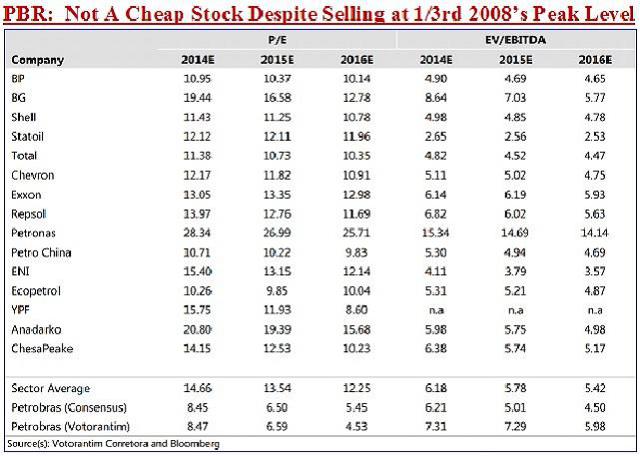 This is not to say that Petrobras does not have any positives. The reserve growth potential assures the company of production well into the distant future; it need not go hunting all over the globe chasing dry holes or risking geopolitical squabbling. Development and completion of wells has been cut in half in 4 years, from 120 days in 2010 to about 60 days in 2014. The election in November could usher in a more pro-business friendly administration (certainly, the stock price has been discounting that). The government's deep pockets at some point could become an asset instead of a liability.
Still, especially considering the run-up in PBR's stock price in response to President Roussel's falling poll numbers, I would be wary of buying Petrobras at current levels: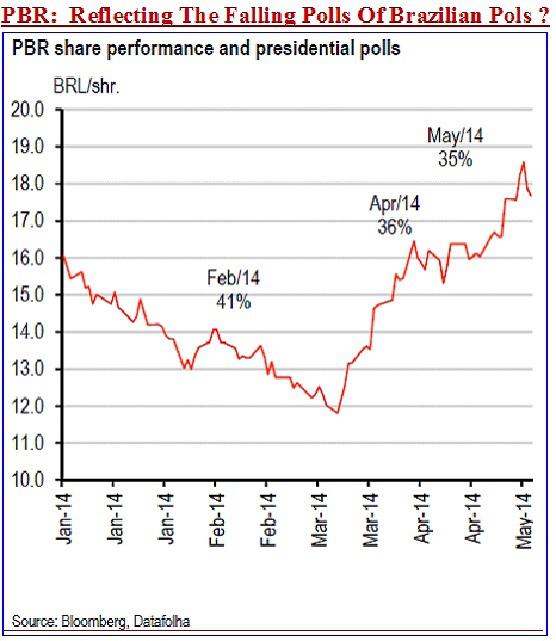 I think VERY long-term PBR will prove to be a very good investment, but you could easily see the stock price with a single-digit handle during the next stock market or oil downturn. I believe when there is 'blood in the streets' regarding PBR's financial condition it could become a glorious time to load up on the stock and potentially reap a 10-bagger. Unfortunately, I do not see that time at the present and would avoid the stock for safer, more transparent, less-leveraged alternatives with stock markets globally and oil prices both due for a correction.
Disclosure: The author is long RDS.B, CVX, TOT. The author wrote this article themselves, and it expresses their own opinions. The author is not receiving compensation for it (other than from Seeking Alpha). The author has no business relationship with any company whose stock is mentioned in this article.
Additional disclosure: Online and personally managed accounts under the control of the author have positions in the stocks listed above.