Most world-renowned investors became famous for beating the Street during a bull market. Think Warren Buffett, Bill Miller and Peter Lynch. Yet John Paulson garnered fame (or infamy) as a hedge fund manager who profited from shorting sub-prime mortgages in 2007 and 2008.
In 2009, John Paulson made a different "call" that has yet to pan out; that is, the billion-dollar leader of Paulson & Co. expressed that monetary stimulus efforts by the Fed could only lead to inflation and higher treasury yields. Since the end of 2009, however, 30-year yields have fallen roughly 75 basis points from 4.75% to 4.00%.
It follows that shorting treasuries in 2009 up through October 2010 has resulted in significant losses. Treasury yields dropped when the sovereign debt crisis in Europe made U.S bonds attractive on a relative basis. Then, the U.S. economy hit a softer-than-expected slowdown, leading to a wave of additional safer-haven seeking. Now, the Fed is embarking on yet another round of treasury bond purchases through QE2. (Note: Quantitative easing in the second go-around is likely to include short- and intermediate-term debt in the 5-10 year range.)
Still, the question remains… Was John Paulson wrong or was he early? Three larger-than-life personalities recently weighed in:
1. "…as QE [quantitative easing] sparks an economic recovery, private loan demand, which has collapsed during the recession, will increase, invariably leading to higher interest rates. It seems certain that the Treasury bond market seems headed for a fall." Jeremy Siegel, uber-professor of Finance and co-founder of WisdomTree, penned his thoughts for Yahoo Finance on 10/27/2010.
2. "The Fed's announcement of quantitative easing would likely signify the end of a great 30-year bull market in bonds." This sums up the viewpoint of bond guru and chief investment officer of PIMCO, Bill Gross on 10/28/2010, according to Shanthi Venkataraman at The Street.com on 10/28/2010.
3. "I personally believe that the trade of the decade will be to short bonds," Doug Kass announced in late September of 2010. Mr Kass is a hedge fund big-wig and general partner at Seabreeze Partners.
Obviously, only time will tell if the bond bears have it correct. With that said, should you merely avoid treasuries? Or, should you endeavor to profit from yields rising and bond prices falling?
Assuming you have the stomach for rapid price swings, you might finally want to give ProShares UltraShort 20+ Year Treasury (NYSEARCA:TBT) a serious look. TBT seeks daily investment results that correspond to twice (200%) the inverse of the daily performance of the Barclays Capital 20+ Year U.S. Treasury Index — an index that may actually be more volatile than the S&P 500. Moreover, the price of TBT is currently above its 50-day and 100-day trendlines for the first time in more than 6 months.
click to enlarge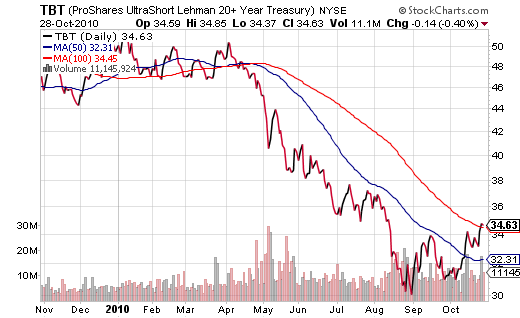 Disclosure: Gary Gordon, MS, CFP is the president of Pacific Park Financial, Inc., a Registered Investment Adviser with the SEC. Gary Gordon, Pacific Park Financial, Inc, and/or its clients may hold positions in the ETFs, mutual funds, and/or any investment asset mentioned above. The commentary does not constitute individualized investment advice. The opinions offered herein are not personalized recommendations to buy, sell or hold securities. At times, issuers of exchange-traded products compensate Pacific Park Financial, Inc. or its subsidiaries for advertising at the ETF Expert web site. ETF Expert content is created independently of any advertising relationships.