Microsoft (NASDAQ:MSFT) and Cisco (NASDAQ:CSCO) recently announced a multi-year sales and go-to-market partnership agreement focusing on modernizing datacenters through the delivery and acceleration of integrated solutions for enterprise customers and service providers. According to the deal, Cisco will help Microsoft migrate Windows 2003 customers to Windows 2012 R2 running on the Cisco UCS platform. In this article I will focus on how the deal could be beneficial for Microsoft.
Microsoft just announced its FY14 fourth quarter earnings. The company reported earnings of 55 cents a share on revenues of $23.38 billion, a 17% year-over-year increase. Microsoft's commercial cloud revenue rose 147% year-over-year ($4.4 billion/year run rate), which indicates that the company's cloud business is generating huge momentum. Satya Nadella, CEO of Microsoft, said, "I'm proud that our aggressive move to the cloud is paying off - our commercial cloud revenue doubled again this year to a $4.4 billion annual run rate."
The Deal Will Help Microsoft Attract More Hybrid Cloud Customers
Microsoft and Cisco have agreed to work on a three-year go-to-market plan, the long-term implication of which is that Microsoft will supply Cloud OS solutions including Windows Server, System Center, SQL Server and Microsoft Azure while Cisco will supply its hardware including Cisco Unified Computing System ("UCS") and Cisco Nexus switching.
The agreement will help Microsoft strengthen its presence in datacenters worldwide, which would help the company win more customers in hybrid cloud. It's well known that the adoption of hybrid cloud is increasing at a rapid pace all over the world. Since hybrid cloud allows an organization to manage some resources in-house and others externally, the organization remains in an advantageous position in terms of scalability and cost-effectiveness.
With embracing hybrid cloud, Microsoft is extending the datacenter to Windows Azure in the cloud. The company recently announced that it has integrated its StorSimple data storage appliances more deeply into its Azure cloud. StorSimple will use Azure instead of solid state or hybrid disks for automatic capacity expansion and off-site data protection. This will help customers save time for upgrades and data protection and in case a disaster happens faster data recovery will be possible. Microsoft said:
These new solutions demonstrate how Microsoft is bringing the best of on-premises storage together with the cloud in order to deliver bottom line savings to customers by cutting storage costs from 40% to 60% and helping IT teams focus more on business strategies than infrastructure management.
Microsoft's Azure cloud services help customers tightly integrate their VMs (virtual machines) with the company's various Cloud OS solutions. The new partnership between Microsoft and Cisco will allow Microsoft to achieve a steady market share growth in hybrid cloud, with Cisco already enjoying market leading positions in hardware with its revenue-leading products, such as blade servers.
Is Microsoft a "Buy?"
In an article on Microsoft in late 2012, I predicted that the stock could have 30% upside from $28, the price at which Microsoft was trading at that time. In absolute terms, my upside target was $36.40, which I provided based on the company's launch of Windows 8 and Surface. Currently the stock is trading around $45, and I believe it has some more upside left.
In the third quarter of FY14, Microsoft's Azure revenue grew over 150%, and the company said that it has introduced more than 40 new features that would make the Azure platform more attractive to cloud application developers. I believe that Microsoft's cloud momentum will continue to drive revenue higher. Following the partnership with Cisco, the company's cloud business is expected to gather further momentum. Further, the company's enterprise business is also expected to register stellar growth led by growing adoption of Office 365, revenue from which grew over 100% in the third quarter.
Technical Picture
Technically, the outlook for Microsoft is bullish as long as the stock trades above its 50 DMA level, currently which is standing at $41.44. Furthermore, with the stock just breaching the upper limit of the Bollinger Bands at $45, more upside in the short-term should be in the cards. I believe that it's heading toward $48 in the short-term and $57 in the medium-term.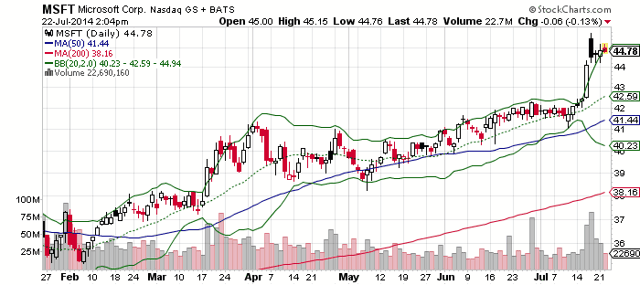 The Bottom Line
Right now, it seems that Microsoft is doing everything right and I firmly believe that the stock will reach the peak it made during Y2K if the overall stock market continues to support.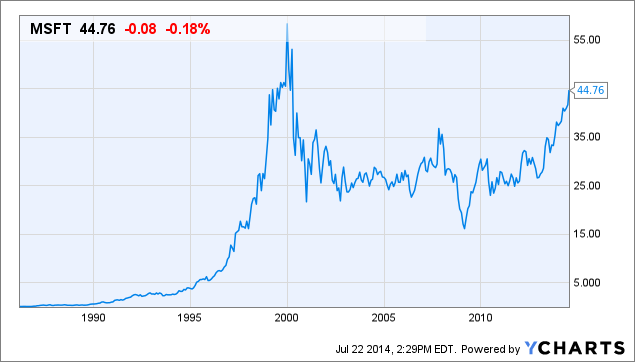 MSFT data by YCharts
Although it's very difficult to recommend buying a tech stock when the Nasdaq Composite Index and its tracking ETF (NASDAQ:QQQ) are heading towards historic highs, I'd still advise buying Microsoft due to its tremendous prospects in the cloud.
Disclosure: The author has no positions in any stocks mentioned, and no plans to initiate any positions within the next 72 hours. The author wrote this article themselves, and it expresses their own opinions. The author is not receiving compensation for it (other than from Seeking Alpha). The author has no business relationship with any company whose stock is mentioned in this article.