Expedia Inc. (NASDAQ:EXPE) reported third quarter 2010 earnings of 62 cents per share (according to company provided diluted earnings per share figure) beating Zacks Consensus estimates of 55 cents. EPS also increased 51.2% sequentially and 37.8% year-over-year.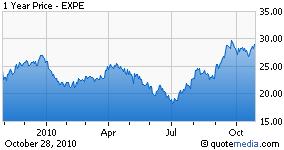 With bookings increasing significantly Expedia reported an increased and profitable income for the quarter. Moreover, higher operating income and a lower effective tax rate helped the company pull up a strong quarter.
Journey of the Quarter
Revenue increased 15.9% year-over-year to $987.9 million and also surpassed the Zacks Consensus estimates of $940 million.
The increase in revenue was particularly due to the increase in hotel revenues and advertising and media revenues. Strong unit growth in both hotel and air sections also helped in the increased revenue.
Hotel revenue increased 14% worldwide during the quarter mainly due to a 14% increase in room nights stayed.
Worldwide air revenue also increased 14% and advertising and media revenue increased significantly by 40% in the quarter. The 40% increase was attributable to a 59% increase in third-party revenue for TripAdvisor.
Gross bookings increased 17% year-over-year and was driven primarily by 14% increase in transactions, 9% increase in average airfares and 4% growth in hotel average daily rates.
Effective tax rate came below 26% in the quarter, as compared to an approximate 34% in the first half of the year.
Operating income increased 24.1% to $276.8 million as compared to $223.0 million in year ago quarter.
Conclusion
Estimates for the quarter had been stable in the run-up to the earnings release, though 3 analysts lowered estimates in the last 30 days.
The current Zacks Consensus Estimate for fiscal 2012 of $1.82 is down from $1.83 thirty days ago. The full-year Zacks Consensus Estimate for fiscal 2011 remained the same at $1.51.
We currently have a Zacks #3 rank for Expedia which translates into a Hold rating on short-term basis. On long-term, we currently have a Neutral recommendation.