Potential disruptive technologies and business models are a norm in the technology sector. These disruptions often entail stock momentum. Sometimes investors get too optimistic about a business, which results in an unsustainable level of valuation for a given company. Netflix, Inc. (NASDAQ: NFLX), with 300% and 24% valuation growth in 2013 and 2014 respectively, seems to be that company. The business model of the company is --no doubt-- unique and arguably disruptive. But, do these traits justify the skyrocketing valuation of Netflix? Rest of the report is intended to explore this very question.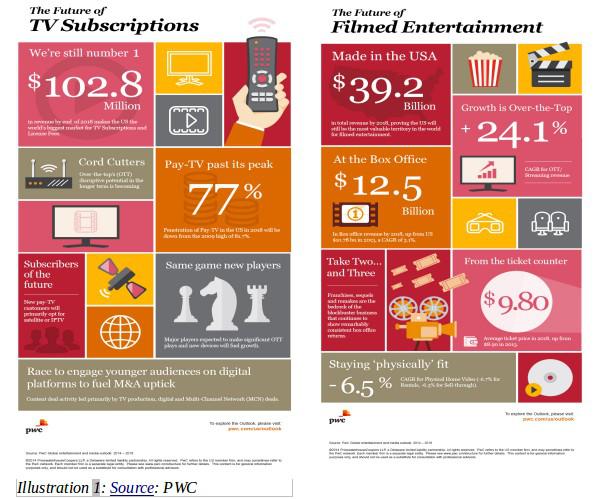 The business
Netflix is a TV and movie network that uses the internet for the delivery of its content. It engages in the provision of ad free entertainment content (TV series and movies) for a monthly subscription. Basically, the revenue of the company is directly correlated to the growth of its subscriber base. Anyhow, the company operates in three segments; domestic streaming, international streaming and domestic DVD. As of second-quarter 2014, the company has around 50 million subscribers, of which 36.2 million are domestic and 13.8 million are international. The company has members in more than 40 countries. Netflix generated around 73% of its revenue from domestic streaming and 27% from international streaming during the second-quarter 2014.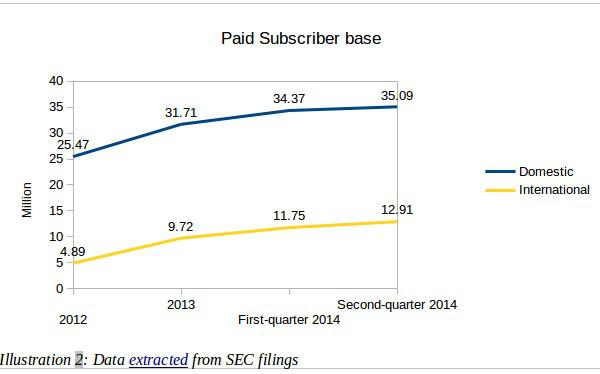 Thesis and catalysts
The company has been gaining subscribers consistently. Revenue also grew by 36% in the last two years. But, in my view, these developments don't justify Netflix's high valuation. There are several factors that point towards the same. For starters, competition is ramping up. Cost trend and margin of the company is not very impressive. Netflix faces uncertainty regarding fee charges from ISP's for using high capacity. Potential Comcast (NASDAQ:CMCSA)-Time Warner Cable Inc. (TWC) merger poses another threat for Netflix. From investor's perspective, momentum stocks can face problems after great runs; Netflix just had one. Beacon Capital Management Partner Jon Maxson says:
"Historically when you look at the market, what you find is that a stock that does great and is the darling of Wall Street this year, can have issues in the following year."
Netflix will probably witness a correction period. Detailed analysis follows:
Competition
In its own turf, the company faces competition from several players including Hulu, HBO Go, and Amazon (NASDAQ:AMZN) Prime. Netflix is in a strange position as it presents itself as a TV and Movies network.
On the TV side, Hulu is emerging as a strong competitor. Hulu plus carries current season episodes for five out of top six U.S. broadcast networks. Hulu has a TV catalog of 86,000 episodes from 2,900 TV series, thanks to ABC, NBC, and FOX. Apparently it seems that Netflix may be great for old-content watchers but when it comes to up-to-date content, subscribers may flock toward Hulu.
On the movies front, HBO is quite strong. HBO recently won long-term exclusive domestic movie output deals with Universal and Fox. According to Scott Devitt, lead analyst, Morgan Stanley:
"We think HBO GO has the most quality movies of the streaming video on demand (SVOD) services and is the clear leader by a wide margin in original programming, which could lead to added subscriber stickiness for HBO and prevent some of its members from feeling the need to subscribe to other SVOD services"
Moreover, new movies become available on Netflix long after cinema screening and Blu-ray availability, and hence it is a less attractive option.
Costs
Content acquisition costs are quite high for Netflix. Marketing and technology development costs are also a recurring activity, and are an issue going forward. Before we analyze the costs, see the table that follows: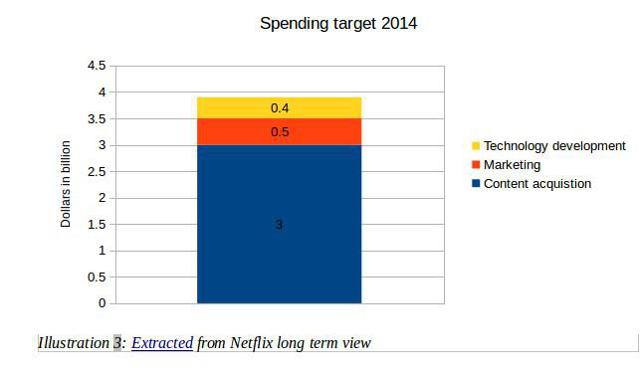 Netflix has a spending target of around $4 billion for the year ended 2014 while the revenue is around $4.62 billion in the trailing twelve months. This clearly tells the whole story of Netflix's margin. In near future, these costs are not expected to come down. Netflix has to keep investing in original content and license more content to retain its subscribers. The company acknowledges that original content is cash intensive and the expansion of original content will consume cash. The company states in its long term view that:
"We'll steadily grow our original content spending, and pace ourselves so that we have a high percentage of hits and stay efficient in terms of what we spend relative to licensed content."
So, the content costs are expected to increase in future. As for the marketing costs, they are correlated to the growth of original content. More original content will require more advertisements. Technology development costs will also move in the upward direction as the company will have to upgrade its infrastructure and network to cater the needs of growing subscriber base. Moreover, Netflix is consuming around 1/3 of domestic internet capacity in peak hours. It is highly unlikely that the company will enjoy free capacity forever, ISPs are already pressuring Netflix to pay for high capacity usage. The point is that costs of Netflix are mainly variable in nature, and hence the scale benefits are not very significant. Therefore, the growth of the subscriber base doesn't justify such high levels of valuation for Netflix.
Overall, cost structure of Netflix along with strong competitive environment indicate that the company will not be able to substantially increase its margin going forward. Increasing subscription price or cutting on content acquisition can affect customer retention. On the flip side, spending too much will hurt profitability. All in all, the company will find a middle ground in the long run. These valuations are not sustainable for a company that has to find a middle ground in the long run. Moody's also noted that Netflix's long-term business prospects:
"still are up against significant present and future competition threats, especially in light of low entry barriers, which could challenge the company's subscriber growth and result in higher content and marketing costs and lower profitability."
Lets now analyze the valuations of the company
Valuation
A cash flow based valuation is carried out with generous assumptions. PWC projects that SVOD (streaming video) will grow at CAGR of 18.3% until 2018. Despite competition and cost pressure, a 34% growth rate for Netflix is assumed. Moreover, OCF is assumed to be 12% of the revenue going forward, keeping in mind the bulls argument of benefit at scale. Note the OCF is around 3% of the revenue in the trailing twelve months. Further assumptions include:
5% growth in perpetuity. Flat CAPEX is assumed, with no growth whatsoever, despite high growth of the industry.
It is assumed that NASDAQ composite is a good approximation for overall market return, and CAPM can be used to drive cost of equity.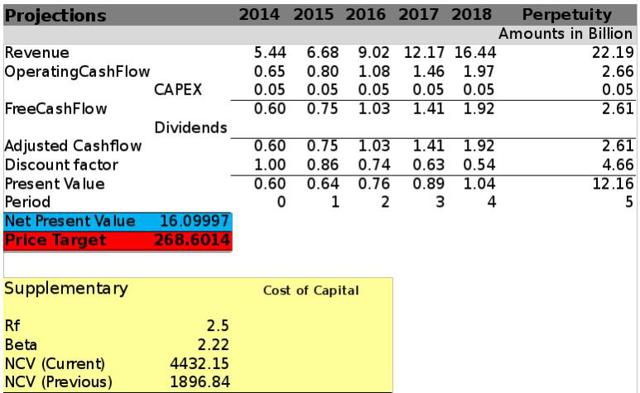 Focus Equity estimates
Valuation reveals that Netflix is overvalued to a dangerously high level. Note that, the assumptions are quite relaxed. Given the situation of competition and costs, the growth and the margin assumed may not materialize. The valuation reflects that the investor is putting too much confidence in Netflix's subscriber growth while ignoring the competition scenario and the margin situation of the company.
Even if we examine the PE ratio of the company, the forward PE (2016) is around 64.8. This is 2 times the growth estimate of Netflix. A PE higher than the growth of industry doesn't bode well for investors generally. The bottom line is that Netflix is overpriced at current valuation.
Verdict
The investor should consider profit-taking immediately due to the cost structure of Netflix and the intensity of competition that can put a cap on company's growth. Comcast-TWC and net neutrality uncertainty also increase the risk attached to this stock. Furthermore, the valuation model doesn't paint a good picture for Netflix. I strongly feel that a correction is imminent, and the investor should stay away from this stock for now.
Thesis risk
If Netflix adopts an advertisement based monetizing model, it will materially affect this thesis and the target price mentioned therein. So, investors should closely watch out for any development in this regard.
Disclosure: The author has no positions in any stocks mentioned, and no plans to initiate any positions within the next 72 hours. The author wrote this article themselves, and it expresses their own opinions. The author is not receiving compensation for it (other than from Seeking Alpha). The author has no business relationship with any company whose stock is mentioned in this article.