ConocoPhillips (NYSE:COP) explores for, develops and produces crude oil, bitumen, natural gas, liquefied natural gas, and natural gas liquids worldwide. After spinning off its downstream business Phillips 66 (NYSE:PSX) in 2012, ConocoPhillips became one of the largest exploration and production companies in the world. It is headquartered in Houston, Texas.
ConocoPhillips has a company objective to deliver double digit returns to its shareholders every year. ConocoPhillips has already moved up almost 30% over the past year, with a current share price of $84.53. Despite the big move up, we still consider COP a buy with total return projection over the next 5 years of 13.30% annually based on several technical and fundamental criteria.
Fundamental: (all numbers below from Fidelity.com)
A big component of the total return component is the dividend. COP currently has an annualized dividend yield of 3.30%. It has a 5-year dividend growth rate of 9.21% and 1-year growth rate of 5.80%. The payout ratio is a very reasonable 44.99% and the dividend coverage is 2.3. According to its most recent company presentation, COP remains committed to this dividend, stating it was its "highest priority use of cash," and "dividends expected to increase over time." Because of its low payout ratio, high dividend coverage, high cash ($7.7B) and low debt ratio, COP will have no trouble accomplishing those objectives.
Despite the 30% rise in share price over the past year, COP is still trading at a very reasonable trailing twelve P/E ratio of 13.1. This compares to a 15.35 average p/e for the oil, gas and consumable fuels industry (some of the companies in that industry are: ExxonMobil, Chevron, Royal Dutch Shell, BP, Total, Statoil, Occidental, Enterprise Products, EOG, Anadarko, Williams, and more). Below we will look at a few other valuation metrics: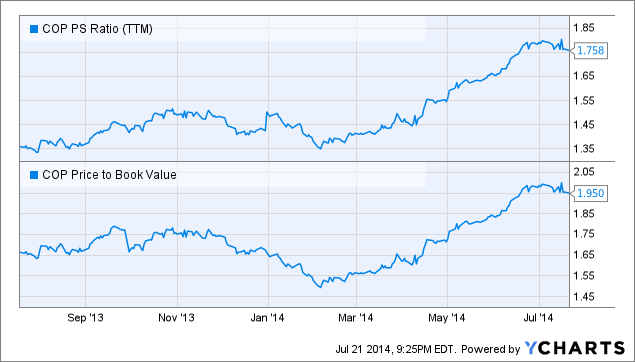 COP PS Ratio (TTM) data by YCharts
As shown above, COP has a Price to Sales ratio of 1.76, and that is compared to an industry average of 3.01 and a market average of 1.89. COP has a price to book value of 1.95 and that compares to an industry average of 6.69 and a market average of 1.95. COP also has a price to cash flow ratio of 6.27, well below the industry average of 11.93. What we find from a valuation standpoint is that COP is not only not overvalued relative to the market and/or it's industry, but it is still relatively undervalued.
When looking at growth metrics, we see solid earnings growth and good projected earnings growth. COP grew its earnings almost 4% during the most recent quarter over quarter, and 10.75% trailing twelve versus the prior trailing twelve months. The earnings projections over the next 3-5 years is 6.88%, which is below the industry average projection of 9.69%. Revenue dropped year-over-year by 3.26%, but they are targeting a 3-5% production and margin growth rate.
According to its most recent company presentation, COP is shifting a large amount of capital from major projects to development programs.
By doing this, COP is striving to increase production across the higher margin assets (LNG, Oil Sands, International Oil and Gas, North American Unconventional) and decreasing relative production across its lower margin assets (North American Gas). COP has an objective of ~ 22% CAGR in North American Unconventionals production from 2013 to 2017.
COP is also seeking to increase its production in LNG by 10%, the Bakken by 20%, the Eagle Ford by 20%, and oil sands by 21% (these numbers all come from ConocoPhillips).
Not only could the growth be double digits over the next 3-5 years, but margins are high and improving. Its gross margin over the past twelve months is 38.87, higher than the industry average. The operating margin is 19.80%, also higher than the industry average. Additionally, the operating margin has been improving over its 5 year average, as is the objective of the company.
The total debt to equity is 45%, and the current ratio is 1.2. These are solid numbers and representative of a healthy company. The cash on the balance sheet has also been growing, leaving plenty of room for these new initiatives and additional dividend increases.
COP has a solid Return on Sales of 14.5%, and Return on Equity of 15.75%. The return on investment is also solid at 9.05%, despite being lower than the industry average.
What we have in COP is a fairly if not undervalued company that is striving to grow production and margins, and has been successful at that. But, after a price that is up 30% and a chart that looks like this, is now the time to buy?
Technical: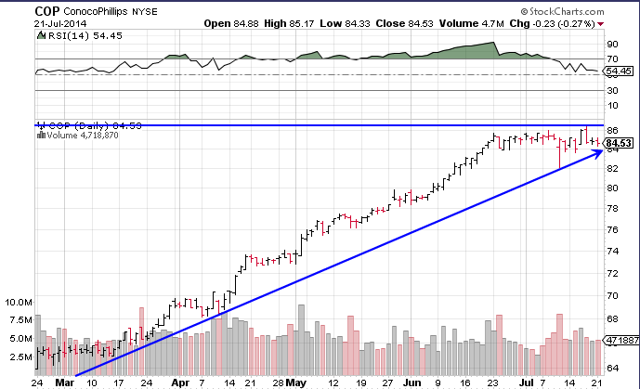 COP is in a clear uptrend, but has been consolidating in the $84-$86 range over the past month. This is the look of an ascending triangle, and this is normally bullish, but not always. If COP can manage to close above the top line, at around $86.40, this is normally a bullish sign. It is also trading well above its 50 and 200 day moving average, and is nearing its 25 day EMA with a rising slope, which is positive.
We arrive at a total return of 13.30% per year annual return over the next 5 years as follows: Total return is a function of multiple expansion/contraction, earnings growth, and dividends. We give 3.2% to multiple expansion (moving from 13.06 p/e to 15.35), 6.9-7% earnings growth, and 3.05% for dividends (if share price increases, yield decreases, not including dividend growth).
The one caveat would be an overall stock market correction. Energy stocks are typically a late cycle outperformer, and energy has led the way over the past 100 days: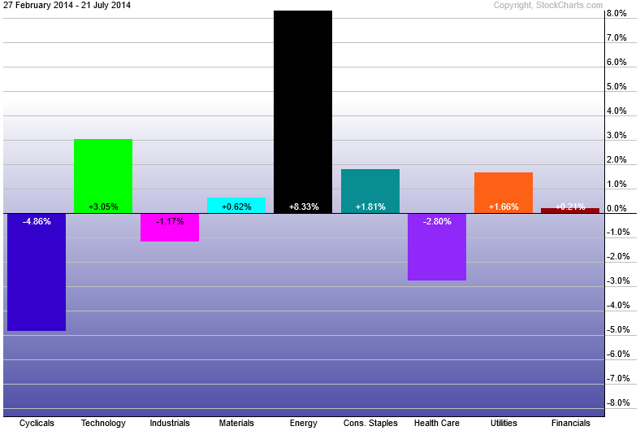 All bets are off in a severe correction, and after 64 months of a bull market, that correction isn't unexpected. However, COP is still poised to outperform in that it is relatively undervalued, has a healthy balance sheet, a large and growing cash balance, a solid and growing dividend, and management that is focused on growing shareholder value.
At a current price of $84.53 and a double digit expected total return over the next 5 years, we feel COP is a worthy addition to a diversified stock portfolio.
Disclosure: The author is long COP. The author wrote this article themselves, and it expresses their own opinions. The author is not receiving compensation for it (other than from Seeking Alpha). The author has no business relationship with any company whose stock is mentioned in this article.
Additional disclosure: The author is currently long COP through naked puts, but may own it directly at any time. Additionally, Kerry Prazak, CFP® is the owner and portfolio manager of East Lake Financial, LLC, a Registered Investment Adviser. Kerry Prazak, East Lake Financial, and/or its clients may hold positions in any ETFs, mutual funds, and/or any investment asset mentioned above, including COP. The comments above do not constitute individualized investment advice. The opinions offered here are not personalized recommendations to buy, sell or hold securities. Please do your own research.