Looking at my streaming list of preferreds, Resource Capital Corp (NYSE:RSO) Preferred B (RSO-B) caught my eye. Its pricing today breaks one of the fundamental rules governing preferred pricing in a way that makes it an opportunistic purchase.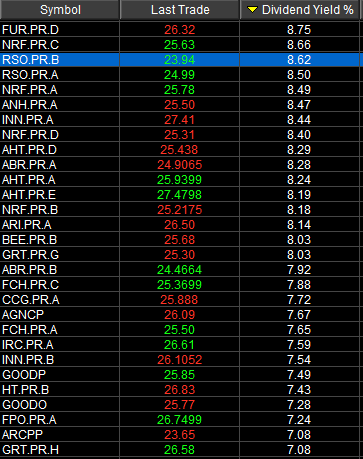 8% yielding REIT preferreds have become rather rare with only the handful listed above remaining. Even rarer is an 8%+ preferred trading below par. At a market price of $23.94, RSO-B is meaningfully below par and carries an 8.62% yield.
Pareto Superior Pricing
The aforementioned rule governing preferred pricing is the tradeoff between capital appreciation and current yield. As both capital appreciation and current yield are desirable, investors can typically obtain more of one only by sacrificing some of the other. RSO-B breaks this rule by allowing us to have more of BOTH. Allow me to explain.
When I state that RSO-B has pareto superior pricing, I am meaning that it is pareto superior to RSO-A. As each security has the same parent company with the same business and the same equity base underneath it, the risks are nearly identical. Therefore, the two securities should trade at precisely the same level with respect to the capital appreciation and current yield trade-off. Yet RSO-B gives more of both.
More Current Yield
At $23.94, RSO-B's current yield of 8.62% is slightly superior to RSO-A's current yield of 8.50% at its present price of $24.99.
More Capital Appreciation
The capital appreciation is a little bit more difficult to explain, so let us briefly go over preferred basics.
Each of these preferreds has a par value of $25.00, which grants holders preferential receipt of $25.00 per share in the event of liquidation before common shareholders receive anything. The same value applies to redemption or a change in control of the company. As the vast majority of REIT preferreds eventually end up being worth $25.00, they tend to gravitate toward this price. Those with very high current yields and extended redemption dates can trade higher, let us say $26.00 for example, as the extra dividend yield over its lifetime will make up for the capital loss of $1.00 (as it goes from the $26.00 purchase price to $25.00 at redemption). Similarly, those trading below par can make up for a smaller current yield by providing capital appreciation to $25.00.
At $23.94, RSO-B has substantially more capital appreciation potential than RSO-A does at $24.99.
With both more current yield and more capital appreciation potential RSO-B is pareto superior to RSO-A at current market pricing. Holders of RSO-A would be wise to switch to RSO-B if this pricing remains long enough to make the transition (absent tax considerations). Investors new to RSO preferreds could also find RSO opportunistic. Beyond the above market yield, a return to normalized pricing could generate a ~4% return for an approximate 1 year return of 12.5%.
A Bonus - Liquidity
While the superior return potential is already enough reason to switch, it should be noted that RSO-B has substantially more liquidity than RSO-A as it has an issue size of $115mm as compared to only $25mm.

Data from SNL Financial
The Bottom Line
RSO-B is substantially mispriced and should outperform the market as it returns to normalized pricing. Those who grab it now can enjoy a rare 8.62% yield while they wait.
Disclosure: 2nd Market Capital and its affiliated accounts are long RSO-B. I am personally long RSO-B. This article is for informational purposes only. It is not a recommendation to buy or sell any security and is strictly the opinion of the writer.
Disclosure: The author wrote this article themselves, and it expresses their own opinions. The author is not receiving compensation for it (other than from Seeking Alpha). The author has no business relationship with any company whose stock is mentioned in this article.