With 2014 halfway over, the public companies are beginning to unveil second quarter earnings results. As most of you know, these quarterly report cards provide current and potential investors with considerable insight into a company's financial health and ongoing business conditions.
It's important, though, that investors (and writers) compare the more detailed public filings (Form 10-Q) with the actual press releases to make sure they show an accurate picture, as Chris Roush, Professor and Walter E. Hussman Sr. Distinguished Scholar in business journalism at the School of Journalism and Mass Communication at the University of North Carolina at Chapel Hill, explains (source: Show Me The Money):
…the information and analysis in the filings are more detailed than they are in releases. The filings expose a complete, often unfettered, picture of a company's financial health, whereas the releases provide the company's interpretation of its performance. The two may not always correlate.
As elegant as a headline is that boasts "ABC Company Beats Guidance," it's important that investors don't distill a full quarter of results into a single number. That can often lead to unknown surprises, as the headline may not grasp the company's financial health and ongoing business conditions. As Roush explains:
It is important to note again that a company can use its earnings releases to put a spin on its performance, Sometimes a company will emphasize strong growth in revenue to mask the fact that it spent a lot of money that quarter on advertising or something else, making earnings lower than expected.
Roush went on to state:
Although Wall Street analysts and investors primarily focus on whether the company 'made' its earnings projections, a better story may be told by looking at the overall performance of the company.
As many of you know I cover the REIT space, and so while C-corps report earnings using standard earnings metrics such as earnings per share, the REIT sector provides more meaningful data that includes Funds from Operations (or FFO). Here's how I explained the REIT-centric metrics in a previous article:
It's important not to use P/E for REITs, or to compare P/E for REITs with P/E for non-REIT stocks. Funds from Operations, or FFO, are a standardized metric, though not GAAP; AFFO (or Adjusted Funds from Operations) is not standardized, and equity analysts have different ways of constructing it. Both of them are better than earnings for valuing REITs. By utilizing price to FFO valuation, analysts and investors can determine the trading history of each REIT by itself and relative to the entire REIT sector.
Whatever you're considering or not, it's important to compare apples to apples, that is, make sure that you're comparing the growth rate of two numbers provided in the filing. One of the most useful metrics that I use for REITs is comparing FFO per share to dividends paid. That tells me whether the company is profitably growing (while not diluting investors) and also whether the dividend is covered.
After dissecting the 10-Q and the company's press release, my next step is to listen to the quarterly conference call (usually the next day). As you know, I'm not a buy side analyst so my role as a journalist (and newsletter editor) is to soak up the conversation and to look for traces of wisdom that could provide me with a more meaningful buy or sell thesis. Essentially, I am more of a sell side analyst in that I'm trying to make sense of new information and to be the first to communicate to investors. Chris Roush summed up the job of a business journalist as follows:
With a good understanding of how to read and analyze a company's financial statements and the related information that many businesses disclose, a business reporter has begun taking the steps to a better understanding of how he can use these numbers to tell better stories about a company.
Here's What I Hope to See
Within the REIT sector there are several companies from which I am anxiously awaiting earnings results. So far, Mr. Market has responded favorably to REITs in general as the overall Equity REIT sector is up 17.66% YTD (based on total return through June 30th). The mid-year report for REITs should provide us with some valuable clues as to how REITs are managing interest rate risk as well as how my picks have performed. Overall, REITs have continued to improve since the Great Recession, and the best way to predict the future success of a company is to look at more recent earnings growth trends.
Now, let's examine a few of my REIT picks, and I'll tell you what I'm looking for:
Omega Healthcare Investors (NYSE:OHI): Earlier this month I wrote an article on OHI and I placed a target BUY price on the stock of $36.49. The primary reason that I increased my target was due to the recent dividend increase (to $.50 per share) and the continued growth of the dividend (average 13.5% dividend increase over 3 years). In Q1-14 OHI reported AFFO of $.71 per share and fueling the growth has been over $2.2 billion of new investments acquired over the last four years. In Q1-14 OHI closed around $171 million, and I expect to see more acquisitions announced soon. I'm not expecting to see any surprises in Q2-14 as Taylor Pickett (the CEO) has been executing all cylinders.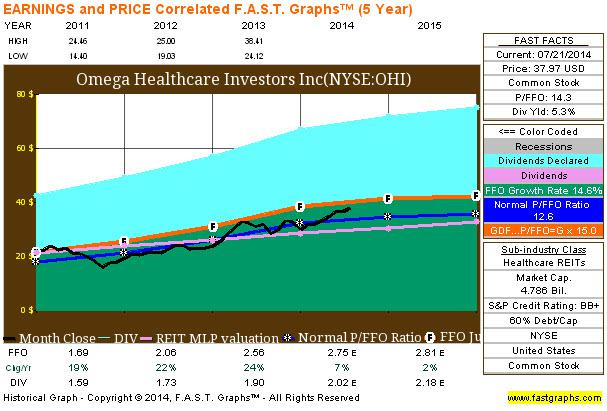 American Realty Capital Properties (NASDAQ:ARCP): While I don't expect surprises with OHI, ARCP has proven to be like opening a box of Cracker Jacks. In other words, I would like to see ARCP deliver a "smooth sailing" report card with no surprises. Hopefully the summer drama related to the $12 secondary offering, the flip-flop monetization of the shopping center portfolio, and the overweighting in Red Lobster, has subsided. It seems that management (under the leadership of David Kay) is working hard to establish trust and prove it can execute in the same ball field as Realty Income (NYSE:O). It's clear that this stock is a "love or hate it" opportunity, and I'm now in the "love" camp where I established a low-entry bid of $11.95. With a 9% profit since mid June I'm going to ride this for a while.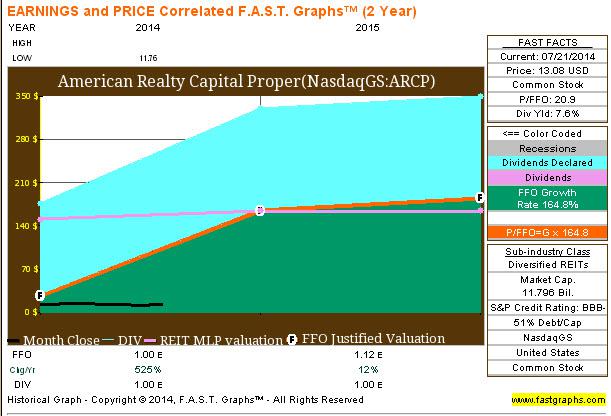 Digital Realty (NYSE:DLR): Yesterday DLR was upgraded by analysts at Deutsche Bank from a "hold" rating to a "buy" rating. Also S&P recently revised the outlook on DLR to stable from negative, as well as affirming the "BBB" corporate credit rating on the company. All good news, even though the company has no permanent CEO. From 2005 through 2013 DLR grew EBITDA by an average of 27.4% while also compounding FFO per diluted share by 16.9% (during the same period). 2013 FFO was $4.78. The company increased the common 2014 dividend to $3.32 per share or 6.4% over 2013. So far this year Mr. Market has responded to DLR's strengths, and although I'm nervous about several botched earnings calls last year I remain attracted to the desirable fundamentals. Yes, a CEO would be nice.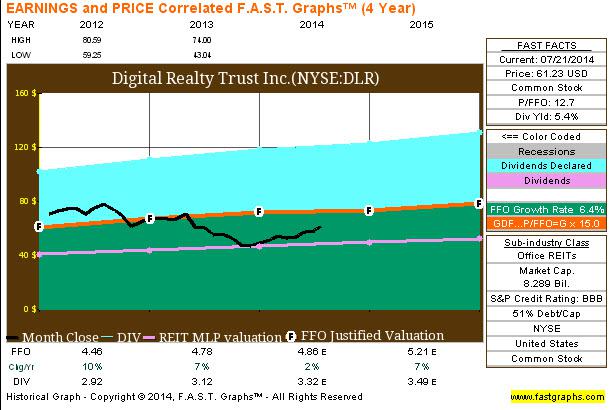 Healthcare Trust of America (NYSE:HTA): In my latest article on HTA I summarized my hope for this "pure play" medical office building REIT: "All I ask is for management to increase the dividend and spread the love." Yes, a dividend increase would be nice but I'm also looking for some other signs this quarter. My financial model assumes HTA's 2014 FFO annualized run rate of $.73 per share. The company reported $.18 normalized FFO per share (in Q1) and I expect to see an increased pace of acquisitions. HTA has a very healthy balance sheet (31% Total Debt to Total Cap) and the recent credit upgrade (from BBB- to BBB) is an indication that there is room for growth. Mr. Market signals HTA is a quality stock based upon the 17x P/FFO multiple. I wonder if Mr. Market has already priced in the potential of a combination (merger) with a "Big 3" Healthcare REIT? Regardless, I'm glad I hit the BUY button at $10.17.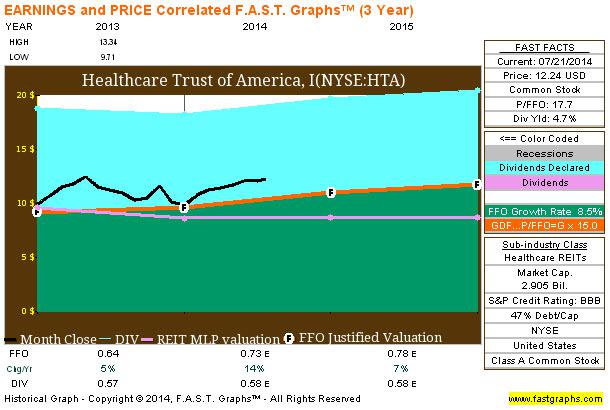 Kimco Realty (NYSE:KIM): In November (2013) I wrote an article titled "Will Kimco Get to $30?" With less than six months left in the year, Kimco better run, not walk. So far this year, Kimco shares are up around 20% (closed at $23.52) and given the proven management history, I'm bullish on my pick. I know you're thinking that the retail sector is under pressure; however, Kimco has been busy selling of the non-core assets and focusing on the higher quality stuff. Also, I expect to see more consolidation in the shopping center sector, and Kimco will be a survivor in the evolution of brick and mortar retail. Remember, Kimco has a fortress balance sheet, and with a massive recycling program, this REIT has all of the ingredients to move the needle.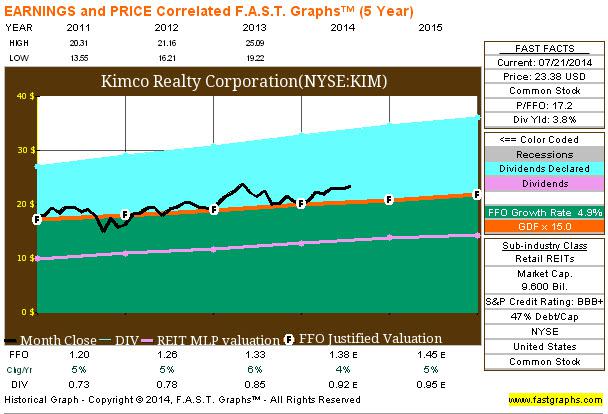 Retail Opportunity Investment Corp. (NASDAQ:ROIC): In a recent article I predicted that "ROIC will top $20 by year-end." Believe me, that was not a wild guess. I actually spent countless hours researching this REIT to determine who, what, where, when, and why the ticker symbol was called ROIC. There's no question that ROIC has all of the ingredients to outperform the peer group -- low debt, strong management team, west coast assets, and best in class tenants. Since I purchased shares last October (2013), the stock is up over 16% and more importantly, ROIC has steadily increased its dividend (average three-year dividend growth rate is 18.6%). ROIC is trading at $15.86 with a dividend yield of 4.04%.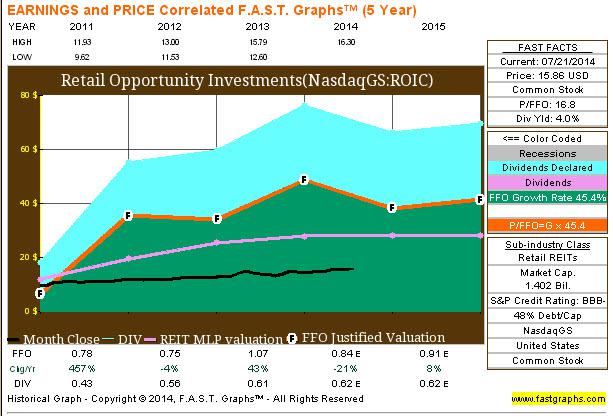 Realty Income: In terms of forecasting earnings, I am never concerned with O. Why? Because I get monthly progress reports that tell me how my stock is performing. What, progress reports? Yes, I get a check in the mail each and every month that tells me that I can sleep well at night. The checks are like clockwork, and I also get annual increases. Seriously, I am going to dial into O's earnings results and I will be looking for recent acquisition results, dispositions, and other valuable clues that could signal a dividend increase. I will also be looking out for other signs that the company is controlling risk as we move into the next cycle of rising interest rates. Also, remembering that Tom Lewis (the former CEO) has been replaced by John Case and I'll be tuning into his comments on the earnings call. (Here's my latest article on O).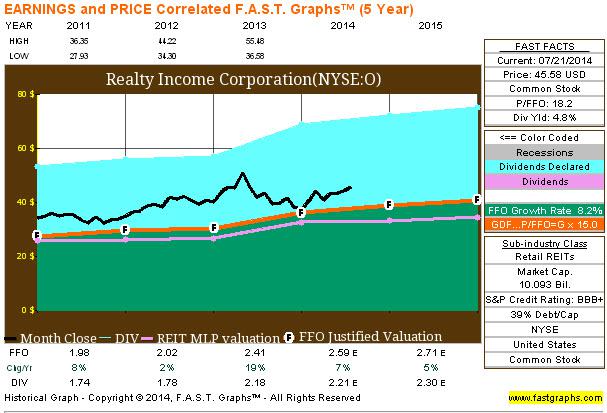 When I was a boy scout, I could easily recite the oath, and I could never forget the scout's motto: BE PREPARED. That's how I'll end this article, along with remember, you should always abide by the scout logo: Do a Good Turn Daily!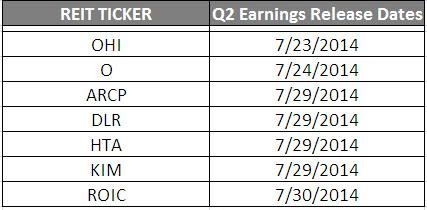 Brad Thomas is the Editor of The Intelligent REIT Investor (aka iREIT Investor). To subscribe to Brad's newsletter, click HERE.
Sources: SNL Financial and FAST Graphs.
Disclaimer: This article is intended to provide information to interested parties. As I have no knowledge of individual investor circumstances, goals, and/or portfolio concentration or diversification, readers are expected to complete their own due diligence before purchasing any stocks mentioned or recommended.
Disclosure: The author is long O, DLR, VTR, HTA, STAG, UMH, CSG, GPT, ARCP, ROIC, HCN, OHI, LXP, KIM, WPC, DOC, UDF, EXR. The author wrote this article themselves, and it expresses their own opinions. The author is not receiving compensation for it (other than from Seeking Alpha). The author has no business relationship with any company whose stock is mentioned in this article.