Although shares of Apple Inc. (NASDAQ:AAPL) have generated a strong positive total return since they bottomed out in April, we believe that investors should carefully accumulate shares of the company. Apple's performance in YTD 2014 has somewhat recovered from a terrible FY 2013 because China Mobile announced it would carry Apple's iPhone starting in January. Investors should see why Carl Icahn and David Einhorn are fans of this company. Now that former Burberry CEO Angela Ahrendts is now heading up the Apple Retail division, we expect additional contribution from that division, which will add to Apple's bottom line and growth rates. Apple released its HealthKit and HomeKit apps in June, it recently announced it would acquire Beats Electronics and we are intrigued to see Apple's new exclusive partnership with International Business Machines (NYSE:IBM) to transform enterprise mobility.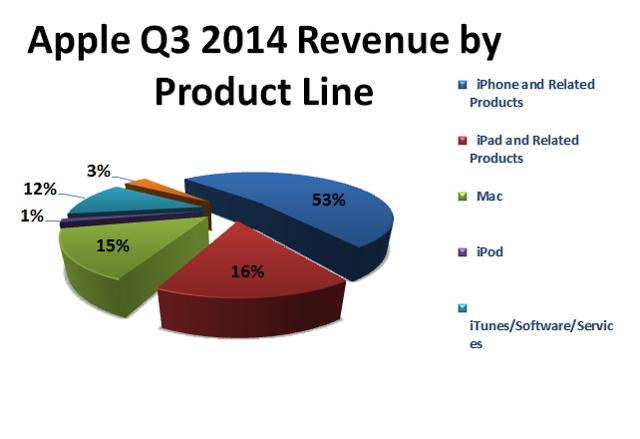 Source: Apple's Supplemental Financial Report
The new IBM MobileFirst for iOS solutions draws on the strengths of each company. IBM will contribute its big data and analysis capabilities while Apple would bring its consumer experience, hardware and software integration strengths. This combination will create apps that can transform specific aspects of how businesses and employees work using iPhone and iPad, allowing companies to achieve new levels of efficiency, effectiveness and customer satisfaction. As part of the exclusive IBM MobileFirst for iOS agreement, IBM will also sell iPhones and iPads with the industry-specific solutions to business clients worldwide. The best thing about this deal is that it eliminates what remaining relevance BlackBerry has.
With the partnership, IBM will develop industry-specific apps and solutions for iOS devices, optimize its cloud services for the iOS platform and help with marketing Apple devices to enterprises. While Apple has been successfully increasing its presence in the enterprise space, largely through the addition of business-oriented features to its iOS platform, the deal with IBM will give the company a more well-targeted push. IBM brings to the table decades of experience in understanding the needs of business customers and also has a sizable sales force needed to cater to large corporations. Additionally, the availability of IBM's apps and solutions on iOS could give corporations a more significant incentive to deploy Apple devices. Finally, IBM will also sell the iPhone and iPad products to its business customers, combined with packages of apps and other services. This could be a very significant development for Apple, since IBM has a very long track record of selling to business and international customers. This could allow Apple to save time and effort from not having to build up its own enterprise sales force, potentially reducing its marketing expenditures.
We agree with analyst Gene Munster that Apple shares have continued room to run based on potential new products over the next six to 12 months such as the iWatch, Apple TV, Apple payments and Apple's new foray into "smart home technology." Munster believes that this will be the product cycle of the decade for Apple and will enable it to generate consistent, long-term, double-digit revenue and EPS growth.
Apple has a very healthy balance sheet. Apple has $164.5B in cash and marketable securities (though 84% of it is attributed to overseas entities) representing 28.8% of Apple's market cap. Apple initiated a $2.65/share dividend payment in August 2012, which was its first dividend in 17 years and it increased the dividend by 15% to $3.05/share in May 2013 and by another 8% in May 2014 to $3.29/share. Apple began repurchasing shares in FY 2013; it repurchased $73.9B worth of its shares in the last six quarters and increased its share repurchase authorization to $90B in the previous quarter.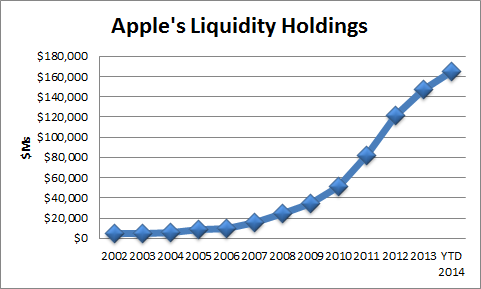 Source: Morningstar Direct
Apple was originally planning to return $45B in cash to shareholders from 2013 to 2015 and we were mollified that Apple boosted that figure to $100B in order to establish a firmer floor on its share price. Apple repurchased $40B over the last 12 months, including $14B in the last two weeks. Apple also announced a seven-for-one stock split of its shares, which took effect in June. Now that Apple's share price is no longer going to have a very high share price in dollar terms, it is time for Apple to be added to the price-weighted Dow Jones Industrial Average and have Apple replace Hewlett-Packard (NYSE:HPQ) or Alcoa (NYSE:AA).
We agreed with activist investor Carl Icahn's assertion that Apple's share price is undervalued as Apple is trading at 9.7 times forward earnings excluding its $164.5B in liquid assets. We can also see why David Einhorn's Greenlight Capital still has $1.3B worth of Apple's stock. Other notable investors in Apple include Coatue Management ($846M), Cliff Asness ($239M), Soros Fund Management ($163M), David Tepper's Appaloosa Management ($120M) and Israel Englander's Millennium Management ($112M). We disagree with investors who dismiss Apple's recent shareholder friendly moves as "financial engineering." If a company cannot profitably invest its cash flows in projects that are profitable and which cover the cost of shareholders' capital, then the company is duty-bound to return the cash to shareholders in the form of dividends and/or share repurchases.
The iPhone continues to be Apple's best-selling product. Revenue from the iPhone increased 9% to $19.75B on a year-over-year basis. Units sold increased by 13% to 51M and average sales price per unit only declined by 3% on a year-over-year basis despite the inclusion of the lower priced iPhone 5C device. Apple's new sales agreement with China Mobile helped boost its growth rate in China and Apple is expecting to release its iPhone 6 in September as well as its iOS 8 and OS X Yosemite operating systems. Interestingly enough, 89% of Apple's user base is running the current version of iOS versus 9% for Google's Android KitKat software. Apple recently placed orders for 70M-80M 4.7" and 5.5" iPhone 6 units to be manufactured by Dec. 30, the WSJ reports. That's a sizable increase from the 50M-60M iPhone 5S/5C units Apple initially ordered last year.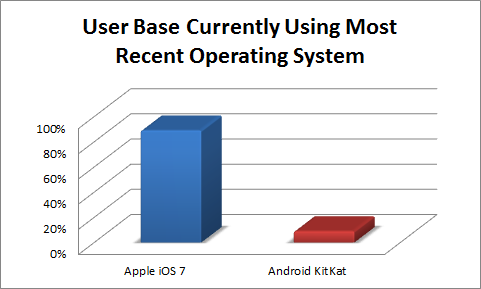 Source: CNBC
iPhone also continued to perform exceptionally well in Greater China as Apple grew its revenue by 28% year-over-year during the quarter. Europe and Asia Pacific excluding China and Japan grew by 6% while Apple's Japan, Retail and Americas segment only grew by 1%. Although Apple's total capital investment expenditures crested in 2012, it is still significantly higher than its levels in 2009. Apple has also increased its R&D significantly during this time period, including by 30% year-over-year in YTD 2014 versus YTD 2013.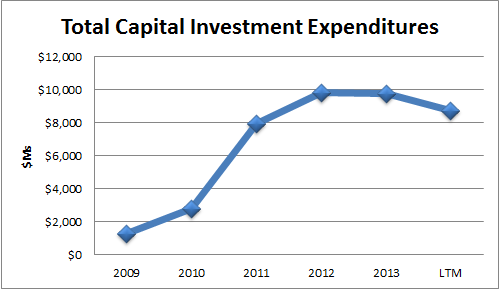 Source: Morningstar Direct
As Apple increased its R&D spending from $1.3B in 2009 to $5.5B in the last twelve months, we believe that investors should expect that Apple will potentially release new products or enhancements to its existing products. Other potential catalysts for new products or new enhancement to its existing products include including curved screens, enhanced biometrics, 3D gesturing, wireless charging and a major upgrade to Apple Maps. In a recent interview with The Wall Street Journal, Tim Cook hinted at likely new products for 2014 but declined to give specifics. Apple has also made 29 acquisitions of smaller tech companies over the last 21 months.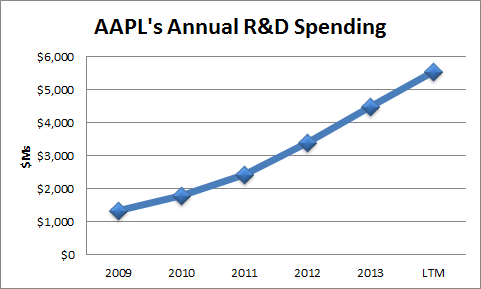 Source: Morningstar Direct
The iPad saw a 9% volume decline and its revenues decreased by 8% as the prior year period saw increased sales of the iPad into its sales channel inventory whereas this year saw a decrease of iPad inventory into Apple's sales channels. Although Apple is facing competitive headwinds in the tablet computing space, we believe that Apple is not going to squander its presence in the sector like BlackBerry (NASDAQ:BBRY) did with the smartphone and Microsoft did with the smartphone operating system. iPad continues to lead all other tablets by far in terms of user engagement, size of ecosystem, customer satisfaction and e-commerce. A recent study by Chitika Insights found that iPad users in North America generate almost four times the web traffic of all Android tablet users combined.
Unit sales of the Mac Desktops and Portables increased by 18% and product revenue increased by 13% versus the comparable quarter last year. The Mac product line's performance last year was disappointing because it had generated strong performance in FY 2012 versus Dell (NASDAQ:DELL) and Hewlett-Packard but endured sales and revenue declines in FY 2013. Apple introduced the first Macintosh desktop computer in 1984 and it refreshed its Mac product line in October 2013. Apple's Mac growth was due to increased sales of iMac and MacBook Air and MacBook Pro. Apple's Mac product line gained market share in 32 of its last 33 quarters. AAPL ended the quarter with Mac channel inventory slightly below its four to five-week target range.
Performance of the iPod product line continues to be depressing. The iPod's functionality is archaic when you consider its capabilities versus the iPad and iPhone and it shows as unit sales declined by 36% and product revenues declined by 40% Year-over-Year. So far, the updated iPod products Apple released in October 2012 have not helped this product line get its groove back. Apple did not even bother to mention the iPod during its most recent conference call. However, it could help preserve the strong growth rates achieved by the iTunes product. The iTunes and related software and services generated $4.6B in revenue during the quarter, up from $4.1B in the prior year period. Related software and services saw 14% growth and iTunes grew by 9%.
App Store momentum is incredibly strong as cumulative app downloads are at 70 billion, 87% of iOS devices are now running iOS 7 and highly engaged users are a great audience for developers. According to App Annie, the App Store generated 85% more global revenue than Google Play in the March quarter despite the differences in unit market share between iOS and Android devices.

Source: Apple's Most Recent Quarterly Report
YTD 2014 cash flows from operations were $46.5B and capital investments including acquisitions were $6.9B, resulting in free cash flows of $39.6B for the period. Apple Retail saw former Burberry CEO Angela Ahrendts taking the helm of the division during the quarter. Apple Retail grew its revenue by 1% year-over-year and we are hoping that Ms. Ahrendts will reinvigorate this division's performance as it seemed to have lost its way under former Apple Retail chief John Browett. It is worth repeating that Apple should have never hired John Browett as its Apple Retail chief because Browett was the former CEO of Dixons Retail and Dixons has a terrible reputation as a company in the minds of consumers and technology professionals. At least Browett admitted months after he was fired that he was a poor fit for Apple's culture.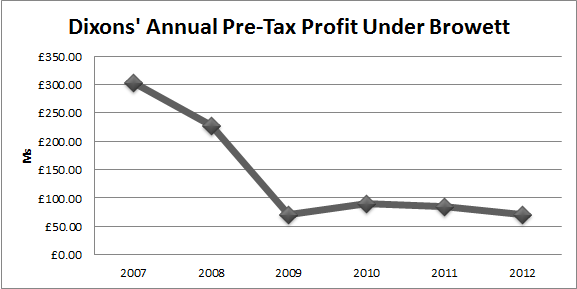 Sources: Dixon's Investor Relations
In conclusion, it is refreshing to see Apple prove the impatient pessimists wrong. Apple's stakeholders are relieved that its nightmare FY 2013 fiscal year is over. We believe that those few investors who have been short Apple and long Nokia should wind up that trade because Apple's shares have been through the worst that the market could throw at it. Apple has made a number of recent missteps however; it has taken steps to fix the problems in order to avoid suffering the fate of Nokia and BlackBerry. Here are the reasons why investors should follow Carl Icahn's lead and patiently accumulate a position in Apple:
Carl Icahn bought $500M worth of Apple's stock in response to its recent price drop earlier in the year
Apple boosted its dividend and its share repurchase authorization
Apple is trading at a price that is 5% lower than its all-time peak
We expect Apple to resume its EPS growth in FY 2014 and to grow by 13% from 2014 to 2019
Apple's forward FY 2015 PE of 13.6X represents a PEG of 1.05X based on my projected 13% long-term EPS growth
Apple's quarterly EPS has exceeded analyst estimates for the last four consecutive quarters.
Disclosure: The author is long AAPL. The author wrote this article themselves, and it expresses their own opinions. The author is not receiving compensation for it (other than from Seeking Alpha). The author has no business relationship with any company whose stock is mentioned in this article.