International Gaming Technologies (NYSE:IGT) recently announced that it has entered into a definitive merger agreement with GTECH. The deal, which consists of $13.69 in cash and 0.1819 shares of a newly formed holding company, values IGT at $18.25 per share. As shown by the chart below, since my previous positive mention in a piece entitled Why I Bought International Gaming Technolgy, shares are up more than 8%.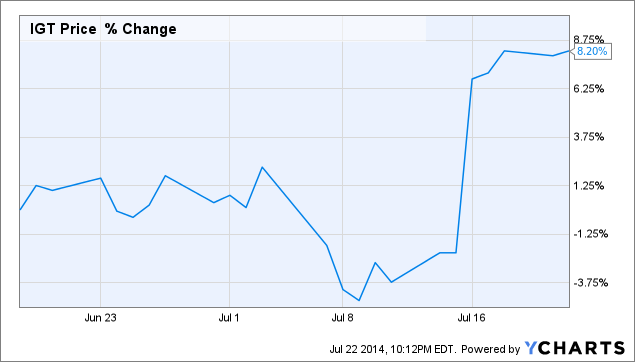 IGT data by YCharts
I Sold My Position
While IGT continues to trade below the final deal price, I have sold my position and no longer own IGT shares. IGT is trading at a discount to the deal price because the deal has not yet been approved by regulators. While I am confident that deal will be approved, I am not interested in that part of the trade.
Additional Bidder Unlikely
In my previous piece, I suggested that multiple bidders could emerge for IGT. However, I believe GTECH has won the bidding war and it is unlikely, but not impossible, that another bidder will emerge. In addition to the lengthy bidding process conducted by IGT management, the fact that IGT stock continues to trade well below the final deal price suggest that another bidder is unlikely.
Disclosure: The author has no positions in any stocks mentioned, and no plans to initiate any positions within the next 72 hours. The author wrote this article themselves, and it expresses their own opinions. The author is not receiving compensation for it (other than from Seeking Alpha). The author has no business relationship with any company whose stock is mentioned in this article.