After the bell on Tuesday, Apple (NASDAQ:AAPL) reported its fiscal third quarter results. For those that missed it, here was my official Apple earnings preview. Overall, Apple's report was a little disappointing, but Q3 is the weakest quarter of the year and always a transitional one as we get closer to product launches. Today, I'll break down the results, and detail what investors should do next.
Results overview:
The following table shows Apple's overall results, compared to its last two fiscal Q3 periods.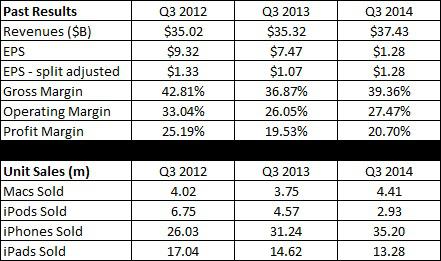 Apple did miss on the revenue side, as estimates had risen into the report. I noted that a late tick up sent the average analyst estimate to about $38 billion, from $37.93 billion over the weekend and around $37.81 billion a few weeks ago. Apple guided to a range of $36 billion to $38 billion, so the company was well within its guidance range. This also was a revenue record for fiscal Q3, and that should not be ignored. Analysts were looking for more after last quarter's blowout, and Apple came in a little light. On the positive side, EPS came in a nickel ahead of what the street was expecting. That nickel doesn't seem like much, but after the 7 for 1 stock split, it is quite significant.
Breaking down the product lines:
Apple came in at 35.20 million iPhones, which was about a million units below what I was expecting, and about 700k below the street average. It is clear that consumers are waiting for the larger screen iPhone 6, and that hurt sales a bit. Add an extra million sales in, and Apple would have been right at the analyst number for revenues. The average selling price came in at $561. That's a little lighter than I was hoping for, but we knew the ASP would decline as we got closer to the new set of phones. The 5C also seemed to sell well, and that phone is cheaper. The iPhone still showed roughly 12.7% unit sales growth over the prior year period, so this wasn't a terrible quarter.
Just like last quarter, the iPad was a disappointment. Only 13.28 million units were sold, about a million below what I was looking for, and I was actually under the street average. The iPad has lost a bit of luster in recent quarters, and on the conference call it was stated that the line was hit by inventory issues and a few weak markets. We've heard rumors of a larger screen iPad coming later this year. The average selling price was over $443, again a little light as we get closer to a launch later this year.
One really bright spot was the Mac, which came in at over 4.41 million units sold. I was at 4 million units, and the street average was around 3.9 million. The average selling price was about $1,255, around $20 below what I was looking for. The iPod did fairly well, selling nearly 3 million units. The company also generated more than $5.8 billion in other revenues, showing that the ecosystem is very strong.
Margins and income statement items:
Apple's gross margins again surprised to the upside, coming in at 39.36%. That was well above the 37% to 38% forecast Apple gave for the quarter. Total operating expenses came in basically at the midpoint of Apple's forecast. Other income items and the tax rate also came in right at Apple's guidance. Other than the gross margin number, there were no major surprises here.
Balance sheet / capital returns:
Apple's cash pile was over $164 billion at the end of the quarter, up almost $14 billion from a quarter ago. Nearly $138 billion was located outside the US. Do remember, however, that Apple took on another $12 billion in debt during the quarter. The company returned about $8 billion to shareholders during the quarter, of which about $5 billion was from the buyback. I had expected Apple to spend a bit more than that, since the company took out debt during the quarter, and share prices were lower early in the quarter. Obviously, Apple wants to save some of its buyback in case of another share price drop, with about $40 billion to go for the second half of calendar 2014 and all of 2015.
Fiscal Q4 guidance:
Apple provided the following guidance for fiscal Q4:
revenue between $37 billion and $40 billion.

gross margin between 37 percent and 38 percent.

operating expenses between $4.75 billion and $4.85 billion.

other income/(expense) of $250 million.

tax rate of 26.1 percent.
The $3 billion revenue range is exactly what I thought it would be, although it was $1 billion below what I figured. Analysts were looking for a little under $40.5 billion, so on the face of it, this guidance seems light. I mentioned that Apple's guidance could be a little uncertain with a huge product launch coming. Perhaps the new iPhones will be supply constrained at launch, which could explain the lighter than expected guidance. If that is the case, it will push expectations for fiscal Q1, the December ending quarter, even higher.
When I run Apple's guidance for EPS, I get a range of $1.11 to $1.31, and that's using the Q3 diluted share count. Obviously, Apple will buy back a fair amount of shares during the quarter, which will help boost that EPS number. Analysts were looking for $1.34, which would normally make this forecast seem very disappointing. However, I stated last quarter that Apple's implied forecast (using the prior quarter's share count) was $1.08 to $1.23, and Apple came in at $1.28. So it would not surprise me if Apple did come in to that $1.30 to $1.35 range, or potentially higher, depending on when the iPhone 6 is released and how supply is at launch.
Final thoughts:
Apple announced a mixed quarter on Tuesday. Record quarterly revenues were light but within the company's range, while strong gross margins fueled a nice EPS beat. Apple felt good about its quarter, although many analysts and investors seemed to want a bit more from the iPhone and iPad. The Mac and iPod did well, and Apple's other revenues came in strong. The cash balance did grow, helped by Apple's debt raise, and the buyback still has a lot of firepower. The guidance for fiscal Q4 was a little light, which may mean supply constraints at launch for the new phones. Shares traded a little lower in the after-hours session. Apple still seems like a solid buy ahead of new product launches and thanks to the huge buyback, so investors should look to pick up shares if they pull back to the low $90s or high $80s.
Disclosure: The author has no positions in any stocks mentioned, and no plans to initiate any positions within the next 72 hours. The author wrote this article themselves, and it expresses their own opinions. The author is not receiving compensation for it (other than from Seeking Alpha). The author has no business relationship with any company whose stock is mentioned in this article.
Additional disclosure: Investors are always reminded that before making any investment, you should do your own proper due diligence on any name directly or indirectly mentioned in this article. Investors should also consider seeking advice from a broker or financial adviser before making any investment decisions. Any material in this article should be considered general information, and not relied on as a formal investment recommendation.