By Ivan Y.
Dirt-cheap residential home builder Xinyuan Real Estate (NYSE:XIN) has had a rough year so far. Though the company has continued to grow both revenues and earnings, the stock has dropped almost 30% this year. It even dropped below its 200 dma, even though the 200 dma had held as support throughout all of 2012 and 2013 (see chart below). The technical breakdown is part of the explanation for XIN's struggles, but there are more factors that should be considered. For one thing, Chinese stocks in general have struggled. The Shanghai Composite Index is down 2.6% for the year as I write this. On top of that, many pundits like Puru Saxena continue to predict a bursting of China's real estate market, but so far they have been wrong. Though real estate prices have been on the decline recently, it has been very mild.
"The average prices of new homes in 70 major cities fell 0.5% in June from the previous month, accelerating from May's 0.2% monthly drop, according to Reuters calculations based on data issued by the National Bureau of Statistics…" NY Times
Housing prices will probably continue to drop slightly, but a 2007-2008 American real estate collapse is unlikely due to the fact that home buyers in China today pay more cash and borrow less than Americans did several years ago. Also supporting housing prices is the fact that China's economy continues to grow at over 7% annualized.
A final factor that may be affecting XIN negatively is the likely fraud occurring at NQ Mobile (NYSE:NQ), which I believe is casting a shadow to some degree on all Chinese ADRs. XIN was trading at around $7 last October when Muddy Waters publicized its accusation of NQ, and now it is around $4.
Earnings Preview
Historically, XIN doesn't report Q2 earnings until the second week of August, but it's not too early to give a preview. Here are some things that I will be looking at:
Will the book value increase? Despite reporting another solid earnings report in Q1, one of the negatives in last quarter's report was the unexpected decline in book value. Book value was reported to be $941.3 million, which was a $5.6 million decline from the previous quarter. This was the first decline in book value that XIN has experienced since I started following the stock in 2010. Regaining positive growth in book value is something important for the company to show.
Did anyone notice the really poor sales at two of the company's projects in Q1? Sales at the Xuzhou Colorful City and Kunshan Royal Palace projects were almost non-existent in Q1 (only 11,000 sq meters combined). As of March 31st, only 25% of Xuzhou Colorful City and 15% of Kunshan Royal Palace had been sold. This leaves a large amount of inventory to be holding onto. Reducing the unsold inventory in these projects is also something important that the company needs to show in Q2.
Four new projects should've begun pre-sales during Q2: Zhengzhou Xindo Park, Suzhou Lake Royal Palace, Xingyang Splendid, and Brooklyn, NY. XIN has successfully completed and sold previous projects in Zhengzhou and Suzhou, and Xingyang is right next to Zhengzhou, but Brooklyn is a new territory for them. In terms of floor space, the Brooklyn project is puny compared to the China projects (about 1/8 the size of Zhengzhou Xindo Park), but it's significant because of the U.S. exposure.
The company finally did hire a new CFO in June. I was just getting comfortable with Helen Zhang as the interim CFO, so I did not really interpret this as good news. XIN is down almost 10% since the hiring announcement, so obviously the market doesn't think so either. I have no idea about this guy's ability to speak English and how much he will be a part of the conference call. In his profile, it looks like he has worked in Canada. My hunch is that Helen will continue to do most of the speaking at the conference call.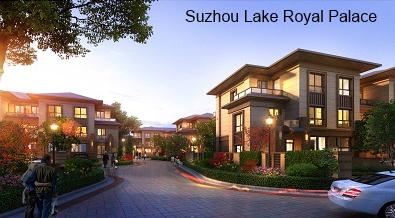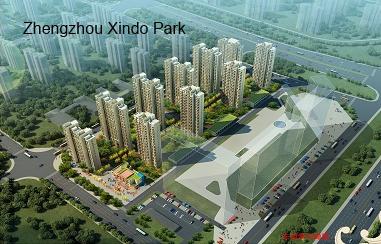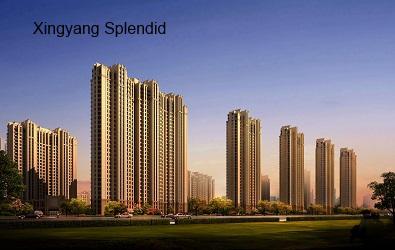 Source: xyre.com
Bottom Fishing
From both a fundamental and technical perspective the stock looks good, but investors should be warned that dirt-cheap Chinese stocks can get even cheaper. Fundamentally, the valuations are a joke. For example, the p/book is about 0.3 and the p/e based on the last four quarters is roughly 3. Technically, the stock has found strong support in the $3.75 to $4 range a few times before. However, one piece of news that investors should be aware of is the bond default of a Chinese construction company that is likely to occur this week. This default has nothing to do with XIN, but it could create some negative market sentiment for Chinese construction stocks and trigger a final sell-off.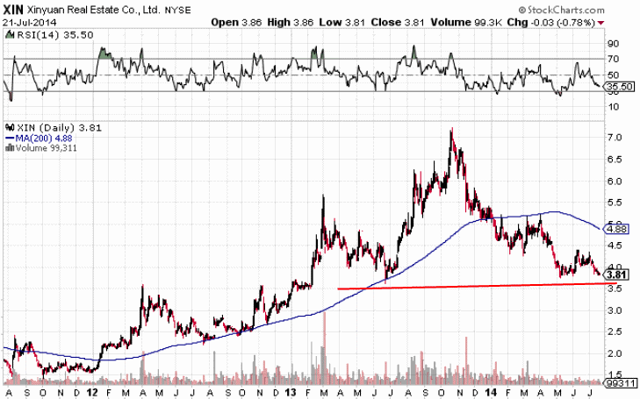 Click to enlarge
Source: stockcharts.com
Final Thoughts
Finally, it appears that XIN has taken a small step forward in improving communication with overseas investors by redesigning and updating the English version of their web page. In February of this year, I had pointed out that their homepage hadn't been updated since 2012. Well, finally, it looks like something has been done about it. It still looks like a work in progress cause little information is provided about the projects, but at least they have updated their list of projects to be current. Hopefully, they will make an effort to provide some details beyond a picture and some very basic facts for each project.
Disclosure: The author is long XIN. The author wrote this article themselves, and it expresses their own opinions. The author is not receiving compensation for it (other than from Seeking Alpha). The author has no business relationship with any company whose stock is mentioned in this article.