The following is a list of overbought stocks, as defined by the Relative Strength, or RSI(14), indicator. All of the stocks mentioned in this list have RSI(14) values above 70, which usually signal overbought conditions.

In addition, all of these stocks have a large number of put option contracts relative to call option contracts (i.e. bearish options market sentiment).

RSI(14) values sourced from Finviz, options data sourced from Schaeffer's.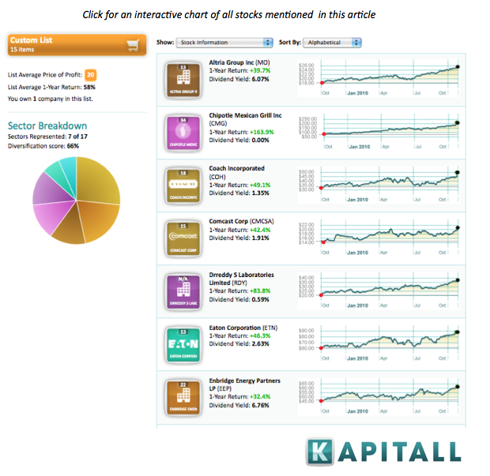 The list has been sorted by the Put/Call ratio.

1. Enterprise GP Holdings L.P. (EPE): Major Integrated Oil & Gas Industry. Market cap of $8.69B. RSI(14) at 84.2. Call open interest at 45 contracts vs. put open interest at 1,360 contracts (Put/Call ratio at 30.22). Short float at 0.43%, which implies a short ratio of 0.82. The stock has gained 106.21% over the last year.

2. Scripps Networks Interactive, Inc. (NYSE:SNI): TV Industry. Market cap of $8.32B. RSI(14) at 75.75. Call open interest at 1,197 contracts vs. put open interest at 10,966 contracts (Put/Call ratio at 9.16). Short float at 3.05%, which implies a short ratio of 4.22. The stock has gained 31.26% over the last year.

3. Dr. Reddy's Laboratories Ltd. (NYSE:RDY): Drug Manufacturer Industry. Market cap of $6.34B. RSI(14) at 76.19. Call open interest at 1,082 contracts vs. put open interest at 4,478 contracts (Put/Call ratio at 4.14). Short float at 7.83%, which implies a short ratio of 26.65. The stock has gained 85.24% over the last year.

4. Lorillard, Inc. (NYSE:LO): Cigarettes Industry. Market cap of $13.1B. RSI(14) at 70.82. Call open interest at 22,576 contracts vs. put open interest at 44,330 contracts (Put/Call ratio at 1.96). Short float at 6.46%, which implies a short ratio of 7.66. The stock has gained 17.15% over the last year.

5. Ross Stores Inc. (NASDAQ:ROST): Apparel Stores Industry. Market cap of $7.03B. RSI(14) at 71.67. Call open interest at 11,020 contracts vs. put open interest at 19,705 contracts (Put/Call ratio at 1.79). Short float at 5.36%, which implies a short ratio of 3.52. The stock has gained 34.93% over the last year.

6. Southern Copper Corp. (NYSE:SCCO): Copper Industry. Market cap of $36.62B. RSI(14) at 73.72. Call open interest at 27,803 contracts vs. put open interest at 49,594 contracts (Put/Call ratio at 1.78). Short float at 3.23%, which implies a short ratio of 2.59. The stock has gained 43.55% over the last year.

7. Comcast Corporation (NASDAQ:CMCSA): CATV Systems Industry. Market cap of $58.55B. RSI(14) at 81.51. Call open interest at 177,782 contracts vs. put open interest at 282,805 contracts (Put/Call ratio at 1.59). Short float at 2.39%, which implies a short ratio of 2.79. The stock has gained 45.47% over the last year.

8. Enterprise Products Partners LP (NYSE:EPD): Independent Oil & Gas Industry. Market cap of $26.9B. RSI(14) at 85.27. Call open interest at 8,022 contracts vs. put open interest at 12,608 contracts (Put/Call ratio at 1.57). Short float at 0.99%, which implies a short ratio of 3.83. The stock has gained 60.18% over the last year.

9. Altria Group Inc. (NYSE:MO): Cigarettes Industry. Market cap of $52.81B. RSI(14) at 76.34. Call open interest at 144,128 contracts vs. put open interest at 224,345 contracts (Put/Call ratio at 1.56). Short float at 1.74%, which implies a short ratio of 2.76. The stock has gained 48.88% over the last year.

10. Eaton Corporation (NYSE:ETN): Industrial Electrical Equipment Industry. Market cap of $14.78B. RSI(14) at 72.83. Call open interest at 12,381 contracts vs. put open interest at 19,177 contracts (Put/Call ratio at 1.55). Short float at 1.55%, which implies a short ratio of 1.56. The stock has gained 50.68% over the last year.

11. Coach Inc. (NYSE:COH): Apparel Footwear & Accessories Industry. Market cap of $14.77B. RSI(14) at 82.53. Call open interest at 31,082 contracts vs. put open interest at 46,985 contracts (Put/Call ratio at 1.51). Short float at 3.66%, which implies a short ratio of 3.12. The stock has gained 57.82% over the last year.

12. Chipotle Mexican Grill, Inc. (NYSE:CMG): Restaurants Industry. Market cap of $6.55B. RSI(14) at 79.44. Call open interest at 28,371 contracts vs. put open interest at 41,246 contracts (Put/Call ratio at 1.45). Short float at 12.91%, which implies a short ratio of 5.58. The stock has gained 162.24% over the last year.

13. Enbridge Energy Partners LP (NYSE:EEP): Oil & Gas Pipelines Industry. Market cap of $7.31B. RSI(14) at 74.97. Call open interest at 3,168 contracts vs. put open interest at 4,554 contracts (Put/Call ratio at 1.44). Short float at 0.81%, which implies a short ratio of 1.68. The stock has gained 47.14% over the last year.

14. Royal Caribbean Cruises Ltd. (NYSE:RCL): General Entertainment Industry. Market cap of $8.6B. RSI(14) at 76.48. Call open interest at 46,734 contracts vs. put open interest at 66,681 contracts (Put/Call ratio at 1.43). Short float at 7.44%, which implies a short ratio of 3.68. The stock has gained 102.28% over the last year.

15. Illumina Inc. (NASDAQ:ILMN): Biotechnology Industry. Market cap of $6.78B. RSI(14) at 74.6. Call open interest at 16,645 contracts vs. put open interest at 22,998 contracts (Put/Call ratio at 1.38). Short float at 9.08%, which implies a short ratio of 9.34. The stock has gained 63.38% over the last year.

Disclosure: No positions