By Sridharan Raman
The company is experiencing downtime on some of its rigs and ships as demand has slowed down. At the same time, prices on its fleet rental have also fallen, which means profit margins are declining. Based on the negative StarMine Predicted Surprise of 3.2%, it looks like Ensco (NYSE:ESV) is heading for an earnings miss when it reports second-quarter results at the end of July.

Source: Thomson Reuters Eikon/StarMine
Slowly sinking
As you can see in the chart above, the I/B/E/S consensus estimate has continued to move lower, in the direction of the SmartEstimate. The consensus estimate is now at $1.34 per share, down more than 10 cents per share in the last 90 days. The SmartEstimate is even lower at $1.29. There are three Bold Estimates that are all significantly below the consensus ($1.25, $1.26 and $1.22). These estimates are flagged as Bold Estimates because they are by 5-star rated analysts who have a strong track history. It's one reason why we strongly believe that Ensco will disappoint.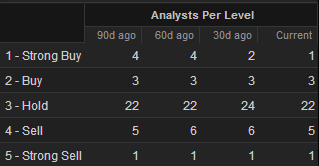 Source:Thomson Reuters Eikon/StarMine
Cloudy horizon
The analyst pessimism extends out to next year too, as they have lowered earnings estimates for next year by more than 10% in the last 90 days. A worrying sign is that analysts have also lowered revenue estimates for this year and next. There are now more sell recommendations for Ensco than there are buy, when the reverse was true 90 days ago. Analysts point to falling demand coupled with an excess supply of rigs. As some of the contracts for its current rigs end, the company may see more downtime before the next contracts roll around (at softer prices).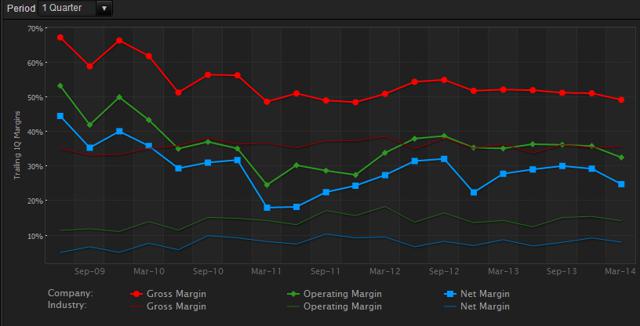 Source: Thomson Reuters Eikon/StarMine
Margins sliding
That trend is what's causing the weakness in margins, which have been drifting lower for the past year. As you can see in the chart above, margins have come down gradually from much healthier levels in 2009. The latest gross margin for Ensco was 49%, compared to 67% just 5 years ago. As a result, the other two main margin measures -- operating and net -- have taken hits over the same period. In a period of falling margins, Ensco has eight rigs under construction, which means the supply of rigs is only likely to increase in the future. CEO Dan Rabun mentioned the "soft market," and that he did not expect that to last. While that may be true, the current quarter weakness is likely to weigh on earnings.

Source:Thomson Reuters Eikon/StarMine
Possible value
The stock does appear cheap, with high scores on our valuation models. Based on our Intrinsic Value model, the 10-year growth rate required to justify the current stock price is -2.5%, which may be a little pessimistic, even for this industry. Another positive for Ensco is the fact that its margins seem to be higher than the industry median. So the questions are - would an earnings miss make the stock look like an even better bargain and might a turnaround in the following quarters help Ensco?
Disclosure: The author has no positions in any stocks mentioned, and no plans to initiate any positions within the next 72 hours.
Business relationship disclosure: Alpha Now at Thomson Reuters is a team of expert analysts that are constantly looking at the financial landscape in order to keep you up to date on the latest movements. This article was written by Sridharan Raman, independent commentator and analyst. We did not receive compensation for this article, and we have no business relationship with any company whose stock is mentioned in this article.