The Company
Tandy Leather Factory (NASDAQ:TLF) is a small retailer and wholesale distributor of leather and leather related products. With leather operations dating back to 1980, the company has repositioned itself over time from a distributor of leather craft tools to a nation-wide retail and wholesale name, associated with leather and leather craft products. You will see from the website that the company covers much of the leather and leather related landscape, from actual leather, to tools and dyes, to kits and accessories such as buckles.
The Operations and Growth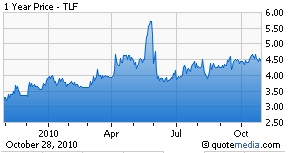 Wholesale operates under "The Leather Factory", which consists of stores in 20 states, three Canadian provinces, and one in the United Kingdom. Since 2001 there have been roughly 30 stores total and management currently has no plans to expand its wholesale operations. Thus, wholesale has stagnated since 2001 and is expected to remain in this state.
Outside of actual stores, management has created what is known as an Authorized Sales Center (ASC), which is used to develop a presence in geographical areas where there are no stores. To become an ASC, an application must be submitted and upon approval a minimum initial order must be placed. In addition, ASCs must adhere to minimum annual purchase amounts. Currently there are 132 ASCs, of which 81 are located in the U.S, 43 are located in Canada, and 8 are located outside North America.
Retail operates under "Tandy Leather", and this segment is where the excitement comes in. According to the company's most recent 10-K, there are 76 retail stores, which are located throughout 36 states, 6 Canadian provinces, and one in the United Kingdom. Unlike the stagnant wholesale segment, since 2001 retail has grown from 1 store to 75 and management plans to grow this segment to between 100 and 120 stores. Between 2002 and 2007 management opened roughly 10 retail stores per year, but cautiously lowered that level to only 1 in 2008, 2 in 2009, and 2 planned in 2010. Since beginning its retail operations in 2000, only one store has been closed as of this writing.
Retail is an important factor to the company for two reasons. First, future growth will largely come from this segment as management continues to push further into the retail area. Second, both gross and net margins in retail are higher than they are in wholesale. This equates to more growth potential and more profit potential. In fact, this seems to be the case for the company; Tandy Leather Factory has been increasing profits, while at the same time increasing the overall percent of total sales that the retail segment makes up.
The Investment
Between 2004 and 2006, TLF experienced nice growth. Sales increases coupled with widening gross and operating margins led to a company that was becoming more profitable on both a dollar for dollar and a percentage basis. However, in 2007 the company was set back by two key factors, a decline in sales and an increase in operating expenses. The sales decline was largely a result of slowing economic conditions, as can be seen by the lower trending 10-Q net sales throughout 2007. The increase of operating expenses was due to the company's push into retail. Problems persisted through 2007 and 2008; during 2008 sales stagnated while operating expenses as a percentage of net sales continued to rise.
However, as TLF entered 2009 the lower trending quarterly sales began to reverse. Quarter after quarter sales improved, and as a result operating expenses as a percent of net sales began to descend. Cost of goods sold as a percentage of sales was also declining.
Looking over the company's 10-Q, one will see that going into 2010 TLF continues to show improvements. Net sales have continued to grow, cost of sales has continued to decline, and operating expenses seem to have leveled. Using these improved figures, we can estimate what year ended 2010 results will look like and use the results to develop an investment thesis. You will see from the spreadsheet that net income from continuing operations should come in around $4,560,750 or roughly 7.6% of net sales. This figure, divided by the current diluted weighted shares outstanding gives us approximately 44 cents per share. According to the most recent 10-Q, TLF has a tangible book value of $2.6 per share. Add to this ticket price a modest 5 times earnings and we can theoretically buy a business that has a well managed growth strategy, zero debt (hence tangible book), and improving profitability.
Let us look at two other metrics for interpretations of valuation. We can see that between March of 2007 and March of 2010 TLF traded between 16.8 and 12.4 times earnings. Based on these levels, TLF would trade between $7.4 and $5.46, the average being well above current the price. We can also see that during the same time frame, TLF traded between 3.2 and 1.3 times tangible book, the average being well above the current market price.
The Conclusion
Based on the analysis above, Tandy Leather Factory looks like a nice investment candidate. The company is increasing sales, is continuing to grow its retail base, and is more efficiently utilizing its costs. The bottom line is an undervalued business with growing profit potential.

click to enlarge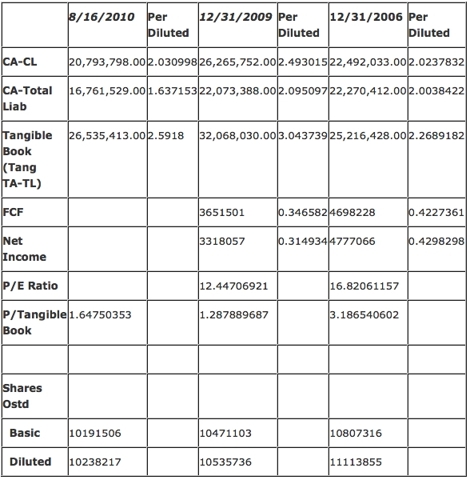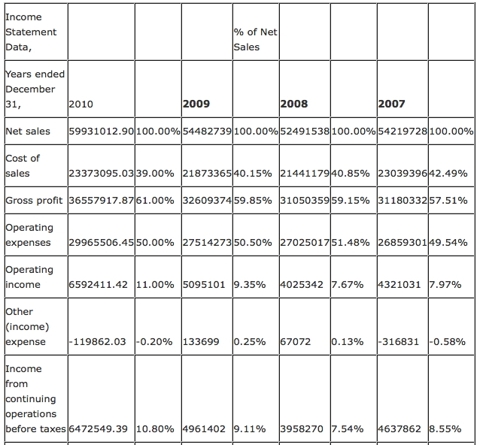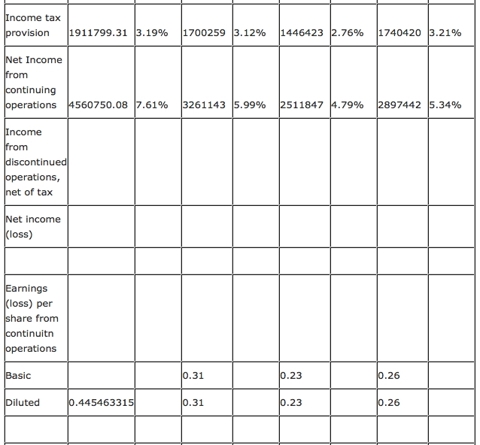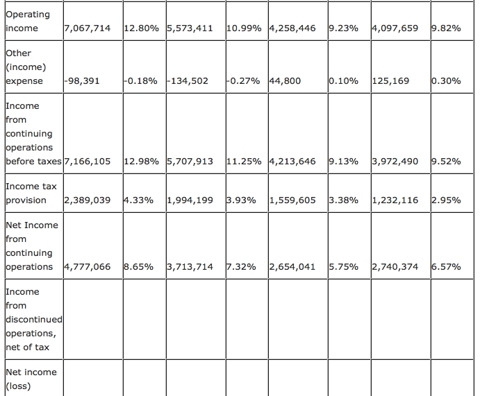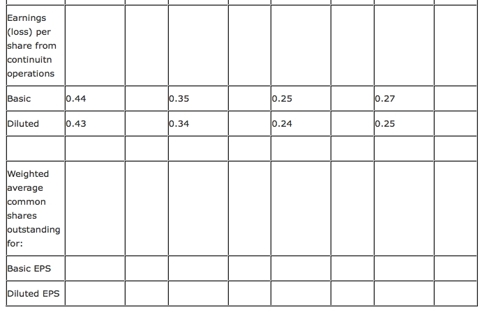 Disclosure: Long TLF