Executive Summary
Southwest Airlines (NYSE:LUV) is currently in its forty-fourth year of service as one of the most unique airlines in the country. Based in Dallas, Texas Southwest prides itself on its excellent customer service, client loyalty, and branding. Southwest is known for their discount fares, low or non-existent fees and superior client service. Southwest aims to increase shareholder value through capital efficiency as well as through share buybacks and dividend payouts.
Recent News
Southwest Airlines has been in the news for a number of different reasons in recent weeks. Although the majority of the news has been positive, there has been one story that had a select group of people worried.
Earlier this month it was announced that Southwest will now be expanding the areas that they offer as flight destinations. Southwest has previously only worked within the lower forty-eight states, but is now expanding into Jamaica, the Bahamas, and Aruba. The reason behind the expansion is due to the acquisition of AirTran Airways from 2011. Other international destinations will be added shortly including Mexico City and Punta Cana in the Dominican Republic. Although we will see Southwest expand into these new areas, its international "footprint" is still significantly smaller than all other airlines and is likely to stay that way. Southwest has been making their name and their brand in United States flights for over four decades and it seems unlikely they will completely abandon that strategy anytime soon.
Having said that, it does appear that Southwest may be rebranding itself slightly in order to accommodate the new international flights. In the past Southwest has branded itself as America's largest "domestic only" airline. Naturally as part of this acquisition and transition into select few international flights Southwest will stop using this slogan. This will be a large change for Southwest who previously had never had their name on an international territory. The news is also positive for those loyal to Southwest or those looking for low fare international flights. The current plan is to continue only with "local" international flights including areas such as Canada, the Caribbean, Central America and the northern part of South America. Flights to Europe are a possibility in the long term future, but for the time being Southwest is likely going to focus on closer distances.
Despite all the good news recently with Southwest, there has been one piece of news that has some people wondering about Southwest. USA Today recently reported that after doing some research Southwest was no longer consistently the cheapest airline for fares when conducting a comparison. The results showed that Southwest was the cheapest roughly only 40% of the time. The good news from this story is that Southwest clients are still likely to remain loyal, as many of their clients are willing to pay the fare increase to maintain the same level of customer service that they are used to. Southwest has done an excellent job of providing a high level of service and convenience in an industry where it is lacking in order to maintain a competitive advantage and increase customer loyalty to their brand. Where Southwest also excels is that they don't charge fees for the first or second checked bag, which is rare in the airline industry. Many critics also cited that the study was a scenario that may or may not have been done fairly. Airline fares do tend to fluctuated considerably, so it's very possible for errors to have been made in the analysis.
Catalysts
Southwest has a number of positive attributes for the stock that could lead to some outperformance going forward. To start off, the company reported strong profits earlier this year of around $152 million, which is more than double the $59 million from the previous year. This large increase in profitability was caused by both fuel costs decreasing, spending cuts, and revenue increasing by over $4 billion.
As mentioned previously, Southwest continues to focus on their shareholder objective by buying back additional shares and increasing their dividend. The share buybacks will go into the $1 billion range, but will be spread out over the course of the next few years. The reasoning behind Southwest being able to perform share buybacks and dividend increases is due naturally to their strong balance sheet. Southwest has over $3 billion in cash and equivalents and has virtually almost zero debt in relation to their most recent acquisition.
Short term potential seems favorable with Southwest due to the share buybacks and the fact that travel has been popular for the summer of 2014. Given the harsh winter and lack of travel, it seems thus far that airlines can expect to perform well in the short term. The economic indicators also prove favorable, as disposable income and employment numbers improve.
Risks
As with any individual stock, Southwest Airlines comes with some risks. One of the largest risks for Southwest (as well as any airline) is the volatile economic factors and fuel prices. The airline industry is subject to highly variable and relatively unpredictable demand that can be extremely sensitive to changes in economic conditions. Travel patterns, fuel costs and household disposable income can all be variable and can have large effects on the profitability of the airline. Fuel costs are higher and more volatile than previously and Southwest must rely large amounts of fuel consumption in order to conduct business. Southwest's primary competitive advantage is its reputation for low fares. With changes to its costs, profitability could be cut or their reputation for low cost fares could be tarnished.
Historical Performance
Taking a look at a stock's historical performance can be one of the best measures for determining how it may perform in the future. Although it is certainly not a "guarantee" it can be helpful in analysis. Looking at Southwest's short-term chart since 2009 you can see that the company has outperformed the overall market by a fairly large margin since the recession. The economic recovery has proved favorable for the company. Southwest has also outperformed its competitors during this time period as outlined on the chart below.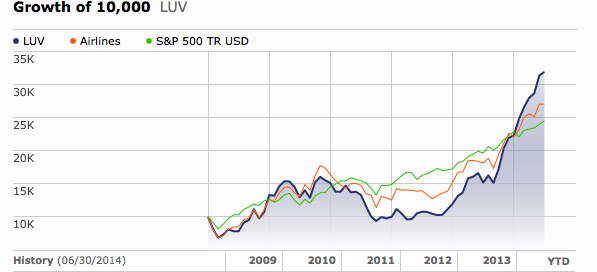 Looking at a longer-term chart however the picture changes. Over the long term Southwest has historically underperformed both the S&P 500 as well as the airline industry as a whole.

Charts courtesy of Morningstar
Time To Buy?
Southwest stock may be a buy for certain investors. Looking purely at the valuation of the company it currently trades at a price to earnings ratio of 23.4 versus a S&P average of 18.6 and an industry average of just 10.4 . When taking this price to earnings ratio and comparing it to growth, Southwest currently has a PEG ratio of around 1.4, which values the company relatively fairly.
From a dividend standpoint, Southwest currently has a yield of around .7%, versus an industry average of .4% and a S&P average of 2.3%.
For more short-term investors, share buybacks, expansion into new areas and positive economic indicators could lead favorable for the price of the shares. For buy and hold dividend investors there may be industries and alternatives better suited for your portfolio. The potential expansion into new areas and potentially even Europe in the longer-term future provides a wildcard catalyst that could propel the stock to new levels, but comes with added risk and uncertainty.
This article is given for informational purposes only and is not to be construed as investment advice. Contact your investment professional and do your own due diligence before investing.
Disclosure: The author has no positions in any stocks mentioned, and no plans to initiate any positions within the next 72 hours. The author wrote this article themselves, and it expresses their own opinions. The author is not receiving compensation for it (other than from Seeking Alpha). The author has no business relationship with any company whose stock is mentioned in this article.