The following is a list of high growth stocks, based on analyst projected EPS growth over the next 5 years. All of these stocks have seen a significant increase in short interest between 7/15 and 10/15.

Short sellers seem to think these growth stocks are overhyped, what do you think?

Analyst projected growth rates sourced from Finviz, short seller data sourced from AOL Money.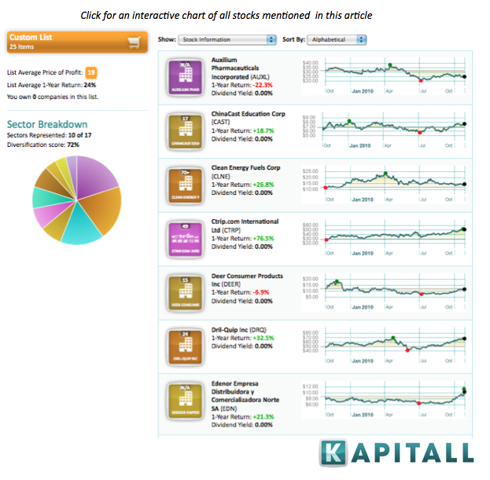 The list has been sorted by the change in the short ratio. Note: All changes described occurred between 7/15 and 10/15.

1. Ctrip.com International Ltd. (NASDAQ:CTRP): Consumer Services Industry. Market cap of $6.91B. EPS growth projected at 29.61% over the next 5 years. Short ratio has increased from 1.1 days to 3.7 days, with shares shorted increasing from 4.45M to 5.96M.

2. ChinaCast Education Corporation (OTCPK:CAST): Education & Training Services Industry. Market cap of $378.33M. EPS growth projected at 30.0% over the next 5 years. Short ratio has increased from 1.8 days to 5.5 days, with shares shorted increasing from 858,763 to 1.23M.

3. Companhia Siderurgica Nacional (NYSE:SID): Steel & Iron Industry. Market cap of $25.63B. EPS growth projected at 27.7% over the next 5 years. Short ratio has increased from 1.6 days to 4.3 days, with shares shorted increasing from 7.49M to 16.86M.

4. Navios Maritime Holdings Inc. (NYSE:NM): Shipping Industry. Market cap of $605.82M. EPS growth projected at 27.05% over the next 5 years. Short ratio has increased from 0.8 days to 2 days, with shares shorted increasing from 414,458 to 744,616.

5. FMC Technologies, Inc. (NYSE:FTI): Oil & Gas Equipment & Services Industry. Market cap of $8.44B. EPS growth projected at 27.9% over the next 5 years. Short ratio has increased from 2.7 days to 6.2 days, with shares shorted increasing from 5.78M to 7.53M.

6. Weatherford International Ltd. (NYSE:WFT): Oil & Gas Equipment & Services Industry. Market cap of $12.57B. EPS growth projected at 30.95% over the next 5 years. Short ratio has increased from 1 days to 2.2 days, with shares shorted increasing from 16.91M to 22.64M.

7. Lubrizol Corporation (LZ): Specialty Chemicals Industry. Market cap of $6.93B. EPS growth projected at 26.7% over the next 5 years. Short ratio has increased from 1.8 days to 3.8 days, with shares shorted increasing from 1.50M to 1.89M.

8. Auxilium Pharmaceuticals Inc. (NASDAQ:AUXL): Drug Related Products Industry. Market cap of $1.19B. EPS growth projected at 30.% over the next 5 years. Short ratio has increased from 10.4 days to 21.9 days, with shares shorted increasing from 10.89M to 11.31M.

9. Ultra Petroleum Corp. (UPL): Independent Oil & Gas Industry. Market cap of $6.1B. EPS growth projected at 26.6% over the next 5 years. Short ratio has increased from 3.6 days to 7.4 days, with shares shorted increasing from 8.65M to 11.96M.

10. Sonic Automotive Inc. (NYSE:SAH): Auto Dealerships Industry. Market cap of $576.85M. EPS growth projected at 26.1% over the next 5 years. Short ratio has increased from 8.4 days to 16.2 days, with shares shorted increasing from 7.88M to 6.71M.

11. Worthington Industries, Inc. (NYSE:WOR): Steel & Iron Industry. Market cap of $1.12B. EPS growth projected at 28.% over the next 5 years. Short ratio has increased from 4 days to 7.6 days, with shares shorted increasing from 3.93M to 4.75M.

12. Deer Consumer Products, Inc. (NASDAQ:DEER): Appliances Industry. Market cap of $379.23M. EPS growth projected at 30.% over the next 5 years. Short ratio has increased from 3.5 days to 6 days, with shares shorted increasing from 1.13M to 2.39M.

13. Kennametal Inc. (NYSE:KMT): Machine Tools & Accessories Industry. Market cap of $2.82B. EPS growth projected at 26.43% over the next 5 years. Short ratio has increased from 3.4 days to 5.8 days, with shares shorted increasing from 3.17M to 4.19M.

14. Westport Innovations Inc. (NASDAQ:WPRT): Pollution & Treatment Controls Industry. Market cap of $719.29M. EPS growth projected at 30.0% over the next 5 years. Short ratio has increased from 2.8 days to 4.6 days, with shares shorted increasing from 1.52M to 1.93M.

15. Sequenom Inc. (NASDAQ:SQNM): Biotechnology Industry. Market cap of $485.44M. EPS growth projected at 30.% over the next 5 years. Short ratio has increased from 7.3 days to 11.9 days, with shares shorted increasing from 23.75M to 19.90M.

16. Gold Fields Ltd. (NYSE:GFI): Gold Industry. Market cap of $10.89B. EPS growth projected at 26.1% over the next 5 years. Short ratio has increased from 1 days to 1.6 days, with shares shorted increasing from 3.85M to 7.18M.

17. SunOpta Inc. (NASDAQ:STKL): Processed & Packaged Goods Industry. Market cap of $412.25M. EPS growth projected at 30.0% over the next 5 years. Short ratio has increased from 0.2 days to 0.3 days, with shares shorted increasing from 45,033 to 89,472.

18. Myriad Genetics Inc. (NASDAQ:MYGN): Drug Manufacturer. Market cap of $1.9B. EPS growth projected at 28.27% over the next 5 years. Short ratio has increased from 3.1 days to 4.6 days, with shares shorted increasing from 4.72M to 5.50M.

19. Synutra International Inc. (NASDAQ:SYUT): Dairy Products Industry. Market cap of $625.14M. EPS growth projected at 26.% over the next 5 years. Short ratio has increased from 4.7 days to 6.7 days, with shares shorted increasing from 887087 to 934620.

20. Insulet Corporation (NASDAQ:PODD): Medical Instruments & Supplies Industry. Market cap of $636.22M. EPS growth projected at 26.67% over the next 5 years. Short ratio has increased from 23.7 days to 32.8 days, with shares shorted increasing from 5.20M to 6.12M.

21. Dril-Quip, Inc. (NYSE:DRQ): Oil & Gas Equipment & Services Industry. Market cap of $2.67B. EPS growth projected at 27.75% over the next 5 years. Short ratio has increased from 2.1 days to 2.9 days, with shares shorted increasing from 1.38M to 1.63M.

22. Harmony Gold Mining Co. Ltd. (NYSE:HMY): Gold Industry. Market cap of $4.84B. EPS growth projected at 28.6% over the next 5 years. Short ratio has increased from 1.4 days to 1.9 days, with shares shorted increasing from 3.81M to 4.65M.

23. Clean Energy Fuels Corp. (NASDAQ:CLNE): Gas Utilities Industry. Market cap of $872.84M. EPS growth projected at 28.33% over the next 5 years. Short ratio has increased from 6 days to 8.1 days, with shares shorted increasing from 8.23M to 9.29M.

24. NuVasive, Inc. (NASDAQ:NUVA): Medical Instruments & Supplies Industry. Market cap of $1.44B. EPS growth projected at 29.39% over the next 5 years. Short ratio has increased from 12.7 days to 15.5 days, with shares shorted increasing from 7.20M to 7.97M.

25. Edenor SA (NYSE:EDN): Electric Utilities Industry. Market cap of $459.71M. EPS growth projected at 29.00% over the next 5 years. Short ratio has increased from 1.1 days to 1.3 days, with shares shorted increasing from 27,836 to 44,333.

Disclosure: No positions