I wrote my first recommendation for Vestas Wind Systems A/S (OTCPK:VWDRY) back in October of 2004. That may come as a shock to those 6-sigma commenters on SA who believe that anyone who wants to use all energy sources available, including fossil fuels, must be in the employ of the oil industry. In fact, I was one of the earliest proponents of Vestas, not, perhaps to the chagrin of those commenters, because I believed wind power was the answer to our energy prayers, but because Vestas was a fine company in a nation with excellent corporate governance and it was to be the beneficiary of serious subsidies from various governments that virtually assured Vestas of profitability year after year.
Vivian Lewis, the doyenne of global investing, editor of Global Investing and fellow Seeking Alpha contributor, discovered it first. I kidded her that it wasn't fair -- my wife is Danish-American, we travel to Norway and Denmark quite often, and since I do research and write about the energy industry, traditional and alternative, you'd think I'd have written up Vestas, the world's #1 manufacturer of wind-power turbines, early on. But Vivian is always looking for great companies as well, and no one has a lock on all the good ideas!
Tracing its roots back to a blacksmith shop in 1898 and subsequent steel work in many industries, the current Vestas began at the end of WWII manufacturing household appliances such as mixers and kitchen scales. From there, they branched out into mud pumps, tankers, crop sprayers, plough shares, several other agricultural products, intercoolers for ship engines, and hydraulic cranes. As a logical extension of nearly a century working with metals, during the oil crisis of the 1970s Vestas began to examine the potential of lightweight, high-endurance wind turbines as an alternative and clean source of energy.
The company's first attempt resulted in the "Darrieus Turbine", which still exists at some old wind farms. (It looks like a giant egg-whisk.) However, this turbine design was not as efficient as the three-blade model that we mostly see today -- mostly produced by Vestas. In the 1980s, VESTAS began producing fiberglass wind turbine components, reducing weight and drag even more. Their next innovation was pitch-regulated turbines, which optimize the energy output of the turbines by constantly adjusting the angle of the blades in relation to the characteristics of the wind. And now the company has developed a turbine that features individual pitch regulation of all three blades, making it much more reliable and durable.
Visitors to Denmark may have seen the offshore wind farm at Tunø Knob in the Kattegat, the straits between Denmark and Sweden. It is just south-east of Aarhus, Denmark, near the end of the E-45. Or perhaps the eighty 2.0 MW offshore wind turbines once in full operation at the Horns Reef site in the North Sea off the west coast of Denmark, near Blaavands, just north of the Ipswich (UK) - Esbjerg ferry route.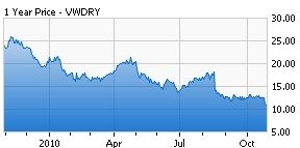 So why talk about Vestas today? I still have 90% of our clients' energy portfolios in oil, gas and coal investments – which is about right, since 90% of the energy used for electricity and transportation comes from these three sources. But old friend Vestas has fallen on difficult times as many nations, and most European nations, realize they simply cannot afford the high cost of subsidizing wind power at a time when money is tight and greater needs beckon.
Bad times, sure. But I'm also a bargain hunter and I know that every industry has setbacks and every company has setbacks. I believe Vestas' current setbacks are already factored into the price, which has declined from 26 earlier this year to just 10.60 now – the lowest it's been in the three years the ADRs have been available in the US.
The stock is down for good reason: the company shipped 719 wind turbines in the 3rd quarter, a decrease of 27 per cent. It shipped wind power systems with an aggregate capacity of 1,456 MW, a decrease of 11 per cent. Corporate revenue was EUR 1,722m, a decrease of 5 per cent. And profits after taxes amounted to just EUR 126m, a decrease of 24 per cent.
I see no immediate catalyst to change all this but I have placed Vestas back on page 1 of our watchlists. I expect Vestas to resume its growth, albeit at a lower pace. But I imagine that growth will come in fits and starts. With one out of every three wind turbines in the world, Vestas is the clear leader in providing the most technologically sound wind turbine blades. Their backlog of orders includes buys from utilities in France, Germany, Australia, Canada, the UK, Spain, Portugal, India, Italy, and Greece -- among others. I have not bought yet but I will initiate pilot positions this week and next. I see Vestas as the clear market leader, with the willingness to do what it takes to survive and thrive (they just laid off 3,000 workers at their European plants), with great corporate governance in a nation where the Danish Companies Act mandates that Members of the Board and the company's Executive Management do not hold dual roles.
At 10 dollars US and change, it is worthy of a pilot position. Even though I see wind as but an ancillary contributor to the grid this year and next, there is no question that it will grow as long as subsidies are re-emplaced – as I believe they will be. And If Vestas falls further, I'd be a more aggressive buyer. If the company can rein in expenses, keep its book value intact, and learn to conduct R&D within a reduced cash flow environment, this one will be a survivor that will absolutely catch the next strong wind upwards.
Disclosure: Not yet long Vestas, but will take a pilot position in the coming days.
Disclaimer: As Registered Investment Advisors, we see it as our responsibility to advise the following: we do not know your personal financial situation, so the information contained in this communiqué represents the opinions of the staff of Stanford Wealth Management, and should not be construed as personalized investment advice.
Past performance is no guarantee of future results, rather an obvious statement but clearly too often unheeded judging by the number of investors who buy the current #1 mutual fund only to watch it plummet next month.
We encourage you to do your own research on individual issues we recommend for your analysis to see if they might be of value in your own investing. We take our responsibility to proffer intelligent commentary seriously, but it should not be assumed that investing in any securities we are investing in will always be profitable. We do our best to get it right, and we "eat our own cooking," but we could be wrong, hence our full disclosure as to whether we own or are buying the investments we write about.