The Cult of FITX
To date, Creative Edge Nutrition (OTCPK:FITX) is the most beloved Canadian marijuana stock in the market. Fans of the company are so gung-ho that they are selling t-shirts that say "FITX-Long" or "I-Billieve" (as in president and CEO of FITX, Bahige "Bill" Chaaban). Any criticism of the company is met with an onslaught of vitriolic denunciation. Even the CEO of FITX encourages this closed-minded rhetoric by similarly denouncing the naysayers.
Bill Chaaban, FITX CEO:
"I applaud all of you arm chair critics who always find a criticism... Maybe if one were to contemplate the achievements thus far and ask themselves what part of the story has not been told that has attracted such talent?... Oh wait... that would take an unbiased opinion and some intellect. Sorry that most of you have been most likely burned in the past by poor investment strategies or advice… I continue to give 100% to FITX and its shareholders."
This kind of pomposity has been praised by Bill's followers. It has made Bill an iconoclast of sorts. Bill has been given monikers such as "Wild Bill" for his outlandish rhetorical strategies via social media.
The adoration for this company borders on cult-like fanaticism. But why the enthusiasm? What has FITX done to deserve its following? And boy does it have a following.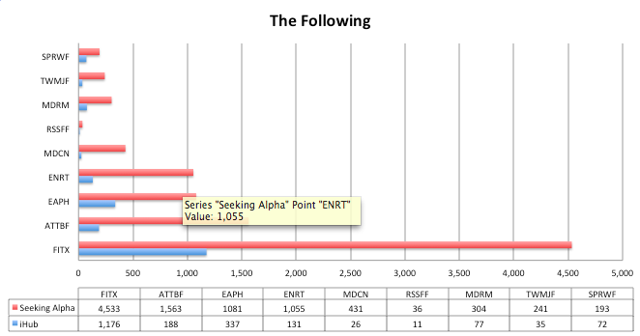 FITX's following makes very little sense at first. It doesn't have a license to sell nor grow medical marijuana. It trades on the pink sheets. And it is just a nutraceutical company with less than $5million in sales YTD.
The 6 Red Flags: Enjoy the Ride
There are 8 red flags the SEC says are warning signs for microcap fraud:
SEC trading suspensions (the SEC has suspended public trading of the security).
E-mail and fax spam recommending a stock.
Insiders own large amounts of stock.
False or exaggerated press releases.
"Guaranteed" high investment returns.
Unsolicited offers, including through social media.
Pressure to buy RIGHT NOW.
No net worth or income requirements.
I have come up with 6 red flags of my own, some of which overlap.
Highest valued Canadian Pot stock despite not having a license to sell marijuana.
Misleading and potentially false press releases.
The controversial 12.5% stakeholder who is undergoing SEC investigation.
75% insider ownership who were issued shares at .001.
Bill Chaaban, CEO of FITX, dumping shares.
Questionable existence of RXNB prior to November 2013.
Combined, these issues make FITX seem like less than a viable investment.
I have broken this article into a series where I discuss in more detail these red flags.
Red Flag #1: FITX The Most Expensive MMPR Applicant
On April 1st, 2014, Canada's MMPR (Medical Marihuana Purposes Regulations) program went into effect. This program gave the right for corporations to buy, sell, grow, and destroy dried medical marijuana to patients with a prescription from their physician.
The prospect of investing in a company that sells marijuana created a frenzy in the pot stock world. I have identified eight companies that have expressed in press releases their intent to legally sell marijuana. Only one of them, however, currently has an MMPR license. It may or may not surprise you that company is valued roughly half that of FITX.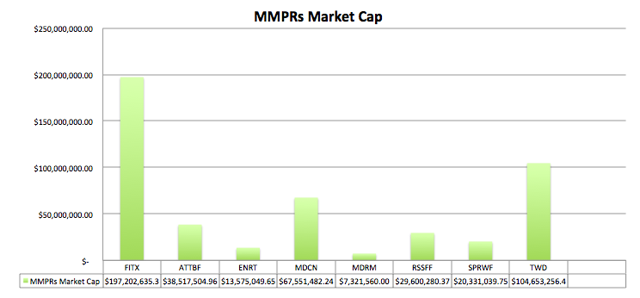 FITX is clearly the most expensive company right now. Tweed Marijuana (OTC:TWMJF), a company currently licensed to grow and sell marijuana, is valued about half that of FITX. The combined market caps of fellow MMPR applicants OTCQX:OTCQB:ATTBF, OTCQB:OTCQB:ENRT, OTCPK:OTCPK:MDRM, OTCQB:OTCQB:MDCN, OTCQB:OTCQB:RSSFF, and OTCPK:OTCPK:SPRWF equal roughly $176.9 million, which is still $20.3 million shy of FITX's $197.2 million market cap. And unlike FITX, ATTBF, ENRT, and MDCN all have received local municipal zoning approval for at least one of their facilities. But thanks to the promotional efforts, investors still perceive FITX as cheap.
FITX's $200 Million Market Cap
FITX's astronomical market cap casts a long shadow over its "competition." At one point during the year, the company was worth nearly $350 million at .11 a share.
For the most recent quarter, it recorded revenue from the sale of 7.5% of the 25% interest in the net revenue for the barn it built in Canada. Essentially, an investor paid $5 million for 7.5% interest of 25% interest of a facility currently not producing marijuana.
In addition, the company recorded $169,007 in revenue, although the company does not explain the source. Presumably, it was from the sale of nutraceuticals. This is probably because currently, "the company operates in only one business segment, namely the development, marketing and sales of nutraceuticals and health supplements." Last year, the company recorded $524,725 in revenues from nutraceuticals. It appears that sales of nutraceuticals have decreased by -68% YoY. FITX isn't doing so well in the nutraceutical business. On the other hand, it is doing tremendously well in the selling what appears to be 1.8% of its building for a whopping $5 million.
Red Flag #2: False and Misleading Press Releases
On March 25th, of 2013 promised potential shareholders of its intentions of entering the medical marijuana industry by selling "Hemp-plex" vitamin supplements. The response was enthusiastic. However, that enthusiasm quickly evaporated. They tried the same stunt on April 18th, 2013. In a press release, FITX announced that their "Hemp-Plex" would be ready by May. The response wasn't as enthusiastic. In the same PR, the company said they would have a CBD product in the near future.
"With Our Amino Plex and Hyper Infusion ready for sale the week of April 22, 2013, and the Hemp-Plex ready for early May delivery the Infused Hemp Oil was the natural progression."
The company also paid for stock promotion at this time. I was however able to find a newsletter for which FITX compensated SquawkBoxStocks.com, a web property owned by Tribeca Investments Ltd. Tribeca Investments Ltd. has been compensated "up to $65,000 for the release of this email on FITX by a third party - Winning Media." At that time, FITX's idea of entering the medical marijuana sector "via Hemp Protein Powder."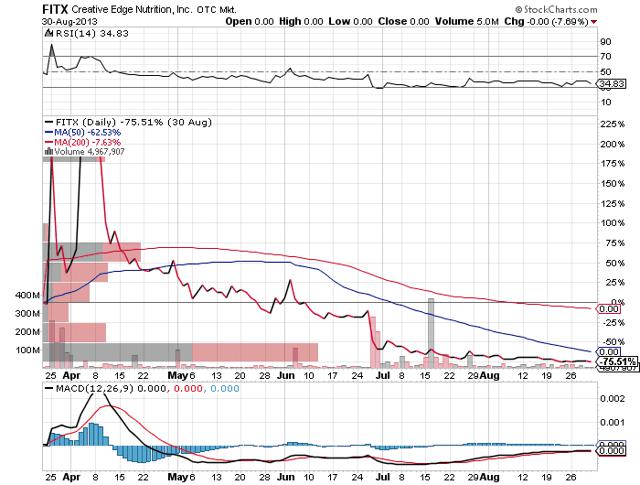 The promo caused a quick run up, doubling the stock and it subsequently tanked -75%.
From Hemp-Protein to MMPR
Not until September 5th, 2013, did FITX announce intentions of becoming a licensed MMPR in Canada. An MMPR license would allow the company to grow marijuana.
"Cen Biotech Inc. was formed with the sole purpose to obtain licensure to build Medicinal Marijuana facilities adhering to all local legal requirements."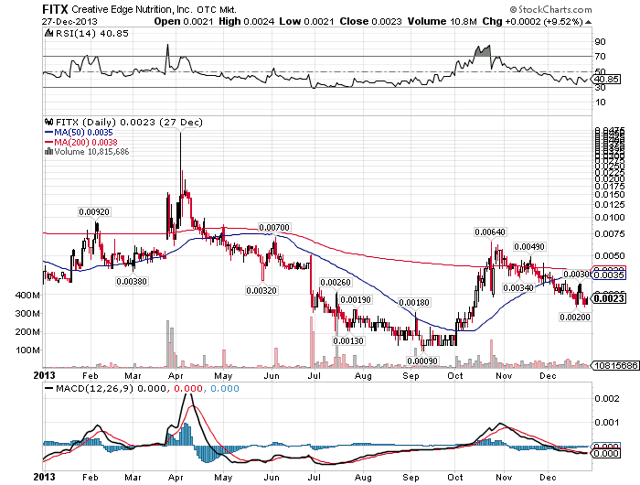 The market did not react immediately to the news. It took several subsequent press releases for the market to rally.
The next day, September 6th, FITX announced that it would utilize Endexx Corporation (OTC Pink: EDXC) "Seed to Sale" technology for its future medical marijuana facility. Reaction from the market is negligible.
Interestingly, the stock did not rally on November 19th, 2013 when the company announced that its subsidiary "CEN Biotech, Inc. Leases Property for Medical Marijuana Product and Sales."
It might be due to the fact that the company only leased a six-acre site with
"A 26,400 square foot (240'x110') steel barn and a 2,000 sq. ft. building located on the property. CEN Biotech, Inc.'s purpose of incorporation is to produce and sell medicinal marijuana in jurisdictions where it is allowed by law."
Somewhere along the road, this six-acre site would become "home" to the world's largest most advanced nonexistent marijuana facility/barn.
Is FITX To Build the World's Largest Most Advanced Marijuana Facility/Barn?
In an interview with CEO of FITX, Bill Chaaban, blogger Chris Parry challenged the CEO about its claims of building the world's largest marijuana facility. Bill denied this at first.
"I've never said that in any news release I've put out."
So Bill isn't building the world's largest marijuana facility? Only a few minutes later in the interview, Bill did say of his future facility:
"It will be the largest in Canada, and the world. We'll do everything in our power to make that happen"
So does Bill believe he will build the "largest [facility in] . . . the world?"
Caught in a Lie
A press release issued November 21, 2013 stated that FITX "has broken ground to start the build-out of a 58,000 sq. ft. building for its medicinal marijuana operation." The press release went on to inaccurately claim that it had "the required municipal approval as required by law."
The problem with this was that it was misleading and bordering on being outright false. The company cited a blog written in the Windsor Star, which does state, "Council was supportive of the proposal, saying the industry posed no concerns because it will be highly regulated." However, the article did not say Cen Biotech received the "required municipal approval."
The same PR also misled investors by stating, "Since our land is zoned agricultural for the production and sale of medicinal marijuana, zoning is not required." The land was not zoned for the sale of medical marijuana. This issue could have been resolved nine months ago. To date, FITX is yet to receive the "required municipal approval."
The Lie Grows
The company subsequently put out numerous press releases pumping its future medical marijuana facility. For example: An arguably irrelevant PR on 12/10/2013
"Cen BIOTECH, Inc. Releases Site Photos of Proposed Medical Marijuana Facility."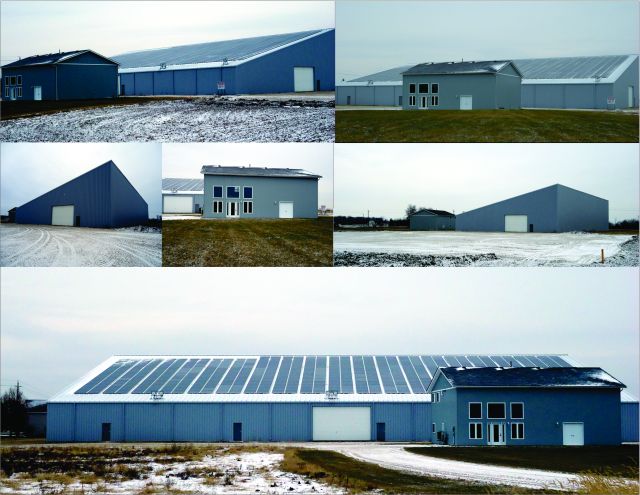 The "Photos" 12/10/13
[Note: that the company had already released a photo of the barn one month earlier in a press release.]

From PR 11/19/13
PR from12/30/2013
"Cen Biotech Receives [sic] Ready To Grow Letter From Health Canada And Featured In Forbes Magazine (emphasis added)."
This PR quotes Bill Chaaban misleading investors by stating, "It is very exciting for us to announce that we have received the approval from Health Canada to build our facility. It is our intention to become one of the largest commercial growers of medicinal marijuana in the world." Arguably, Bill meant to say that FITX had only received a "ready-to-build" letter from Health Canada, which is very different from being licensed. However, the most misleading aspect of the PR was when it essentially announced to investors that, "it has received its regulatory approval from Health Canada to become one of Canada's commercial medicinal marijuana growers." But Cen Biotech had not received regulatory approval.
To support this claim, the company cited an article that came out in Forbes Magazine on 12/30/2013 at 1:09PM. It cannot be overly stressed that the announcement of the license first appeared in Forbes Magazine before FITX's press release that came out 2 hours and six minutes later at 3:15PM. Why did Forbes put out this inaccurate story first? This is the million-dollar question people should be asking.
The article was subsequently corrected and you can find a footnote on the Forbes piece stating,
"The company has been issued permission to build its cannabis facility... An earlier version of this post stated the company had already been approved to begin operation."
But the damage was done. It was believed in the investor world that FITX had received a medical marijuana license and had municipal approval. This was highly misleading. FITX never issued a PR to correct the misleading statements.
I have contacted the author of the article, Mr. Karsten Strauss, regarding his sources and his interest in FITX. It does seem odd that a financial magazine as reputable as Forbes would take interest in a pink sheet penny stock. Mr. Strauss has yet to reply.
It should be noted that Mr. Strauss' bio encourages people to, "Send [him] sensitive documents and tips." While other writers also express openness towards crowdsourcing material, the request for "tips" seems out of the ordinary. "Hey Strauss, I got a hot tip for you: a Pink Sheet Penny Stock is licensed to grow medical marijuana!" Sounds like a penny stock promoters dream come true.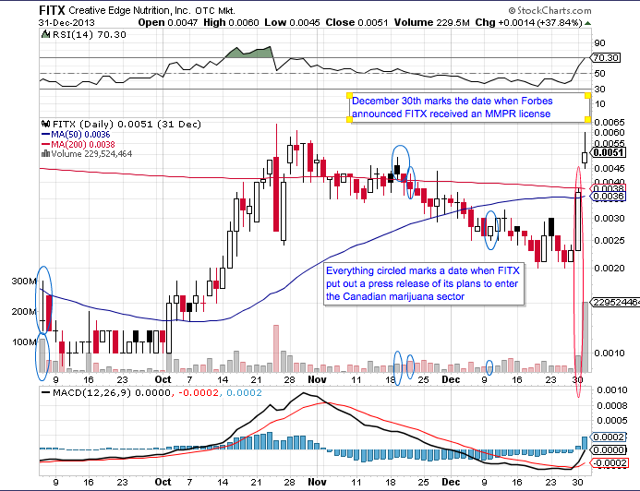 "Hang on a Minute Bill," screamed Windsor.
As the hype escalated on January 13, 2014, The Windsor Star published an article entitled, "Stock soars, but company lacks OK to grow cannabis." The piece states:
That FITX had "No approval from Health Canada."
"The town hadn't issued a building permit for [its proposed] site."
"CEO Bill Chaaban did not answer questions posed by The Windsor Star about the discrepancies in the news releases."
"The company is leasing property off North Rear Road near Highway 401 that is zoned agricultural and was going to be used by its original owner, Jim Shaban, for a film studio. There is a large barn and smaller house on the property."
"Dennis Sylvestre, a contractor but not an investor in the company, applied for a permit to build a 53,000-square foot steel structure on the North Rear Road property. The building is valued at $800,000. "The company is entitled to build a barn and fencing," said Steve Salmons, the town's director of community and development services. "What occurs in that barn is a zoning question."
If the article in the Windsor is correct, FITX misled investors about the proposed size of the facility, that it had received municipal approval, that it had received an MMPR license, and that it even had a "building permit."
But that did not stop FITX from continuing the hype. PR after PR touted the company's prospects, its facility, its growing capacity, and its partnerships. It even put out a PR on February 12, 2014, that literally was just about all the PR it was getting. The PR was entitled, "CEN Biotech, Inc. Featured In Fortune Magazine." And yes, this was in reference to the December 30th, 2013, PR that it had already "PR'd."
The company even held an Open House to discuss the company's future prospects with potential and current investors. Again, this same company still had not yet received even "required municipal approval" to grow marijuana. The PR was entitled "CEN Biotech, Inc. Holds Open House for World's Largest and Most Advanced Legal Cannabis Production Facility." By that point, FITX wasn't building a 53,000 square foot barn; it was the world's largest marijuana producer.
Zoning Still A Problem
For a company that displayed eagerness to share with investors outside new sources that have discussed the company future prospects, it turns a suspicious deaf ear to the numerous articles from the Windsor Star that have challenged FITX's hyped PRs.
On April 8th, 2014, writer Monica Wolfson informed Canadians that FITX was only allowed to build a "6,000-square foot facility [with] no more than five employees." Currently, the company has built a "53,000-square foot pole barn." Since the land was only zoned agricultural and not industrial, the building "cannot be outfitted with electricity, water, sewer, a vault or even bathrooms under the property's current agriculture value-added zoning." Without these upgrades, the facility will not be able to receive a MMPR license.
Calling FITX's "facility" a "barn" is not meant to be pejorative. Legally speaking, FITX is only zoned agricultural and therefore only can build a barn.
This issue was expected to be resolved on July 15th, 2014. The company met with the lakeshore community to discuss this little "zoning issue." The result? No zoning permit. If FITX can't secure municipal support for its marijuana grow-up, it cannot complete a build-out of a marijuana facility. And without a facility, there's no chance of it receiving a medical marijuana license from Health Canada.
FITX Promises Huge Returns!
Despite not having the most essential asset needed to receive a medical marijuana license, Bill has stated that the company's future mammoth sized marijuana facility will rake in $4 billion net margin:
"'Eventually expand that facility to more than 1 million square feet on multiple floors and within five years grow 1.3 million pounds of pot annually. That would translate to $5 billion a year' in revenue, Chaaban said. 'We anticipate a profit margin of 80%.'"
When would this start? Bill assured investors that, "We anticipate our license being issued in eight to 12 weeks." That was stated on March 5th meaning FITX should've been licensed at the lasted May 28th, 2014. Bill is about 8 ½ weeks past the deadline.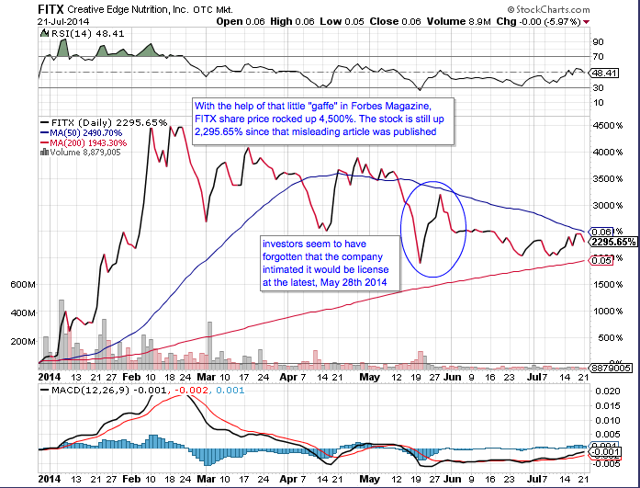 False, misleading, or exaggerated press releases are clear signs that investors should stay away. This article does not even begin to exhaust the misleading information that has been put out from FITX. For instance, an investigative report could be written solely about their various nutraceutical ventures that haven't yielded much.
Red Flag #3: Controversial Insider
From 06/2012 to 09/2013 FITX issued a total of 495,540,813 to Randy A Hamdan and his companies Oracle Consultants and HH Group, LLC. Oracle Consultants was issued 30,000,000 shares in 2012; HH Group was issued 326,724,488 in 2013; and Hamdan was issued 125,816,325 directly both in 2012 and 2013. All shares were issued at .001 a share.
Who is Randy Hamdan?
It didn't take long to discover that Randy Hamdan has been sued by the SEC for fraudulent Pump & Dump Scheme.

The allegations against Mr. Hamdan are quite alarming. The SEC found that Mr. Hamdan,
"Through the phony press release and fraudulent marketing campaign, Hamdan disseminated false claims that CompuSonics had "reached an out-of-court settlement" regarding the company's patent portfolio and the phony press release added the claim that CompuSonics was "considering many options to bring back shareholder value," including a cash dividend and a stock buy-back program. The Complaint alleges that in order to conduct the scheme, Hamdan employed numerous tactics to hide his true identity, including a proxy internet server, an anonymous email service, fictitious contact information, and a prepaid cellphone."
What we learn from this accusation is that Mr. Hamdan was allegedly willing to disseminate false information in order to promo a company for personal monetary gain. How much did Mr. Hamdan profit from this venture? As a result of disseminating false marketing claims the claim alleges that, "Hamdan made profits of approximately $30,000 from his trades in CompuSonics stock." Hamdan was allegedly willing to lie to the public so that he could make $30,000.
As part of the lawsuit, the SEC seeks to, "Prohibit Defendants from engaging in any offering of penny stock pursuant to Securities Act Section 20(g) [15 U.S.C. § 77t(g)] and Exchange Act Section 21(d)(6) [15 U.S.C. § 78u(d)(6)]." The SEC found that Mr. Hamdan's alleged manipulation of CompuSonics stock was grounds to also bar Mr. Hamdan and his company, Oracle Consultants from penny stocks.
Oracle Consultants and HH Group
Oracle Consultants, like HH Group LLC are registered to a one Randy Hamdan.

I discovered that both companies were involved in penny stock promotion.


According to the SEC, penny stock promoters are notorious for being involved with "microcap fraud" and "misleading investors."
Before I go any further, I should also note that I am not accusing Hamdan of penny stock fraud. I was made very much aware what would happen to me if I did by the CEO of FITX, Bill Chaaban: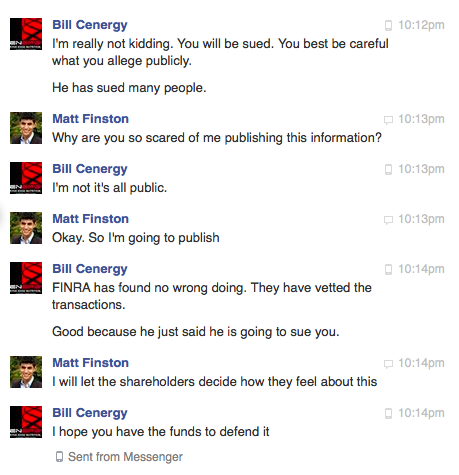 [Note: although "Bill Cenergy" is an alias, Bill Chaaban did post pictures of himself using this account thereby confirming that he was using "Bill Cenergy" as a his personal Facebook account.]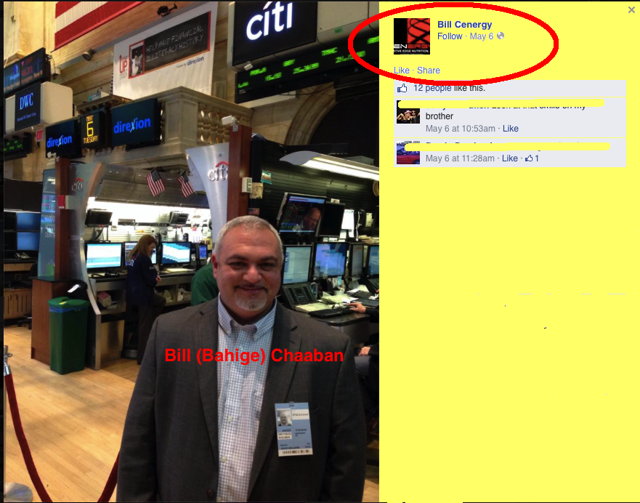 Instead of alleging anything, I want to make very clear I am just gathering information that is and has been made publicly available.
For the record, Bill privately messaged these threats over Facebook after I informed 125 members on a Facebook Group entitled, "Cannabis Contrarians" that I was planning on writing this article. This group is also "secret," meaning the group is not accessible for non-members. Information that is posted there is for those members' eyes only. Had Bill not been a member, he would never have known an article was coming.
Bill's reaction should be an indication that Mr. Hamdan's involvement with FITX is a sensitive issue.
The 2012 Restricted Shares
The 2012 annual report discloses that FITX issued Oracle Consultants LLC and Mr. Hamdan a total of 65 million shares at .001. There was a subsequent 1.2:1 stock dividend increasing the total shares to 78 million.

I have broken down the dates and the amounts of the shares from their issuance.

Highlighted in red are the shares that did not appear on the 2013 annual disclosure report. It is assumed that these shares were sold. See below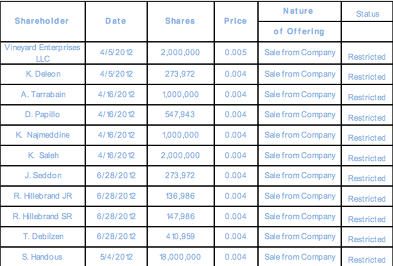 All the names appear again on the restricted share list with the exception of Randy A Hamdan, Oracle Consultants, and JW Financial. According to Rule 144, restricted shares have a 12-month holding period. It has yet to be determined which dates these insiders sold.
Below I have put together a chart highlighting days with noticeably high volume subsequent the unlocking of shares.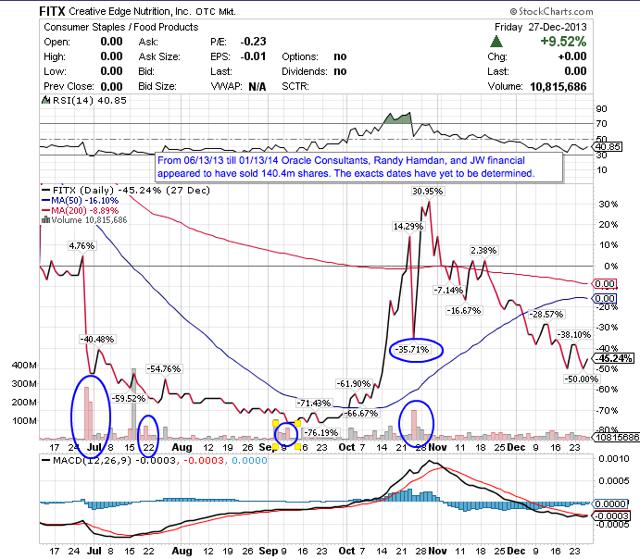 After 6/26/13 the three aforementioned insiders could sell 63.6 million shares. The trading volume for 6/27/13 was 280 million. The next day the trading volume was 198 million. After 8/23/13 the same three insiders could sell 76.8 million shares. The only other notable day with heavy trading volume occurred 10/25/13 with 150 million shares traded.
Hamdan's 2013 Restricted Shares Made Him a 12.5% Stakeholder
According to the 2013 annual disclosure report, FITX has issued 326,724,488 to HH Group and 90,816,325 shares directly to Hamdan for a total of 417,540,813 shares. This is the equivalent of 12.5% of the total outstanding common stock.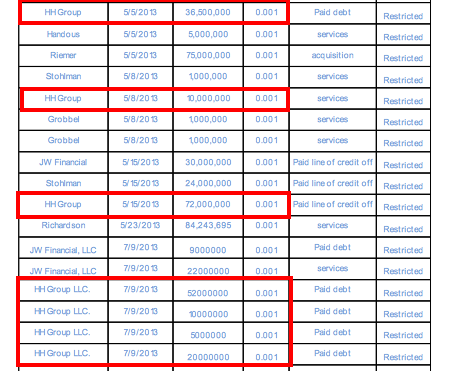 After appearing to have dumped 78 million shares in 2013, FITX issued an additional 417 million shares that are coming unlocked in 2014.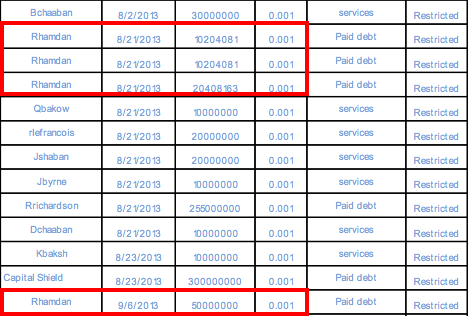 The question I ask: what is Mr. Hamdan's relationship with FITX?
Hamdam: The Inventor of the Tires with magnetic strips
What exactly is Hamdan's role in FITX? Why would FITX issue Mr. Hamdan and his company 12.5% stake in the company?
Hamdan appears to be a penny-stock promoter. In fact, Hamdan intimated this occupation in a press release that marketed his company, OTCSHUB.com. In the press release, Mr. Hamdan prided himself for his "15-year" career as a "consultant" for "small-cap and micro-cap companies." Hamdan touted his understanding of "social media marketing and online advertising." In particular,
"He maintains a clear understanding of current search engine algorithms so as to improve his clients' ranking on searches. Additionally, he helps clients to create content to improve their social media interaction with customers and potential customers."
Hamdan essentially helps small-cap companies promote themselves through social media platforms, such as Facebook.
And how successful has Mr. Hamdan been?
There is a laundry list of companies that Mr. Hamdan has promoted: Vantage Health Group, GeneThera (OTCPK:GTHR), Vega Biofuels, Raystream Inc. (OTCPK:RAYS), DNA Brands (OTCPK:DNAX), GreenCell Inc. (OTCPK:GCLL) and many more. The story for each of these companies ends the same: a valuation of -70% or less. Some have been halted. Some no longer exist.
HH Group and Oracle Consultants Promote FITX
In 2012, HH Group ran 3 penny stock promotions via Vip Penny Stocks, EliteOTC, and ExplosiveOTC. These three companies were compensated $57,500 for the 3 campaigns.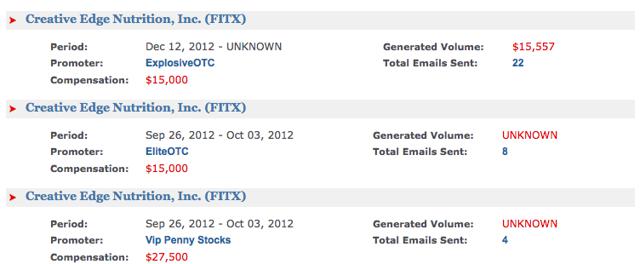 A total of 34 emails were sent out from September 26th, 2012 till March 27th, 2013.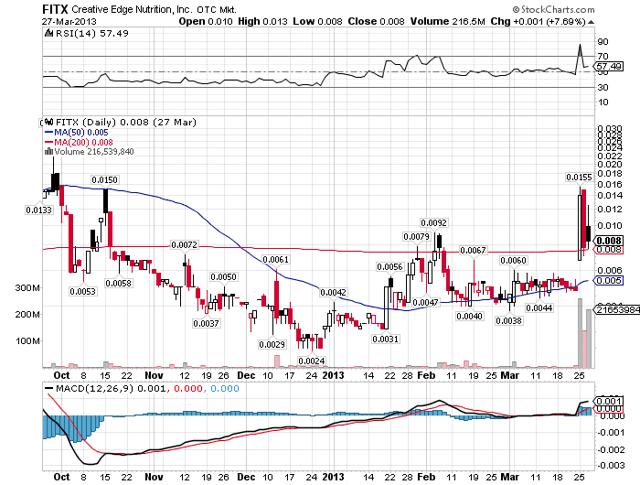 Following the campaign, the share price tanked to as low as .0024 from .0133. It climbed back hitting a high of .0092. But it wasn't until March 25th that the company enjoyed significant volume when it announced entry into the medical marijuana sector.
Oracle consultants also promoted the company during the month of October 2012 and was paid $25,000.

Issuing Shares for "Debt"
It looks like Hamdan's penny stock promotion companies paid a total of $82,500 for the awareness campaign on behalf of FITX. This could explain why the restricted share disclosure forms state that Hamdan's companies were paid in shares for debt. Only in the 2012 disclosure form does it state explicitly that, "money did not go to the company." Possibly, the company was indebted to Oracle Consultants and HH Group for at least $82,500 for the stock promotion campaigns, if not more. Specifically, Hamdan paid $82.5k for the stock promotion. It appears that FITX owed Hamdan money.
Out of the 495 million shares issued to Hamdan, 353.5 million state they were issued for debt, 60 million for "conversion," 72 million for "paid line of credit," and 10 million for "services." It seems possible FITX paid Hamdan in shares for the debt accrued from his penny stock promotional campaign, although this cannot be said with certainty.
We won't know until January 13, 2015 how many shares Mr. Hamdan has sold. The 2013 annual disclosure report is any indication, we can assume a lot.
Hamdan's history with penny stock promotion and his pending SEC lawsuit for allegedly orchestrating a pump and dump makes his involvement with FITX highly suspicious. It cannot be said with certainty that the charges against him are true. It may turn out that he is entirely innocent. My recommendation is to steer clear.
Red Flag #4: 75% Insider Ownership Of Restricted Shares
Currently there are 3,342,417,549 shares outstanding. In 2013, there were roughly are currently 2.537 billion shares issued at .001 a share. This is equivalent to roughly 75.92% of the total current outstanding shares. Restricted shares cannot be traded for a 12-month period after issuance. Below, I have put together a chart marking the dates when those shares were issued.
The chart below shows the names on the 2013 restricted list, the amount and on which dates those shares were issued.

I have highlighted in yellow people or companies who have been issued less than 2%. In grey, the names of people or companies who have been issued 2-3%. In red, the names of people or companies who have been issued more than 3% of the outstanding common stock.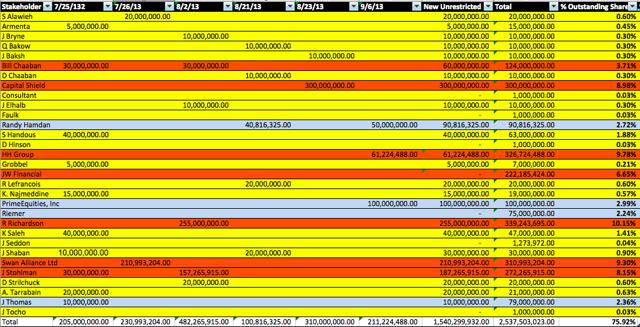 The names in red owned a combined sum of 1.6 billion or 48.8% of the total outstanding common shares. The names in grey own 344 million or 10.3%. The names in yellow own 317 million or 9.5%.
The names: HH Group, RHamdan, and Prime Equities have been linked to penny-stock promotion. Combined they own 517 million or 15% of the company's stock.
If each shareholder is allowed to sell a maximum of 33424175 shares within a 3-month period, I estimate that from March 2014 until September 2015 roughly 785,484,947 shares can be sold without violating rule 144. That is equivalent of 24% of the total common o/s. It is my assumption that from March until June, up to 297,300,400 shares could have been sold. Similarly, it appears that insiders will be able to sell an additional 488,184,457 shares from July through September. If insiders have sold the maximum allowable amount, they would still have an additional 1,752,018,076 shares they could sell. There appears to be nine shareholders who own more than 66,848,350 shares. If each were to sell the maximum allowable amount, they could dump 300,817,575 every three months. It would take over 15 months before these insiders could dump the last of their holdings. As long as these shareholders sell above .001, they will be making a profit.
This is all speculative. What would be useful is if there was a record of a shareholder dumping the maximum allowable amount.
I have been able to find a record of one person from the restricted share list. Who might that be, you ask? None other than CEO of FITX Bill Chaaban.
Red Flag #5: CEO and President Bill Chaaban Dumps Shares of FITX
The support for FITX is nearly comical when you realize that the CEO and mascot of FITX has sold and proposed to sell the maximum allowable amount of shares according to SEC Rule 144.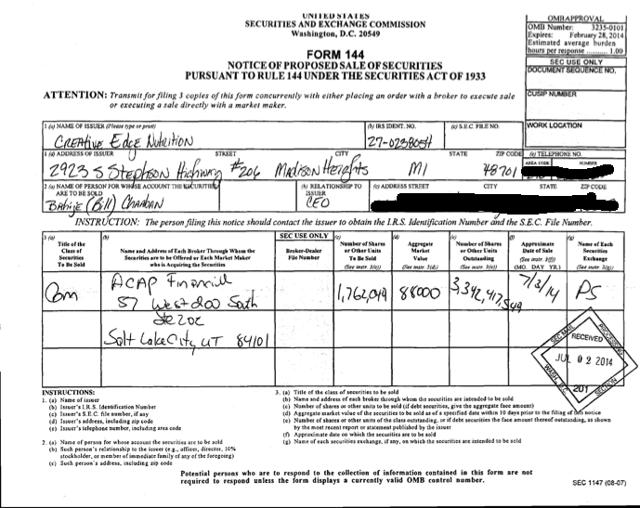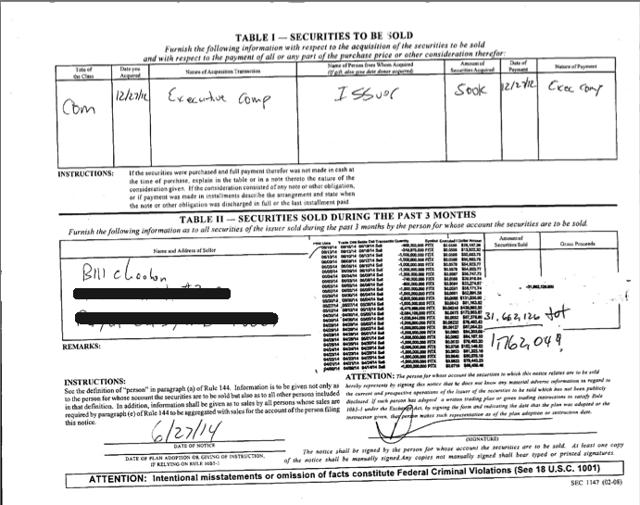 While it is unclear if he sold the remaining 1,762,049 shares, it appears that he has indeed sold 31,662,126 shares for roughly $2.127 million. At .001, this represents a 6619% return on his restricted shares.
Below you can get a better look at the dates that Bill sold shares.
April (click to enlarge)

May (click to enlarge)

June (click to enlarge)

Probably the most egregious aspect of all of this is that while Bill was quietly dumping shares, he would go on Creative Edge's Facebook and urge his shareholders to remain patient.
The context for this exhortation was amid the firestorm caused by Bill's deliberate attempt to humiliate notorious Twitter Mogul, @TheWolfofWeedSt. His response was less than apologetic,
"My actions were out of frustration and passion for how much I believe in integrity and I ask the shareholders of FITX and my colleagues in the industry for patience as I apologize for the unconventional practices that caught the attention of many that we hope to utilize positively to raise awareness on paid bashing, financial conflicts of interest and social media outlet utilization for personal gain via stock manipulation."
Bill Chaaban has yet to supply evidence of this so-called "paid bashing." To this date, Mr. Chaaban has not apologized for his misconduct and possible violation of Michigan Rules of Professional Conduct. Such violations may cost Mr. Chaaban his ability to practice law in the state of Michigan. On top of all of that, Bill has not formally discussed the selling of his shares with shareholders.
Red Flag #6: The Questionable Existence of RXNB Prior to 11/2013
Notwithstanding the Bill Chaaban drama, a press release dated January 31st touts a "licensing agreement" with the illustrious company, RXNB. According to the press release, "RXNB Inc. has a portfolio valuation of $110 million dollars and approximately $27.5 million dollars in annual revenue." The press release describes RXNB as,
"An investment company with holdings in drug formulation, manufacturing, and distribution. It also has a pharmacy division, which dispenses prescription drugs direct to approximately 50,000 patients per month in the USA."
I was able to track down RXNB Inc. The company appears to have been incorporated only 2 months prior to that January 2014 press release.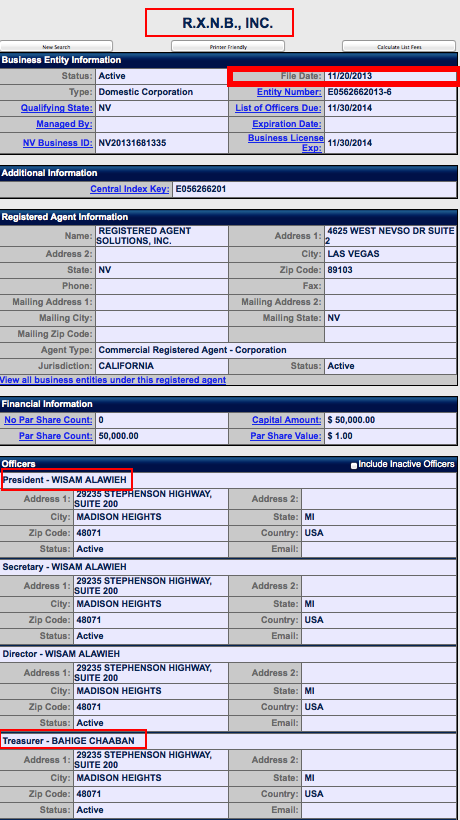 The only two officers of record are treasurer/director, Bahige (Bill) Chaaban, and President/director/secretary Dr. Sam Alawieh. Dr. Alawieh joined the FITX team mid-June, 2013 prior to the FDA Nationwide recall of nearly 135 products produced out his pharmacy Rxtra Solutions.

The recall was voluntary but the FDA report included 13 observations that questioned the company's compliance with FDA regulations,
Procedures designed to prevent microbiological contamination of drug products purporting to be sterile are not established.
Equipment and utensils are not cleaned, maintained, and sanitized at appropriate intervals to prevent contamination that would alter the safety, identity, strength, quality or purity of the drug product.
There are no written procedures for production and process controls designed to assure that the drug products have the identity, strength, quality and purity they purport or are represented to possess.
Each batch of drug product purporting to be sterile and pyrogen-free is not laboratory tested to determine conformance to such requirements.
Equipment used in the manufacture, processing, packing or holding of drug products is not of appropriate design and suitably located to facilitate operations for its intended use.
There is no written testing program designed to assess the stability characteristics o f drug products.
Drug product containers and closures were not sterilized and processed to remove pyrogenic properties to assure that they are suitable for their intended use.
Each lot of components, drug product containers, and closures is not withheld from use until the lot has been sampled, tested, examined, and released by the quality control unit.
Time limits are not established when appropriate for the completion o f each production phase to assure the quality o f the drug product.
The responsibilities and procedures applicable to the quality control are not in writing and fully followed.
Testing and release of drug product for distribution do not include appropriate laboratory determination o f satisfactory conformance to the identity and strength of each active ingredient prior to release.
The establishment of specifications, sampling plans, test procedures, and laboratory control mechanisms including any changes thereto, are not drafted by the appropriate organizational unit and reviewed and approved by the quality control unit.
The batch production and control records are deficient in that they do not include documentation of the accomplishment of each significant step in processing.
Here's a page out of the report.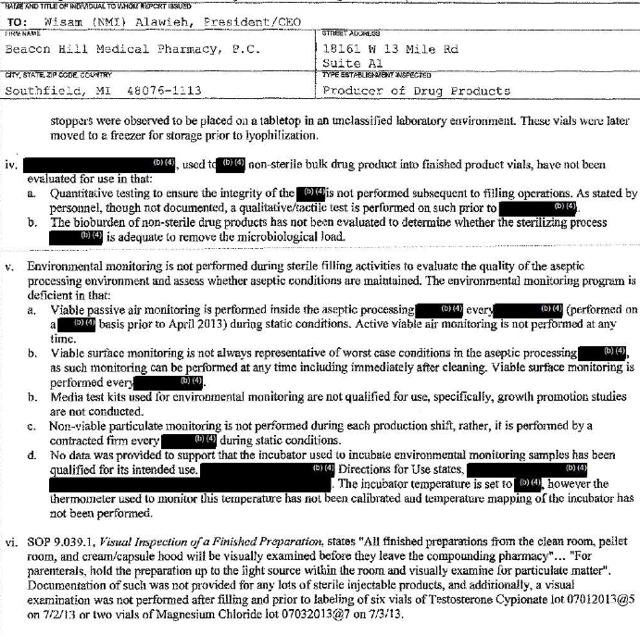 It is my guess that the "pharmacy" wholly owned by RXNB must be Rxtra Solutions. The description seems to match. Based on this report, I would have to disagree with Bill Chaaban's "extreme excitement" of entering "a licensing and technology transfer agreement with RXNB Inc."
Although Rxtra Solutions couldn't pass an FDA inspection, Bill believes that it can "significantly reduc[e] the traditional grow cycle for medical marijuana."
Conclusions
To review:
Out of all the prospective MMPR applicants that are publicly traded, FITX is the most expensive. Its market cap is double that of an actual licensed MMPR. Without an MMPR license, I believe the company is worth no more than $5 million, which would translate to a -97.5% drop in market cap.
The misleading and false press releases are almost innumerable. The company first caught itself in a lie when it stated that it had received required municipal approval in November 2013. It had not. Subsequently, the company knowingly hyped an inaccurate Forbes article dated December 30th, 2013, which stated FITX received an MMPR license. FITX did not make significant efforts to correct the error. Instead, FITX only encouraged the hype.
The company issued nearly 500 million shares to a controversial individual who has been accused by the SEC of orchestrating a pump and dump. In 2012, the individual and his company were issued 78 million shares. These shares were presumably dumped, as they were not reported on the 2013 restricted share list. In 2013, the company issued the same individual an additional 417 million or 12.5% stake in the company. The SEC case against the individual has not been closed as of yet.
According to the 2013 annual disclosure report, 75.92% of the total outstanding common stock has been issued to insiders nearly all at .001 a share. These shares have been coming unlocked this year. From July 25th till September 6th, 2013 an additional 1.5 billion shares will be unlocked.
Evidence shows that in 2014, CEO of FITX, Bill Chaaban, has sold and has proposed to sell the maximum allowable amount from April till June. This is the equivalent of 1% of the total outstanding common stock or 33424175. Bill has not discussed the reasons for selling with his shareholders.
Dr. Sam Alawieh, President/Director/Secretary of RXNB Inc., issued a national recall for all products produced out of his pharmacy Rxtra Solutions last year. The FDA made 13 observations that questioned the company's compliance with mandatory regulations. It was also discovered that RXNB was incorporated only in November of 2013.
FITX still does not have an MMPR license for its subsidiary Cen Biotech. Based on the six red flags discussed, I am not confident that FITX is a wise investment. I would recommend avoiding this company altogether. However, if you feel the need to own shares of the company, I would personally wait till they at least receive the required municipal approval. Without that, you would be investing in a poorly performing nutraceutical company, whose biggest claim to fame is an overpriced barn.
Addendum:
Dates of CEO Bill Bahige Chaaban sales and the amount of sale.
| | | | |
| --- | --- | --- | --- |
| Date of Sale | Amount Sold | Total Shares | Price Per Share |
| 2/10/14 | $95,627 | 1,000,000.00 | 0.0956 |
| 2/11/14 | $90,347 | 1,000,000.00 | 0.0903 |
| 2/11/14 | $188,245 | 2,000,000.00 | 0.0941 |
| 2/11/14 | $95,339 | 1,000,000.00 | 0.0953 |
| 2/11/14 | $95,435 | 1,000,000.00 | 0.0954 |
| 2/12/14 | $84,683 | 1,000,000.00 | 0.0847 |
| 2/12/14 | $14,557 | 174,175.00 | 0.0836 |
| 2/13/14 | $90,443 | 1,000,000.00 | 0.0904 |
| 2/14/14 | $167,893 | 2,000,000.00 | 0.0839 |
| 2/18/14 | $97,001 | 1,000,000.00 | 0.0970 |
| 2/19/14 | $92,939 | 1,000,000.00 | 0.0929 |
| 2/24/14 | $49,094 | 505,000.00 | 0.0972 |
| 3/12/14 | $19,496 | 257,049.00 | 0.0758 |
| 3/16/14 | $89,674 | 1,000,000.00 | 0.0897 |
| 4/9/14 | $68,459 | 1,000,000.00 | 0.0685 |
| 4/21/14 | $78,443 | 1,000,000.00 | 0.0784 |
| 4/22/14 | $80,075 | 1,000,000.00 | 0.0801 |
| 4/23/14 | $81,323 | 1,000,000.00 | 0.0813 |
| 4/24/14 | $152,149 | 2,000,000.00 | 0.0761 |
| 4/25/14 | $79,403 | 1,000,000.00 | 0.0794 |
| 4/28/14 | $84,107 | 1,000,000.00 | 0.0841 |
| 4/28/14 | $84,203 | 1,000,000.00 | 0.0842 |
| 4/29/14 | $87,054 | 1,000,000.00 | 0.0871 |
| 4/29/14 | $78,462 | 1,000,000.00 | 0.0785 |
| 4/30/14 | $87,373 | 1,038,844.00 | 0.0841 |
| 4/30/14 | $173,955 | 2,084,106.00 | 0.0835 |
| 5/12/14 | $430,992 | 5,479,999.00 | 0.0786 |
| 5/27/14 | $61,163 | 1,000,000.00 | 0.0612 |
| 5/30/14 | $131,030 | 2,000,000.00 | 0.0655 |
| 5/30/14 | $62,891 | 1,000,000.00 | 0.0629 |
| 6/2/14 | $56,171 | 1,000,000.00 | 0.0562 |
| 6/3/14 | $39,918 | 740,000.00 | 0.0539 |
| 6/3/14 | $33,272 | 600,000.00 | 0.0555 |
| 6/4/14 | $58,747 | 1,000,000.00 | 0.0587 |
| 6/5/14 | $54,923 | 1,000,000.00 | 0.0549 |
| 6/5/14 | $54,923 | 1,000,000.00 | 0.0549 |
| 6/9/14 | $55,883 | 1,000,000.00 | 0.0559 |
| 6/10/14 | $55,883 | 1,000,000.00 | 0.0559 |
| 6/13/14 | $13,922 | 249,975.00 | 0.0557 |
| 6/16/14 | $26,187 | 469,202.00 | 0.0558 |
| 7/18/14 | $94,554 | 1,762,049.00 | 0.0537 |
| Total | $3,636,238 | 47,360,399.00 | 0.0768 |
The above figures exclude cents. Figure may be slightly higher than recorded.
Disclosure: The author is long MDCN. The author wrote this article themselves, and it expresses their own opinions. The author is not receiving compensation for it (other than from Seeking Alpha). The author has no business relationship with any company whose stock is mentioned in this article.
Editor's Note: This article covers one or more stocks trading at less than $1 per share and/or with less than a $100 million market cap. Please be aware of the risks associated with these stocks.