Global American semiconductor company Qualcomm Inc. (NASDAQ:QCOM) is set to report FQ3 2014 earnings after the market closes on Wednesday, July 23rd. Qualcomm is one of the top producers of smartphone processors. Shares of Qualcomm have benefitted from the proliferation of mobile devices, but some analysts harbor fears that we may be approaching saturation in key markets, which could cause the rate of sales growth to slow. Here's what investors are expecting from Qualcomm on Wednesday.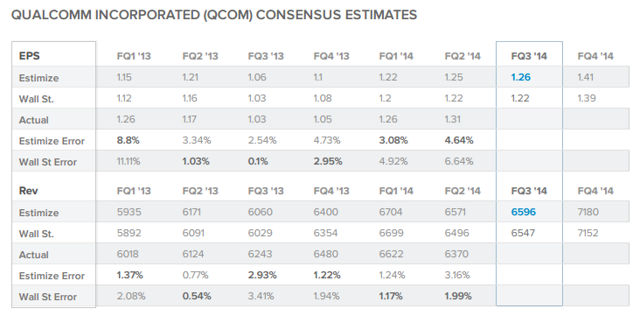 Source: Estimize.com
This quarter 41 contributing analysts on Estimize.com have come to a consensus earnings expectation of $1.26 EPS and $6.596B in revenue compared to a consensus of $1.22 EPS and $6.547B from Wall Street. Over the previous 6 quarters, the consensus from Estimize.com has been more accurate than Wall Street in forecasting Qualcomm's EPS and revenue 3 times each.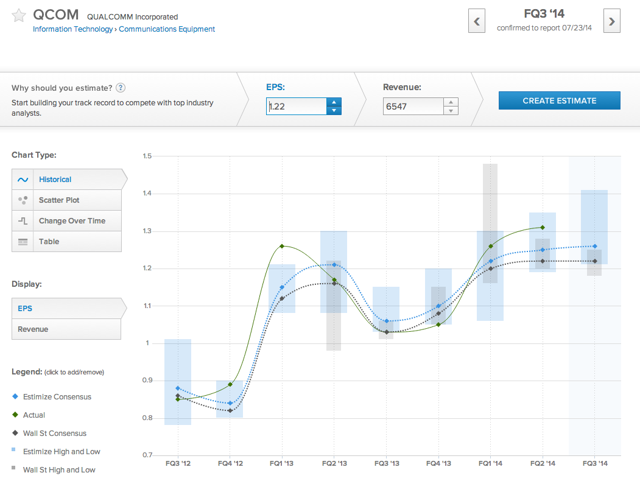 Source: Estimize.com
Last quarter, Qualcomm reported earnings 9c per share ahead of the Street's expectations. While Qualcomm has outperformed expectations on the bottom line over the past 9 months, the wireless telecommunications products and services company has simultaneously managed to miss revenue estimates twice in a row. This quarter, the Estimize community is forecasting a third consecutive beat on the bottom line from Qualcomm.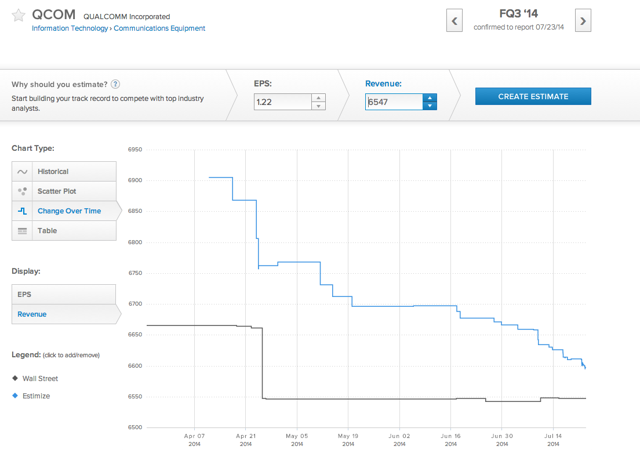 Source: Estimize.com
Despite missing revenue estimates from Wall Street 2 quarters in a row, contributing analysts on Estimize.com expect Qualcomm to bounce back this quarter and beat the Wall Street revenue projection. This period the Estimize community is looking for year over year top line growth of 5.7% which is just slightly higher than the 4% yoy increase reported back in April.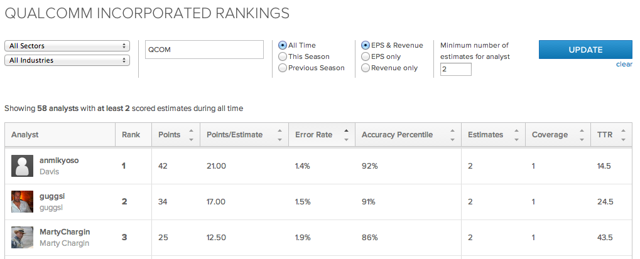 Source: Estimize.com
Estimize.com ranks and allows the sorting of analysts by accuracy, the analyst with the lowest error rate on Qualcomm is anonymous user anmikyoso. Over 2 previously scored estimates on Qualcomm, anmikyoso has averaged an error rate of 1.4%. Estimize is completely open and free for anyone to contribute, and the base of contributing analysts on the platform includes hedge fund analysts, asset managers, independent research shops, non professional investors, and students.
The Estimize consensus was more accurate than the Wall Street consensus 65% of the time last quarter on the coverage of nearly 1000 stocks. A combination of algorithms ensures that the data is not only clean and free from people attempting to game the system, but also weighs past performance and many other factors to gauge future accuracy.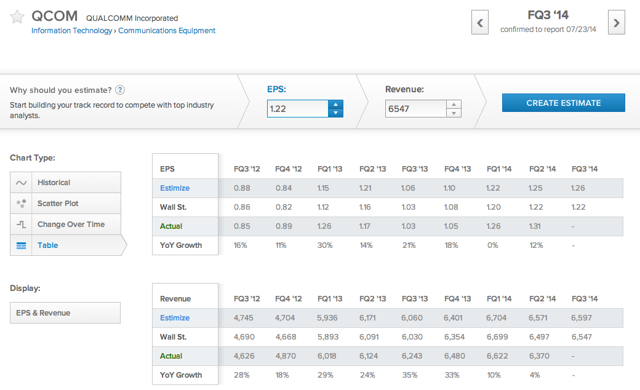 Source: Estimize.com
Contributing analysts on the Estimize.com platform are forecasting that on Wednesday Qualcomm will report earnings 4c (3%) per share ahead of Wall Street's EPS forecast and beat the Street's revenue consensus by $50 million (1%). After seeing iPhone sales rise 14% this quarter during a period with no new model release, who's to say the demand for smartphone chips is waning?
Disclosure: None.