Procter & Gamble (NYSE:PG) is the world's leading consumer company. The company's sales growth slowed down in previous quarters due to economic challenges in the saturated U.S. market and currency headwinds. However, due to its long-term growth initiatives, like consistent investments in product innovations, PG is well-placed among its peers. To fuel its earnings growth, the company is working on its cost saving plan. Moreover, with its solid cash flow base, PG remains committed to sharing its successes with shareholders through an attractive dividend yield of 3.1% and aggressive share buybacks.
In the recent past, limited growth opportunities in mature developed markets adversely affected the company's top line growth. Also, despite growth opportunities in emerging markets, adverse currency movements also added towards slowing down PG's revenue growth. Despite these macroeconomic headwinds, I believe PG's revenue base is backed by its well-thought out growth strategy, primarily focused on differentiating itself from peers through constant innovations. Innovation remains an important stock price driver for the company; the company's constant innovations have placed it in a leading position in the industry.
PG, in collaboration with Whirlpool, recently announced the launch of the SWASH™, another noteworthy addition to the company's range of innovative products. I believe this newly-launched SWASH™ will strengthen the company's product portfolio and will add to its top line growth in future. Also, as the company experienced a weakness in market shares of Pantene and Olay facial cream, it is confident of improving the market shares of these brands, as it recently launched new innovations for these key beauty care brands. I believe going forward, the company's innovations in Olay and Pantene will help it improve sales for the products. The company's CFO, John Moeller said at the Deutsche Bank Global Consumer conference:
"If we were growing our beauty business, at the rate of the category growth, so holding share, we will be adding about a point to our top line growth, our total company basis every quarter. Olay and Pantene today comprised about 80% of that point, so it's not the entirety of the story, but it is clearly where the focus needs to be."
In addition to innovations, improving productivity through constant cost savings is also an important part of the company's long-term growth plan. According to the company's cost saving program initiated a couple of years ago, it is expected to save over $10 billion by the end of 2016. The company has been effectively lowering its expenses through its cost saving plan, which helped save $1.2 billion in FY13. Furthermore, PG expects to save $1.6 billion by the end of FY14. As the company's ongoing cost saving plan is set to expire in 2016, I expect PG to announce another cost saving plan for future years. As the company still has higher selling, general and administration (SG&A) expenses as a percentage of sales as compared to its peers, the company will continue to focus on reducing costs in the coming years. I believe PG might introduce an additional cost saving plan in next week's earnings release on 1st August. The following chart shows that PG has higher SG&A expenses as compared to Colgate Palmolive (NYSE:CL), Clorox Company (NYSE:CLX) and Church & Dwight Co. Inc. (NYSE:CHD).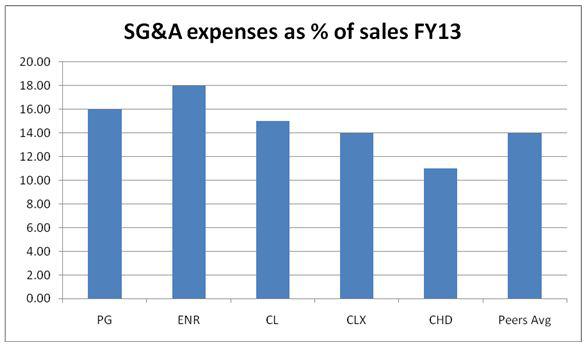 (Source: Companies' Quarterly Earnings Report)
I recommend investors keep track of the earnings release next week, as the company's ongoing cost savings could give a boost to its margins. And if the company announces additional cost savings for the future in the upcoming earnings release, it will portend well for the stock price. The following chart shows the company has registered three earnings beats in the last four quarters.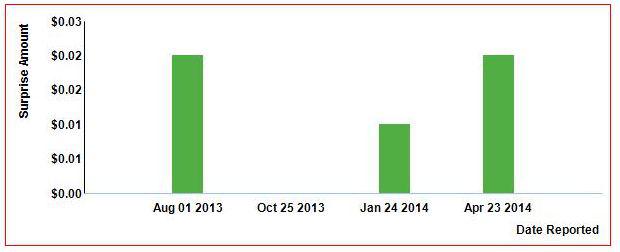 (Source: Nasdaq.com)
Creating Value for Shareholders
PG has a strong history of returning wealth to its shareholders through consistent dividend payments and aggressive share repurchases. Also, the company has plans to spend $6 billion to repurchase shares in FY15. Moreover, the stock offers a solid dividend yield of 3.1%. Recently, the company declared a quarterly dividend of $0.6436, payable on 15th August. Also, the company has a higher dividend yield as compared its peers CL and Kimberly Clark (NYSE:KMB), as shown in the table below.
| | |
| --- | --- |
| Company | Dividend Yield |
| PG | 3.1% |
| KMB | 2.9% |
| CL | 2% |
Source: Morning Star
Dividends offered by the company are safe and backed by its solid cash flows. The chart below shows the free cash flow and dividend comparison for PG for recent years.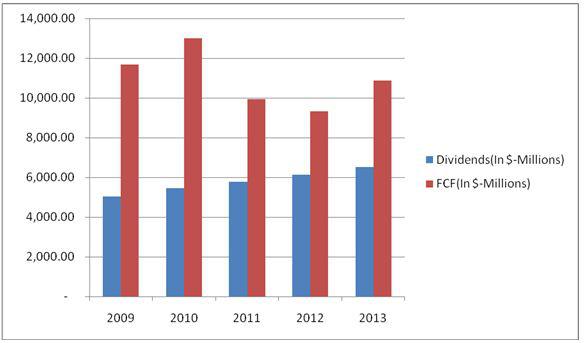 (Source: Company's Annual Reports)
Conclusion
PG is committed to creating brand loyalty and value for investors through innovation, focus on core business, and cost savings. Also, the company has been consistently sharing its successes with shareholders through dividends and share repurchases. I recommend investors to keep track of next week's earnings release, as the company could announce an additional cost saving program for future years, which will portend well for the stock price.
Disclosure: The author has no positions in any stocks mentioned, and no plans to initiate any positions within the next 72 hours. The author wrote this article themselves, and it expresses their own opinions. The author is not receiving compensation for it (other than from Seeking Alpha). The author has no business relationship with any company whose stock is mentioned in this article.