AcelRx Pharmaceuticals (NASDAQ:ACRX) has a PDUFA date on 7/27 for their lead product Zalviso (Sufentanil NanoTab PCA System). The company's Phase 3 clinical studies were excellent, analysts' overwhelmingly rate the stock a buy with an average price target of $17, and Zalviso approval is likely to be announced on this Friday. Despite this positive outlook, the stock price is trading almost 30% below the YTD high of $13.64. Investors who are new to the AcelRx story might be scratching their heads assuming that something must be fundamentally wrong for this stock to be trading at such a discount only a few days before a major catalyst. Fundamentally nothing has changed for AcelRx; however a large short interest, coupled with an uncertain biotech market and misleading information has caused major fluctuations in the stock price. The result of these price swings has benefited short sellers and caused potential investors to remain on the sidelines. In this article I will discuss the circumstances around the recent price drops and demonstrate why investors still have an opportunity to enter a stock that could see a 40% jump or higher by the end of the week. For a more detailed look at Zalviso check out my previous article here.
AcelRx has long been a favorite play for short sellers due to the stock's large intraday swings. In fact as of 6/30, the short interest had grown to a record high of 6.8 million shares which account for approximately 25% of the float. The growing uncertainty in the biotech sector has sweetened the pot making the stock an easy target. However with just a few days to go before the FDA rules on Zalviso, short sellers are showing very few signs of covering their positions. A closer look at recent events and the company's fundamentals should be taken into consideration.
Investors who have followed ACRX have probably seen an article or posting on social media mentioning 3 key executives leaving the company a month or two prior to Zalviso PDUFA. Yes, 3 executives did leave the company but the details surrounding their departures are worth noting. The first of the three departures happened in December of 2013 when Guy Nohra resigned from the board of directors. The news of his departure was a nonevent and the stock price reflected this with a 35% gain over the next 2 weeks. Mr. Nohra was replaced the following day by Richard Afable president and CEO of Covenant Health Network. The second departure was the CFO Jim Welch on March 25th of this year. Mr. Welch left the company to pursue other business opportunities and his resignation was expected by the company given the same day they announced that Timothy Morris was hired as the new CFO. Similar to Mr. Nohra's departure the news was barely noticeable and of little concern to investors. However, when David Chung CCO announced his resignation on June 2nd the first 2 departures were lumped into one very overblown fear tactic that cast a shadow of doubt over the company. Social media posts added to the fear and panic amongst investors by insinuating that Chung must have known something for him to depart the company a few months prior to PDUFA. The story became even more inflated when some popular subscription services began tweeting about multiple key executives leaving within a few months of PDUFA. Losing the chief commercial officer a few months before PDUFA is certainly a valid reason for investors to take notice. However the reason David Chung left the company was about as valid and reasonable as one could ask for. Mr. Chung was offered an opportunity to become the CEO of NeoChord Inc. a startup medical device company. Nevertheless the announcement coupled with a softening and volatile IBB caused the stock to fall into the low $8's. And once again investors who held a short position were rewarded.
Fundamentals always win out in the end and AcelRx is about as fundamentally sound as one could hope for heading into a pivotal catalyst. Below is a brief summary of key fundamentals.
Clinical trials
Zalviso has been tested in three Phase 3 clinical trials with each one achieving the primary endpoint of efficacy, safety and tolerability. One of the studies was head to head comparing Zalviso to the current standard of care IV PCA Morphine. Zalviso was found to be statistically superior to the IV formulation in terms of efficacy. All of the slides below are from AcelRx corporate presentation.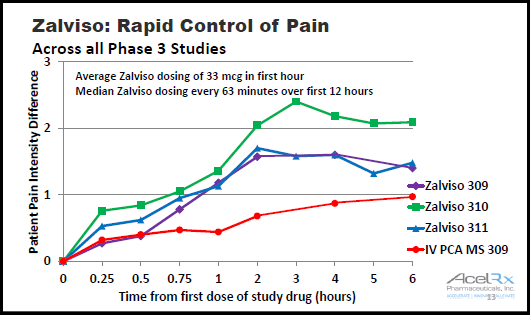 Cost Analysis
AcelRx performed a thorough cost analysis which demonstrated that IV PCA Morphine has an average 2 day cost of $200-$240. This analysis was encouraging considering Zalviso is projected to cost approximately $150 for the same 2 day time period.
Formulary Acceptance
Additional research shows that based solely on the clinical benefit of Zalviso, 42% of hospital formularies were very likely to approve the product and another 42% quite likely. This analysis was performed prior to the company finishing their cost analysis. The additional economic benefit will help to ensure approval on the majority of these formularies.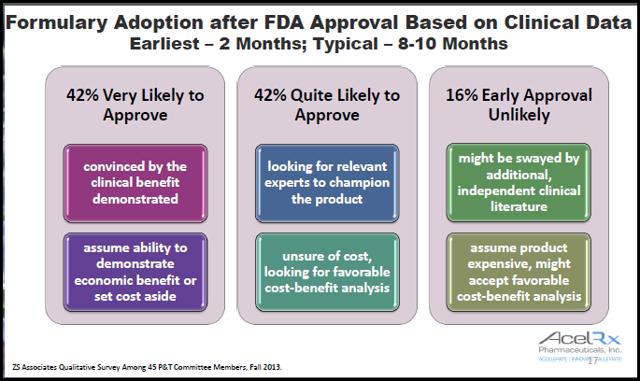 Grunenthal Partnership
On December 16th 2013, AcelRx signed a partnership deal with Grunenthal for the marketing rights to Europe and Australia. AcelRx received 30 million upfront and will receive $220 million on European approval and for hitting certain sales milestones. They will also receive double digit royalties in the teens and twenty's on sales. The company has been actively building their sales force in anticipation of approval. On July 7th of this year, they announced the filing of their MAA for approval. Upon submission, AcelRx received $5 million and will receive $15 million once Zalviso is approved in Europe.
Cash on Hand
As of March 31st, the company had $93 million in cash and on June 16th borrowed the second trench of $10 million from Hercules Technology Growth Capital Inc. (NASDAQ:HTGC). They received an additional $5 million from Grunenthal when they filed their MAA. This puts their cash total over $100 million. The CEO has stated several times the company will not raise additional money unless there are delays on approval.
Additional EX Us Partnerships
The company has been in negotiations with other companies to market Zalviso around the world. After approval in the US, investors should expect more announcements on partnerships.
Pipeline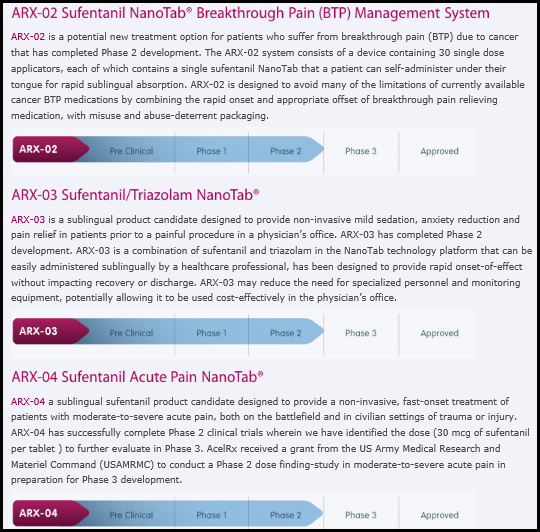 FDA Approval
FDA approval is considered very likely given the strong clinical package that AcelRx submitted with their NDA. Analysts are extremely positive on the chances of approval.
Analysts
Analysts overwhelmingly rate the stock a buy with an avg price target of $17.
Market Potential
Estimates of Zalviso market potential range from $400-600 million. Given the extensive pre-launch research the company has performed demonstrating a clinical benefit, nurse and patient satisfaction and a significant cost advantage over the current standard of care, these estimates may be on the low end.

At a current price of $10 AcelRx is trading at a steep discount. One could make an argument that the Grunenthal deal alone justifies the current market cap of $429 million. Zalviso, if approved could change the way patients are treated for post-operative pain. Zalviso has shown superiority to IV PCA Morphine across the board in terms of efficacy, safety and even cost. If any price multiple is applied to the stock, it's easy to see why some analysts have a 1 year price target exceeding $20. Even thestreet.com's Adam Feurstein is bullish on AcelRx. He recently wrote a positive piece on the company. Anyone who's familiar with Adam knows that he is rarely bullish on small cap biotechs but when he is, it's wise to pay attention. The question remains as to when the 6.8 million shares short will be covered. Whether before or after FDA approval, one thing investors can count on is an epic squeeze. Investors should be aware of the risks associated with FDA approvals. No one can ever be certain which direction the FDA will go.
Disclosure: The author is long ACRX. The author wrote this article themselves, and it expresses their own opinions. The author is not receiving compensation for it (other than from Seeking Alpha). The author has no business relationship with any company whose stock is mentioned in this article.