Noble Energy (NYSE:NBL) put out a robust production report yesterday morning (see report here), announcing record total sales volumes for the third quarter and increasing it full year production guidance.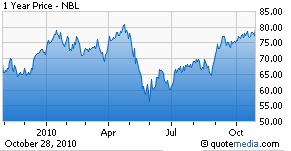 The predominately U.S. focused independent oil and gas producer generated net income of US$232 million, or $1.31 per share in the third quarter on revenues of US$755 million, compared to net income of US$107 million, or 61 cents per share, on revenues of $621 million in Q3 2009.
The net income figure included an unrealized commodity derivative gain, a gain on the disposal of non-core assets, and an asset impairment charge.
Net cash provided by operating activities was $608 million. Organic capital expenditures for the third quarter of 2010 were $619 million, excluding a non-cash accrual for construction progress on the Aseng FPSO (Floating Production Storage Offshore Vessel).
Noble Energy's strong third quarter numbers were driven by record total sales volumes of 230,000 barrels of oil equivalent per day.
Charles Davidson, Chairman and CEO attributed the record production to strong liquid production in Great Britain's North Sea and deepwater Gulf of Mexico, combined with record natural gas volumes in Israel.
Davidson continued:
Operationally, we continued to progress the major project developments in all four of our core areas. We advanced our horizontal Niobrara drilling program in the Central DJ Basin and were able to perform completion activities in the deepwater Gulf of Mexico at Galapagos, despite the offshore Moratorium. In addition, our international teams furthered the development work at Aseng and sanctioned the Tamar project. All of the Company's efforts are maintaining this strong momentum as we move towards a future of sustained production and cash flow growth.
For the third quarter of 2010, the mix of sales volumes was 38 percent global liquids, 33 percent international natural gas, and 29 percent U.S. natural gas.
The Company's global crude oil averaged $73.41 per barrel and natural gas averaged $3.87 per thousand cubic feet.
Disclosure: No position