Monster Worldwide, Inc. (NYSE:MWW), the parent company of Monster.com, reported revenues of $228.8 million, up 6.7% from the year-ago quarter and up 6.5% sequentially, which beat the Zacks Consensus Estimate of $223 million. The reported figure includes a $1.8 million purchase accounting adjustment related to the HotJobs acquisition.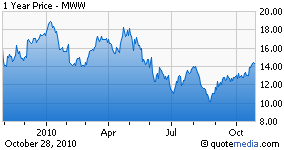 Monster completed the acquisition of HotJobs from Yahoo! Inc. (NASDAQ:YHOO) in August 2010 and the third quarter financial results include approximately five weeks of HotJobs' results.
Excluding the purchase accounting adjustment, Monster generated revenues of $231 million, of which $7.7 million is attributed to HotJobs, up 7.4% year over year.
Careers revenue came in at $196 million. Excluding HotJobs revenue of $7.7 million, Careers revenue was $188 million, up 4% year over year. North America generated revenues of $101 million, up 6% year over year. Careers-International revenue increased 2% to $87 million. Internet Advertising & Fees revenue of $35 million was flat year over year.
Management saw solid improvement across all key geographic regions and all sales channels. Bookings grew 26% year over year to $235 million. Excluding HotJobs, bookings were $229 million, up 23% year over year. Asia was up 36%, positively impacted by 4% of currency translation. North America was up 31%. Europe increased 17% after observing an 11% negative impact from currency.
The business for the company crashed in the second quarter of 2008 and started stabilizing in the third quarter of 2009, which continued through the middle of 2010.
The company's new service offerings -- Power Resume Search (PRS) and Career Ad Network -- continue to gain traction. PRS has already been launched in America and United Kingdom. In 2011, Monster plans to launch PRS in other countries around the world.
Margins: Excluding one-time items, operating margin came in at 2.4%, up from $1.8% in the previous quarter. Careers – North America generated an operating margin of 19%. The International segment generated an operating loss of 6.4% as the company continues to invest in China and developing markets. Management believes that China and the developing markets represent substantial medium-term opportunities for the company, and will produce attractive operating margins as revenue ramps up.
Total headcount in the quarter was 5,792 (including 207 employees from HotJobs), up from $5,546 at the end of the previous quarter. Net loss came in at $5.7 million or 5 cents per share, compared to a net income of $33 million or 27 cents per share in the year-ago quarter. Excluding special items, Monster posted a net income of $2.0 million or 2 cents per share, better than the Zacks Consensus Estimate of break-even earnings.
During the quarter, Monster generated $18.6 million in cash from operations and used $16.2 million in capital expenditures. Monster ended the quarter with cash and equivalents of $166.7 million, down from $297.0 million at the end of the previous quarter. The decline in cash and cash equivalents was primarily attributable to the HotJobs acquisition.
As of September 30, 2010, deferred revenue was $313 million. Excluding the contribution from HotJobs, the deferred revenue balance was $299 million, up from $280 million reported at the end of the previous quarter. Monster expects that deferred revenue will be significantly higher at year-end.
Guidance: Management stated that the macro environment is very uncertain and unemployment continues to be significantly high. Going forward, Monster expects that bookings will grow between 20% and 21% to $966 – $976 million in 2010. Revenues are projected at $893 – $903 million for 2010, down 2% to flat year over year. Including HotJobs, Monster expects revenues between $919 million and $933 million. Loss per share is forecasted between 5 cents and 9 cents.
For the fourth quarter, Monster expects bookings between $310 million and $320 million, up 20%– 24% year over year. Revenues are projected between $240 million and $250 million, up 13% – 17% year over year. The Zacks Consensus Estimate is $247 million. Including HotJobs, Monster expects revenues between $258 million and $272 million. Earnings per share are forecasted in the range 4 cents to 8 cents.
Monster forecasts $30 million of one-time acquisition and integration costs related to HotJobs and it has incurred $18 million of the estimated $30 million and expects to incur the major chunk of these one-time costs in the fourth quarter.
Monster expects bookings and revenue, inclusive of HotJobs, to grow in the range of 20 – 25% in 2011. The company expects to be modestly profitable in the first quarter of 2011.
We remain encouraged by management's efforts to revamp business by constantly introducing innovative products along with cost-reductions. The brighter outlook should lead to upward estimate revisions by analysts covering the stock.
The better-than-expected results and positive guidance have impressed investors. Shares of Monster were up 10.5% in after-hours trading to close at $15.90. In regular trading, the stock gained 0.63% to close at $14.39.