Apple (NASDAQ:AAPL) is preparing to launch big-screen iPhones with 4.7-inch and 5.5-inch displays, commonly known as the iPhone 6. Apple's iPhone 5S and 5C had a display measuring 4-inches diagonally. The company has asked its suppliers to ready between 70 million and 80 million of its two forthcoming big-screen iPhones by December 30, its largest initial production run of iPhones, the Wall Street Journal reported.
Apple is trying to grab Samsung's (OTC:SSNLF) big-screen smartphone market share by luring customers with its big-screen iPhones. Apple's two main iPhone assemblers, Foxconn (OTC:FXCOF) and Pegatron (OTC:PGTRF), plan to start mass production of the 4.7-inch iPhone model next month, and Hon Hai Precision Industry, whose parent is Foxconn, will start producing the 5.5-inch version exclusively in September.
Rationale behind Launching Big-Screen iPhones
With Samsung's smartphone business showing signs of sluggishness, Apple is aiming at capitalizing on this opportunity. Samsung warned earlier this month that its earnings would tumble by as much as 26.5% in the latest quarter -- the third straight quarter of decline -- in part due to a glut of unsold smartphones and growing competition from Chinese manufacturers. Furthermore, Apple's partnership with China Mobile (NYSE:CHL), the world's largest carrier, is expected to create strong iPhone demand in China. In China and other emerging markets, big-screen smartphones are highly demanding as these phones are used as PC alternatives. Smartphones with larger displays are now common in Apple's core mobile market of premium smartphones.
Advantages of Big-Screen Smartphones
There are a few advantages of smartphones with bigger size. First and foremost, larger screen smartphones can be optimized to take the advantage of their screen asset by splitting the screen into two separate parts, and in each part a different application can be viewed. Moreover, since everything appears bigger in a smartphone with bigger display, more info can be viewed on the screen at a time and users can browse websites comfortably without scrolling the page to reveal hidden areas.
Another advantage of big-screen smartphones is extended battery life. Since in a larger device a bigger battery can be fitted, the battery life automatically gets better. The Galaxy Note 3 comes up with a massive 3,200mAh battery, which is definitely an important reason for the popularity of the device. The Galaxy Note 3's 5.7-inch screen uses Samsung's Super AMOLED technology and its full-HD resolution of 1,920 by 1,080 pixels, which gives it a pixel density of 386 ppi. Unlike smaller devices, typing on a bigger device like Galaxy Note 3 is an added advantage, which feels like going from a usual iPhone to an iPad mini. I believe that with the launch of bigger iPhones, Apple would be able to steal a significant market share from Samsung's Galaxy Note devices.
Is Apple a "Buy?"
In one of my Apple articles in late 2012, when Apple started correcting after crossing $700 (pre-split), I warned investors that the stock could succumb under tremendous selling pressure and $500 could also be tested. I also said that if Apple tests $500, that would be a golden opportunity to own the stock. Things panned out almost exactly the way I predicted.
Apple just released its fiscal third quarter results. Apple sold over 35 million iPhones in the quarter, setting a new third quarter record, which is the weakest quarter of the year. The "35 million" figure is encouraging since the company achieved such a figure despite the upcoming launch of larger iPhone 6. Between 2011 and 2012, Apple's revenue climbed almost 90% in absolute terms based on renewed demand of its iPhone and iPad, which started to flatten out since the beginning of 2013. However, I believe that with the launch of big-screen iPhones coupled with the China Mobile partnership, Apple will be able to achieve the kind revenue growth it achieved between 2011 and 2012. The stock is certainly worth looking into at the current price.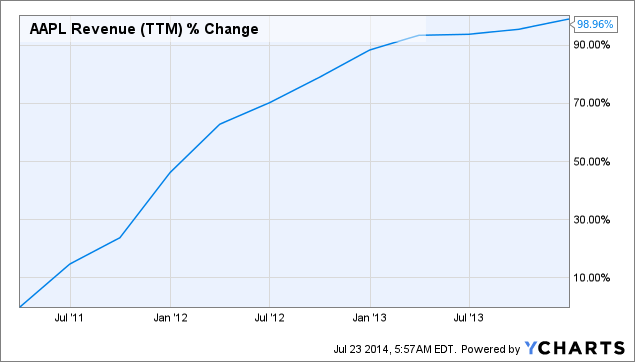 AAPL Revenue (TTM) data by YCharts
Technical Picture
Apple's 50 DMA is currently standing at $91.35 and the lower band of Bollinger Bands almost coincides with the 50 DMA. In the recent short-term correction, the stock bounced back from this level. With RSI just started to head higher, the stock appears to be heading higher in the short-term. The upper band of Bollinger Bands, which currently lies at $97.38, is expected to be breached immediately, and in that case the short-term target for the stock would be $107.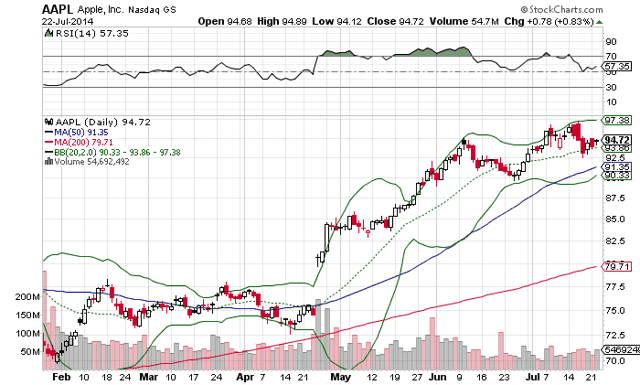 The Bottom Line
Eighteen months ago, smart money started to flow out of Apple because the street anticipated that iPhone sales will flatten out. Now with the street expecting that iPhone sales will grow again based on renewed demand, smart money has started coming back to the counter. I am bullish on the stock in the medium-term.
Disclosure: The author has no positions in any stocks mentioned, and no plans to initiate any positions within the next 72 hours. The author wrote this article themselves, and it expresses their own opinions. The author is not receiving compensation for it (other than from Seeking Alpha). The author has no business relationship with any company whose stock is mentioned in this article.
Editor's Note: This article discusses one or more securities that do not trade on a major U.S. exchange. Please be aware of the risks associated with these stocks.