As the world tries to come out of economic recession, the first sector to witness positive movement has been the Automobile sector and since its linked to related sectors like tire industry, plastics industry and metal processing, all the sub sectors are slowly witnessing a silent revival. As more and more people look at buying automobiles slowly as underlined by Ford's impressive quarter, the tire industry is also set to attain a positive movement from the pits, where it has been for most of last year.

For the tire industry segment, eyes were fixed on the Q3 results of the Goodyear Tire & Rubber Company (NYSE:GT), which reported a fiscal Q3 loss of $0.08 per share. Even as the Revenues rose 13% year-over-year to $4.96 billion, topping consensus estimates of $4.79 billion, the company reported EPS of $0.13 per share while analysts on average expected EPS of $0.10. The decline in profit was primarily attributable to higher raw material costs and increased selling, administrative and general expenses while the company's cost of goods sold rose 17% to $4.12 billion, while selling, administrative and general expenses increased 4% to $640 million.


Tires Supply And Demand: The demand for rubber in tire applications will be hindered by longer tire lives. Drivers now expect longer tread life, and tire companies have responded. However, this means slower growth for replacement tires. Another negative factor is the slowing in the rate of growth in motor vehicle registrations, especially in industrialized nations. But positive signs are evident as well. Commercial vehicles (vans, utility and light trucks) are much in demand in both developed and developing nations; such vehicles require both more and larger tires than passenger cars. There is also strong demand for performance or specialty tires in the USA; such tires not only require more elastomer per unit, but they also have a shorter tread life than normal tires.


Correlation Of Tires And Rubber: In the history and the application of various materials, few have made as large an impact globally as natural and synthetic rubber. The source of the material stretches from plantations in Malaysia and Indonesia to factories on all continents. The making of rubber into tires and non tire goods involves a series of sophisticated manufacturing processes. The finished products are then distributed through thousands of warehouses and dealers in large cities and small villages, practically in every country. Because rubber is used widely in both tires and non-tire applications, its future is tied to the global economy. The growth rate for rubber should outpace those for motor vehicle production and motor vehicle registration in the next ten years. Non-tire applications account for the majority of rubber usage at 52 to 54 % of the total, with little change expected.


An Overview Of Natural Rubber Market: The rubber industry is very sensitive as the price of rubber is constantly changing and any economic decline or rise affects the rubber industry to a large extent. Prices of natural rubber are not uniform, as they vary (although they tend to have a quite high correlation) across types and grades, with variations between RSS and TSR grades (RSS being ribbed smoked sheet and TSR being technically specified rubber in block form). Separate quotations exist for latex concentrates and bulk latex. The major markets include Kuala Lumpur, London, New York, Tokyo, Bangkok, Shanghai and Singapore.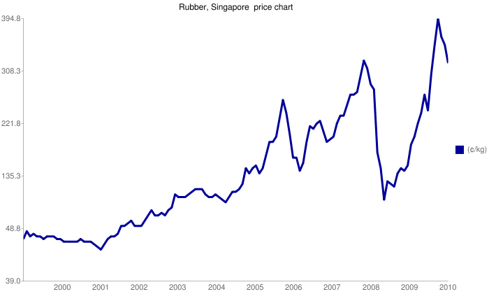 Tire Industry Future Outlook: Tire shipments in 2010 are projected to increase by approximately 3 % or approximately 7 million units to 267 million units, according to the Rubber Manufacturers Association. Total shipments experienced an 8 % drop in 2009 to 259.7 million units. The increase in tire shipments reflects the onset of the economic rebound, an increase in vehicle miles traveled and a slight up tick in auto sales. As a result, this rebound is projected to extend into 2011, reaching approximately 275 million units as the economic recovery gathers momentum.

Replacement Passenger Tires - The sluggish economy, coupled with consumers looking to extract more miles out of their tires, contributed to a decline of 4.3 million units in 2009, representing a 2.2 percent decrease for a total of 189.5 million units. However, this sector is forecast to increase by nearly 1.7 million units in 2010, or approximately 1 percent, as the measured economic recovery gains hold and the number of vehicle miles traveled increases.

Commercial Truck Tires - This market declined to 12.9 million units in 2009, a decrease of nearly 2 million units or 13.2 percent. However, this market will realize an increase of approximately 600,000 units in 2010 as the economy picks up, and more goods are shipped.



Disclosure: No Positions