Introduction
Ctrip.com (NASDAQ:CTRP) is a leading online travel service that allows users to book hotel reservations, airline tickets and tour packages for businesses and individuals in Asia. The tourism industry in China is booming as the growing middle class has more and more disposable income, and Ctrip is at the forefront to profit from this demographic change.
Ahead of the release of their second quarter earnings on the 30th July, I will analyze the company's current circumstances, and discuss the outlook for Ctrip and the Chinese online travel market as a whole.
Business Model
Ctrip offers a wide range of services to customers, from the core business of flights and hotels, to local attraction tickets, an online travel forum, and restaurant reservations. Because of this wide range, it is also able to offer comprehensive vacation packages.

Ctrip controls almost half of the online travel agency market in China, with its biggest individual rival being eLong, at just 9.7%. However, the biggest rival to Ctrip in the whole travel agency industry is the offline travel agency stores and call centers, which traditionally dominated the market. However, the online agencies are taking control of the overall market because offline firms can't compete on price and product range.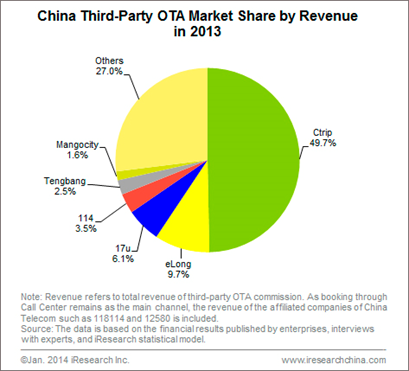 As opposed to most Chinese firms, Ctrip offers multilingual services, particularly English, which makes it much more accessible to international users, and much easier to understand the company's operations for international investors. In fact, as well as English, Ctrip offers Japanese, Korean, German, French, Spanish, Russian and Vietnamese services.

Ctrip operates a travel community website, which is the top website in China's travel review industry. Users submit reviews, travel journals and questions & answers, whilst members are offered exclusive deals.
In the first quarter of the year, Ctrip introduced the long haul bus ticketing reservation service. CEO James Liang commented that this was important because its means that Ctrip can cover the first and last miles of customers' trips, particularly the places where planes don't fly to, and trains are either unavailable or busy. This service will be particularly profitable during the Spring Festival holiday, which is the world's largest human migration. For roughly 40 days before, during the festival and afterwards, the number of passenger journeys is around 2 billion, with 2006 seeing over 2 billion journeys. This also gives Ctrip the opportunity to cross sell. For example, if a plane is delayed, then Ctrip will be able to suggest a train to take the same route.
Ctrip has also further expanded its hotel coverage, and as of the end of the first quarter of 2014, it offered reservation services for around half a million domestic and international hotels in over 190 countries and territories worldwide.
Growth Through Acquisition
Ctrip has an acquisition strategy that focuses on complementary services to add to its core business. CEO James Liang has discussed that the company prefers to invest internally in order to improve its core business.
In April 2014, Ctrip made an investment into online tour package company Tuniu, prior to its IPO. The investment of $15m in Tuniu is relatively small, and because the market is very large, Tuniu and Ctrip are taking a very small percentage of the overall market share. It's mostly taking business away from the traditional in-store travel agencies. Therefore, there isn't much price competition or removal of the competition because they're not directly competing with each other.
Ctrip has become one of the leading players in China's local attraction ticket market. Yet despite the fact that booking volume has grown tenfold year on year, the market is heavily fragmented and the company has a market share of less than 5%. Ctrip recently made a strategic investment of $200m in Tongcheng, which operates the travel booking firm LY.com, making it the second largest shareholder of the firm behind Tongcheng's management. Cooperation with Tongcheng will involve using Tongcheng's wide selection of local attraction tickets to enhance Ctrip users' experience. Likewise, Tongcheng will be able to use Ctrip's wide selection of hotels. Therefore, both firms will gain access to customers that they wouldn't have been able to get before. Tongcheng and Ctrip have larger market share in markets than Ctrip and Tuniu do. Therefore, they are able to collaborate pricing strategies to remove the price competition. Going forward, the two teams will focus on network coverage, customer experience and mobile penetration.
Ctrip holds an 8.4% in NASDAQ listed Home Inns, a minority stake in BTC-Jianguo Hotels and Resorts, as well as a 1.3% stake in NASDAQ listed China Lodging, which is the owner of Hanting Hotels, a budget hotel chain found across China.
Mobile
As with other consumption industries in China, travel agencies are seeing a mass migration to mobile. This will continue to grow, because despite China having 658m smartphone owners, it only accounts for 47% of the population.
Ctrip has been developing its mobile strategy over the past few years, as its active user base accelerates, particularly on mobile. In fact, mobile is already the primary platform for the majority of Ctrip's products and services, and is the core of the company's overall business. In terms of volume, over 70% of Ctrip's total transactions were booked through online and mobile channels in Q1, compared to about 55%-60% a year ago. Total mobile transaction value for Q1 was more than 400% of the same period last year, with the peak daily transaction volume reaching about 150m RMB. Mobile accounts for about half of the total bookings of many of the new businesses such as car rentals and local attraction tickets, and over 50% of the travel reviews were submitted through the mobile channel
Mobile internet, together with PC based internet, account for the majority of Ctrip's business. For the accommodation reservation business, PC based internet contributed about 35% of the total transactions, but mobile surpassed PC by contributing 40% during the previous quarter, with the peak daily level being over 60%. For the transaction ticketing business, PC contributed 40% of total transactions, whilst mobile contributed about 30%. Likewise, Ctrip's corporate travel services maintained a strong growth of 39% in Q1, with migration to online and mobile booking accelerating again. 40% of corporate travel bookings are made through the internet or mobile, compared to 29% a year ago.
By the end of 2014's first quarter, the cumulative number of downloads for the Ctrip app was 120m. To expand its mobile user base, the company plans to only offer certain services on mobile, for example taxis and car rentals, as the user is likely to be on-the-go, and so the service is more relevant.

China's Online Travel Industry
Due to fast economic growth and the emergence of a large middle class, China has become the largest travel market in the Asia-Pacific region since 2012. Naturally, this has attracted many new entrants, with the number of Asian travel start-ups quadrupling from 2011 to 2013, with more than a quarter of these being based in China. This is justified given the growth in China's market. In 2013, GMV reached 220.46bn RMB, driven by air ticket sales, hotel bookings and tour packages. Likewise, revenue from online travel booking reached 11.8bn RMB. However, growth in air ticket sales will slow in the coming years as the market reaches maturity. Yet the industry has seen a rapid rise in online leisure travel, hotel bookings and package tours. In addition, the online car rental and taxi-hailing services will add to the new revenue sources that continue to generate strong growth for the industry.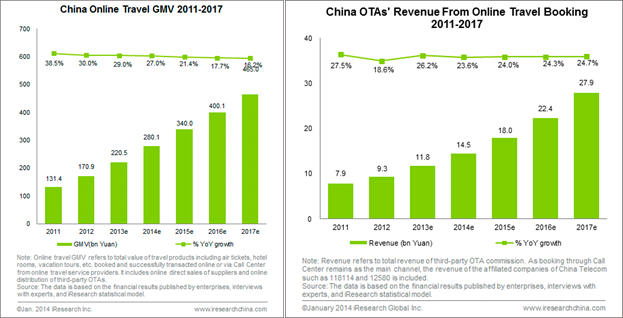 2014 has seen the major online firms competing with each other on new fronts, with Ctrip providing 50% to 100% cash rebates for more than 5,000 entrance tickets purchased on PC and mobile, LY offering cash discounts and free exclusive products, and Lvmama had a '0 Yuan' entrance ticket promotion during the Chinese Spring Festival holiday. These promotions all boosted the entrance ticket market.
Firms are also diversifying their product range away from just the traditional travel ticketing markets such as planes and trains. The bus market was huge in 2013. Chinese citizens made over 30 billion bus trips compared with 2 billion train journeys and over 300 million air trips. Whilst most travelers have access to a train station or an airport, there will always be parts of their journey, which can be catered for by buses. This allows the online travel agencies to provide for every part of a traveler's journey.
From A Valuation Perspective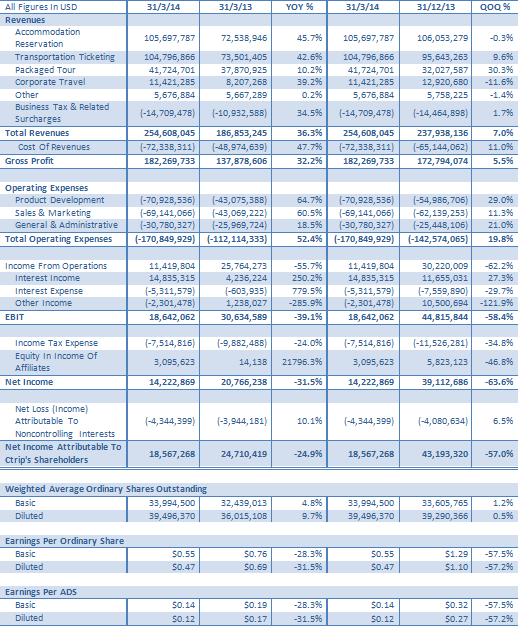 Ctrip saw stronger year on year net revenues in the first quarter of the year, growing 36%, which were primarily driven by strong volume growth. Revenues of $254.6m beat analysts' expectations of $245.3m, whilst EPS of $0.12 was in line with expectations. The company saw strong growth across all major business lines, in terms of revenue and volume.
The accommodation reservation business achieved 45.7% year on year growth in revenues and 67% year on year growth in room nights, which is a record high for the past 10 years, with international hotel rooms growing approximately 80% year on year.
Total volume growth for the newly expanded transportation ticket business reached 71% year on year, with air ticketing contributing the majority of the volume. International air tickets grew over 70% in Q1, accounting for around 15% of total volume. Ctrip is now the number one player in the cruise reservation business in terms of transaction and customer volume. Product development expenses grew due to an increase in personnel related expenses.
Previewing Second Quarter Results
Ctrip will announce its second quarter earnings on 30th July after the market closes. The hotel ASP is stable, but as they expand into lower tier cities, the ASP will fall, because prices are cheaper. However, the aim is to increase market share. Ctrip is guiding Q2 volume up 50-60% year on year, whilst guiding revenue up 30-35%. This is due to the company's focus on lower tier cities with lower ASPs. They also expect similar volume growth for the transportation business. This equates to revenue estimates of between $260.7m and $270.7m. Analyst expectations are for revenues of $269.26m and EPS of $0.11, which equates to a net margin of 6.45%, compared to 5.59% in 2014Q1 and 16.9% in 2013Q2.
Thailand, which is one of the top travel destinations, saw political unrest during Q1, so the market was soft, and also the Malaysian Airlines MH370 disappearance caused a lot of people to cancel their trips. The MH17 incident will also likely cause customers to continue canceling trips on Malaysian Airlines during Q3. To combat the market softness, the company adopts a very aggressive pricing strategy in order to gain market share. Likewise, it's worth considering that customers will have begun to make travel plans for the mid-Autumn festival national holiday, and this will be evident in the firm's bottom line. This is China's most popular time to go traveling because it's a week long national holiday. Ctrip has recently expanded their international flight ticket platform to support complex flight ticket search and allow users to book between different countries. This should boost ticketing revenues and volume from the near term onwards.
Looking Ahead
There are several key themes for the online travel agent industry in 2014 onwards. Firstly, the Tourism Law that was published in 2013 has caused the offline travel agent industry to suffer, and hence drive customers online. Online travel agencies are able to offer transparent pricing and diverse package products, and offline agencies simply can't compete. A trend that has emerged is that online agencies are starting to offer tour packages, which is a market that was previously monopolized by the offline agencies. The importance of this has been seen with the likes of Tuniu being invested in by Ctrip. The expansion into this sector of the industry means that online agencies can now cover every aspect of a traveler's itinerary. Ctrip discussed this in its Q1 conference call, with particular focus on bus tickets. So for example, from leaving their house at the start of the trip, the traveler boards a bus from their town to the nearest station, boards a train to the nearest airport, boards a plane to their destination, check in to a hotel, enter the local attractions, and tour the destination. All of these services can be booked through Ctrip, which means that they can offer complete vacation packages. In fact, Ctrip has invested in two car rental companies YongChe and eHi, as well as investing in their own local tour guide network. In addition, starting from Q1, they equipped each of Ctrip's outbound travel groups with free Wi-Fi hotspots so that customers can keep connected
As I've discussed in previous analysis, Chinese consumers are migrating to mobile at a rapid rate, and the travel industry is no exception. Mobile has already become the core business for Ctrip, and investors will be looking for the company to maintain the user migration growth, and to provide more services via mobile. For example, Ctrip offers restaurant reservation services online, but this could be expanded so much more on mobile. For example, the major restaurant reservation and review app in China is Dianping, which Tencent owns 20% of. Yet because of the success of Ctrip's travel review site, this could be expanded to cover restaurants.
Ctrip has a very large cash reserve, so they want to make the most of it. Their acquisition strategy is focused on companies that offer complementary services and products with Ctrip. As CEO James Liang discussed, firstly, any strengthening to the core business is done through internal investments. If there are good candidates in the market that are willing to work with Ctrip, then they will take a look. Secondly, they look at market leaders. In the past, they have made certain investments in economic chain hotels to strengthen market penetration. Thirdly, geographically, they have previously invested in Hong Kong and Greater China to increase their presence there. In the future, the strategy is always the same. The company has about $1.7bn of cash available to pursue acquisition strategies, and investors should expect to see Ctrip expand both internally and externally.

All in all, Ctrip's key objective for 2014 is to gain market share. Since Q1, they have made significant investments in several key areas, especially in IT and mobile internet, brand building, product promotion, open platform and several new businesses. This will continue in Q2 and beyond. The aim of this is to build higher barriers to entry and to gain market share. The company's intention is to build very extensive online, offline, and mobile platform distribution channels. Offline contributes roughly 30% of total transaction revenues. Mobile accounts for between 30% and 40%.
Yet investors should be aware that seasonality plays an important role in the travel industry. Q3 has better seasonality, so we should expect to see some improvement in the margin, whilst in Q4, there is usually a floor, and so the margin will drift down from Q3. In China, the mid-Autumn festival is a week-long public holiday in which millions of Chinese go traveling. As Ctrip can offer comprehensive vacation packages, the third quarter will be the most important for the company, and will give investors an insight into the effectiveness of recent acquisitions and the development of the company's strategy.
In terms of brand recognition, it's very good in the big cities, and with middle to high-net wealth people. The strategy is now to expand that to lower tier cities. If you look at the Baidu Index, which is a search volume and trend search site, you can see an improving brand record for Ctrip. Roughly one third of customers, on mobile and PC, come to the site directly by typing the URL directly, compared to Baidu contributing around 20-25% of online traffic. This is a sign of very strong brand recognition. Overall, search engines actually only contribute roughly 10% to Ctrip's total traffic. Ctrip also sees a very high customer retention ratio of 80%
Summary
As the market leader in an already large industry that continues to grow at a high rate, Ctrip is in a strong position to continue its development. The coming quarters will see revenue from the Mid-Autumn Festival and Spring Festival on the income statement, and Ctrip should be expected to profit handsomely from travel bookings for these periods. The migration to mobile will also be a prominent theme in upcoming earnings reports, so it will be important to see how Ctrip is reacting to this.
Finally, investors should be aware that as Ctrip continues to move into smaller Chinese cities with cheaper hotels, the average revenue per hotel will drop. However, this is all part of Ctrip's strategy to increase market share across the whole of China and improve brand recognition.
Disclosure: The author has no positions in any stocks mentioned, and no plans to initiate any positions within the next 72 hours. The author wrote this article themselves, and it expresses their own opinions. The author is not receiving compensation for it. The author has no business relationship with any company whose stock is mentioned in this article.