By Sunit Gogia
The mergers and acquisitions wave sweeping through technology-land could get larger before it subsides. The tangible economic benefits of cloud computing are driving IT investments as traditional enterprise data centers are transformed into private clouds. With server and storage virtualization as the core building blocks, private clouds offer large enterprises a step change in the efficiency of their data centers without the perceived risks associated with evolving lower-cost public cloud services.
The IT industry had long expected these investments in private clouds, but Oracle's (NASDAQ:ORCL) aggressive efforts to capture a larger portion of the IT spending has left most of its competitors on the defensive. Oracle's strategy of selling integrated hardware plus software solutions has exposed the software gaps in competitors' portfolios, as can be seen in the graphic below, and is forcing them to revisit their own strategies. Already IBM (NYSE:IBM) has made an acquisition offer for Netezza (NZ) to combat the tremendous market success of Oracle's Exadata appliance, and Hewlett-Packard (NYSE:HPQ) has installed a new CEO and a new chairman, both long on software industry experience. We expect a continuing wave of hardware and software acquisitions as rivals including IBM, HP, Dell (NASDAQ:DELL), Cisco (NASDAQ:CSCO), and EMC (EMC) design competitive responses to Oracle's integrated solutions approach. (Click to enlarge)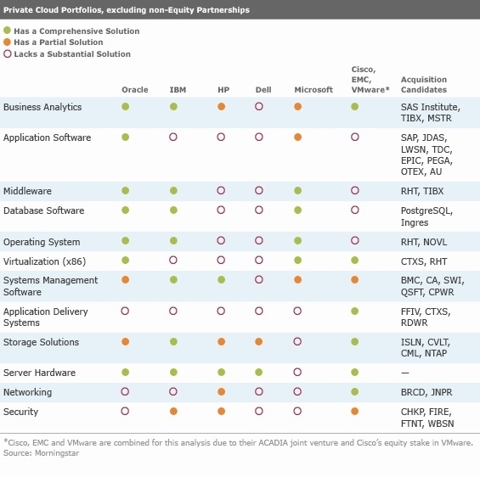 All acquisition candidates are not created equal--the ownership imperative is weak in some areas (such as operating systems), and sheer size and ownership considerations render some targets impractical to acquire (such as SAP (NYSE:SAP) and SAS Institute). Additionally, stocks of some companies such as Isilon (ISLN) have already run up on acquisition rumors and are unlikely to offer significant acquisition premiums over their current market prices. Among potential takeouts, we think Teradata (NYSE:TDC), BMC (NASDAQ:BMC), and Compellent (NYSE:CML) are likely candidates that offer investors the prospect of reasonable acquisition premiums to their current market valuations.
Teradata
An acquisition of Teradata could help HP or Dell compete head to head with Oracle's Exadata or IBM/Netezza's business analytics appliances. The business analytics market is heating up as enterprises try to extract information from mountains of data. For example, Oracle has stated that the pipeline for its Exadata product has grown to $1.5 billion from $1 billion sequentially over the past two quarters. Teradata also has proprietary database technologies that could be useful beyond its data warehousing specialty.
Any vendor attempting to compete with Oracle across the entire computing stack needs a credible database to offer its clients. This can be a tough nut to crack--independent proven database technologies that can reliably support high-end enterprise computing workloads are scarce. A lack of compelling database technology could well become the Achilles' heel of less capable rivals.
IBM's DB2, combined with its pending acquisition of Netezza, will hold that vendor in good stead, and SAP's recent acquisition of Sybase should reduce its dependence on Oracle in the long run. HP could continue to rely on its long-standing partnership with Microsoft to provide solutions based on SQL Server. However, a partnership approach might prove insufficient for Microsoft, HP, Dell, and other data center vendors if Oracle is able to gain Apple-esque innovation advantages from its ownership of database appliance hardware and software. Hardware vendors could look at piggybacking on some open-source database initiatives including PostgreSQL, but expensive acquisitions to gain access to talent could be hard to justify to shareholders.
Teradata would offer an acquisitor proven, purpose-built analytics appliances as well as database expertise that could provide the foundation for new software solutions. Comparable transactions in the business analytics space include Hyperion's acquisition by Oracle for an enterprise value (EV) of 3.4 times trailing 12-month (TTM) sales, SAP's acquisition of Business Objects for 4.5 times EV/TTM sales and IBM's acquisition of Cognos for 4.1 times EV/TTM sales. We estimate that an acquisitor of Teradata would have to pay an EV of at least 4 times TTM sales, or $51 per share.
BMC
BMC would catapult a potential acquisitor into a leadership position in IT infrastructure management tools. We see Dell, Cisco, and EMC as the most likely potential acquisitors for BMC.
Comprehensive enterprise data center solutions require management tools to provision and manage IT assets. HP and IBM already have the most comprehensive management toolsets and are unlikely to venture beyond small acquisitions of niche technologies. Oracle needs to beef up its management tools portfolio, but BMC's mainframe management business (40% of revenues) would be a complete misfit in Oracle's stated strategy.
Dell, Cisco, and EMC need stronger management toolsets to position themselves as one-stop shops for data center infrastructure. Dell has assembled an impressive portfolio of server and storage infrastructure organically and through acquisitions, but a lack of comprehensive infrastructure management tools leaves it competitively disadvantaged relative to HP and IBM. The Cisco/EMC partnership similarly lacks proprietary management tools that extend beyond network and storage systems, and an acquisition of BMC by a competitor would put their ambitions of a larger role in data centers at risk.
An acquisition of BMC would have negative implications for competitor CA (NASDAQ:CA). CA has one of the largest management tools businesses, but we think the firm's desirability to potential acquisitors is compromised by its significant exposure to mainframe management revenues (60% of total revenues). CA has been attempting to diversify its revenue sources, and distributed systems management tools now account for 40% of the firm's revenues. Undoubtedly, CA would face a tougher competitive environment in the distributed systems segment, and we would reassess our current valuation assumptions for the company.
BMC shares are currently trading near our fair value estimate, but an acquisition of the company would likely fetch a higher multiple to current valuation levels. Past acquisitions in the systems management software space have commanded a wide range of multiples: HP acquired Opsware and Mercury Interactive for 13.8 times and 5.3 times EV/TTM sales, respectively, and BMC bought BladeLogic for 10.1 times EV/TTM sales. BMC is much larger compared with these takeouts, and we expect the company to command a lower premium. Applying an EV/TTM sales multiple of about 4.5, we expect BMC to command an acquisition price of about $10.9 billion, or $61 per share.
Compellent
An acquisition of Compellent's midrange storage arrays would enable Dell to capture a larger portion of customer's IT spend while creating value for shareholders by adding much-needed distribution prowess to Compellent's technology.
After the bidding war that Hewlett-Packard and Dell fought over storage firm 3PAR (NYSE:PAR), the entire market is evaluating the few remaining storage entities. Compellent and Isilon are the most likely takeout candidates, and Isilon's stock has already run up on rumors that the company is in acquisition talks with storage giant EMC.
Compellent's midrange storage technology would make it an attractive target for Dell, which is committed to building its data center portfolio and lost the bidding war for 3Par. We think Compellent's storage solutions would be an easy sell into Dell's existing customer base, allowing the firm ample opportunity to create shareholder value even if it has to pay premiums in line with recent acquisitions.
Having said that, we expect the acquisition premium for Compellent to be lower than levels seen in recent transactions because we don't foresee a bidding war breaking out for the company. Large storage specialists EMC and NetApp already possess or are in the process of developing competing products, and server vendors IBM and HP are likely content with their current storage products and internal development efforts. Oracle has expressed an interest in building out its midrange storage portfolio, but we expect the firm to prefer an acquisition of Pillar Data Systems, which is slightly higher-end and happens to be owned by Oracle CEO Larry Ellison.
Recent acquisitions in the storage space have included the acquisition of EqualLogic by Dell for 12.3 times EV/TTM sales, HP's proposed acquisition of 3Par for 11.2 times EV/TTM sales, and EMC's acquisition of Data Domain for 7.1 times EV/TTM sales. We estimate Compellent could command an EV/TTM sales multiple of about 8, translating to about $43 per share.
Disclosure: Morningstar licenses its indexes to certain ETF and ETN providers, including Barclays Global Investors (BGI), First Trust, and ELEMENTS, for use in exchange-traded funds and notes. These ETFs and ETNs are not sponsored, issued, or sold by Morningstar. Morningstar does not make any representation regarding the advisability of investing in ETFs or ETNs that are based on Morningstar indexes.