In terms of disclosure, I'd like to point out right off the bat that I have been bullish on Herbalife (NYSE:HLF) and, until yesterday, owned shares of Herbalife. I have previously written about the nutrition company and the short thesis as well and argued, that I believed regulatory intervention to be a low-probability event.
Yesterday's massive surge in Herbalife's stock price, however, has ultimately led me to take my profits and move on to other, more contrarian investments.
Nonetheless, my Herbalife stock sale was not driven by a change in my attitude towards the nutrition company or by the presentation made by Pershing Square's Bill Ackman. I still think, that the short thesis is largely blown out of proportion and Ackman's presentation yesterday certainly didn't do its part of advancing the short thesis.
I am not going to go into all the details of Ackman's short presentation. Investors taking an interest in Ackman's case certainly can watch the presentation (here) and make up their own mind.
What's the take-away from yesterday's show?
Nothing new really. Ackman pounded on the concept of nutrition clubs and mentioned 'fictitious customers' as being a way for Herbalife to delude investors. However, I am less than convinced about the claim of 'fictitious customers'. Anybody who buys a product counts as a valid customer, whether this is a family member or friend of the Herbalife distributor or an unrelated third party.
Just because you know the person you are selling to, doesn't make the transaction less valid.
The bottom line remains: Ackman failed in delivering anything substantial that would lend credibility to and further his Herbalife short thesis. It certainly didn't deliver a deathblow -- as evidenced by the market's reaction to Ackman's presentation: The stock went through the roof and now quotes even higher than before the announcement of the presentation.
Remember, just a couple of days ago, Ackman's upcoming Herbalife presentation was interpreted to "annihilate Herbalife" and "to be a nail in Herbalife's coffin". Ackman also brought up a comparison to Enron, which faked trading rooms to woo investors. In addition, he branded his presentation as the 'most important presentation of his career'.
Correspondingly, investor expectations shot through the roof and Herbalife's stock decline 11% two days ago as investors prepared themselves for shock waves to be delivered at the much-hyped webcast and live presentation.
However, anybody who pulled up the webcast yesterday, knew fairly quickly that the presentation was not going to be a deathblow. It was not even a 'blow' at all and at least the first twenty minutes must have come across as a major commercial for the nutrition company.
The overriding problem in yesterday's presentation was, that Ackman failed to deliver a game changer right at the beginning of the presentation even though live attendees and webcast listeners were eagerly waiting for the bombshell. Within the first ten minutes it was clear, that nothing substantial was going to be presented and Ackman overwhelmingly disappointed investors with a rehash of old information as well as a presentation of Herbalife's nutrition clubs.
The market quickly discounted Ackman's short presentation and sent the shares higher by about 5-8% during much of the initial speech.
However, the stock marched higher successively and ended the day with a more than 25% gain. This is a substantial vote of distrust of Ackman's short thesis and Herbalife was clearly the big winner yesterday -- especially after the presentation was hyped as being a bombshell.
Ackman also revealed, that he had spend about $50 million on building his short case, which probably wouldn't delight me as an investor too much either. This money could have been invested and earning a solid return elsewhere.
Chart situation
Two days of massive volatility are behind us.
Herbalife's stock has rebounded significantly and the stock now quotes even higher now than before the presentation announcement.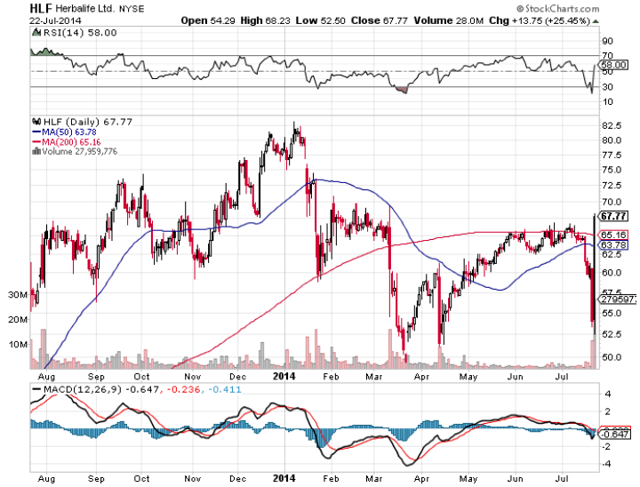 (Source: StockCharts.com)
Conclusion
The short case and the presentation itself were a large disappointment for bears considering that investor expectations were so extremely high. I continue to see regulatory intervention as a low probability event even though many regulatory agencies are investigating Herbalife.
With no new, revealing information presented, Herbalife is likely going to continue to do well in the stock market, especially in the run up to Herbalife's second quarter earnings next week. Long Herbalife.
PS: Icahn probably couldn't stop laughing yesterday.
Disclosure: The author has no positions in any stocks mentioned, and no plans to initiate any positions within the next 72 hours. The author wrote this article themselves, and it expresses their own opinions. The author is not receiving compensation for it (other than from Seeking Alpha). The author has no business relationship with any company whose stock is mentioned in this article.