Wall St. can be an amoral and fickle fiend. As John Hempton quite correctly points out, when there is money to be made morality often takes a back seat. True, there are so called "ethical funds" out there who do not invest in companies that sell tobacco or hooch or pollute the environment. Still, most money is plowed into places that do not apply such restrictions to their portfolios.
Yesterday, Pershing Square blew the lid off Herbalife's (NYSE:HLF) diamond studded Nutrition Club fraud effectively tying the behavior that is occurring in these clubs "in practice" directly to the Webster v. Omnitrition case.
Recall, in Webster v. Omnitirition the plaintiff Robert Ligon had the following to say:
[T]he product sales are driven by enrolling people.   In other words, the people buy exorbitant amounts of products that normally would not be sold in an average market by virtue of the fact that they enroll, get caught up in the process, in the enthusiasm, the words of people like Charlie Ragus, president, by buying exorbitant amounts of products, giving products away and get[ting] involved in their proven plan of success, their marketing plan.   It has nothing to do with the normal supply and demand in this world.   It has to do with getting people enrolled, enrolling people, getting them on the bandwagon and getting them to sell product. - See more here.
I must admit, it has taken me overnight to fully digest the content of yesterday's presentation held in Manhattan. Not surprisingly, tabloid journalism has polluted the media with a material focus on whether or not Mr. Ackman left the AXA centre yesterday with egg on his face or not. While these sorts of headlines may rise to the standard of infotainment they hardly address the central question. "Is Herbalife a massive fraud or not?"
Let's switch back to Club 100.
I've often wondered why there are so many nutrition clubs in Mexico, why they cluster so closely together in places like Queens, NY, why people visit with a frequency level that would rival Starbucks and how low-income people can afford to pay such a large percentage of their daily wage for not one not two, but 3 Herbalife drinks. Really, when was the last time you went to Starbucks and ordered a tea, a shake and an aloe? Wouldn't all that fluid lead to bladder control problems anyway?
Today I have the answer. If nothing else, Herbalife's compliance regime was exposed yesterday for the Swiss cheese that it is. Turning a blind eye to Club 100 is shockingly cynical and downright fraudulent behavior.
So much ink has been spilled on the obvious idea that Herbalife's "official" marketing plan aka its SUPERVISOR program is an obvious pyramid scheme. Little did we all know that nested within this Russian Doll (shout out to Rogier for that metaphor) lies yet another off book enterprise cooked-up by Herbalife's most sinister recruiters. Business Development tools have been exposed thoroughly as a source of revenue for the likes of Doran Andry, Brad Harris, Don Waldron, Shawn Dahl and Anthony Powell at herbalifepyramidscheme.com.
Yesterday, investors learned all about the diamond studded fraud that is operating in Nutrition Clubs the world over.
Let's review: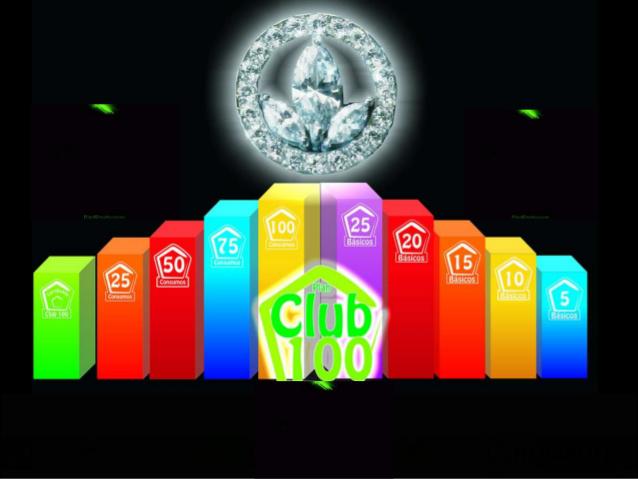 Here is a copy of a Club 100 poster. Note the shiny piece of BLING at the top of the poster. This is what is known as a financial incentive. I will refer to it simply as "The Jackpot". Low income Herbalife recruits are told that they can win this jackpot and earn this chunk of BLING by following the paint by numbers incentive system known as Club 100.
Want to become a President's Team hombre? Trust me. I will show you how to make it happen. Last night I jumped on Youtube to see what I could unearth on the subject of Club 100. Though I do not speak Spanish, I was able to uncover a number of videos talking about Club 100. Here's a clip of a young fellow opening up his club in pursuit of the bling. Trust me when I say you don't need to speak Spanish to understand that this poor young fellow and his friend are delusional.
Q. Why did the chicken cross the road?
A. To get to the other side.
Q. Why did the squirrel cross the road?
A. Because it was stapled to the chicken
Q. Why do low-income (read: Bottom of the Pyramid) people around the world buy so much Formula 1?
A. Because it is stapled to a fraudulent income opportunity.
Put another way, it's about THE BLING folks.
Shockingly, investors and reporters alike suspended their critical faculties yesterday when Pershing Square's presentation failed to reveal Michael Johnson in an orange jumpsuit. The relief rally was quick and certainly painful on a mark to market basis for all shorts. Of course, Herbalife's PR machine claimed victory, too. Such is the way the ad hominem world of attack PR works "in practice".
Still, what investors are left to chew over today and over the next few weeks and months is the following question.
Is Herbalife a legitimate consumer products company that sells an expensive portfolio of diet supplements almost exclusively to low-income consumers around the world or is Herbalife the sponsor of a global pyramid scheme that sells the fictitious dream of a stable livelihood/income opportunity to desperate people trapped at the bottom of the world's socio-economic order?
Put another way:
"Is it about the thing or is it about THE BLING?"
Herbalife's executives have been lying to investors for a long time. Misleading investors is outright securities fraud. Telling investors that Members are simply "discount customers" who sign-up to receive a discount on product that they and their families simply enjoy personally is a lie. It is a bald-faced, open and outright lie.
Yesterday, Mr. Ackman revealed that Nutrition Club members are anything but "discount customers". Rather, these folks are BLING seekers who are victimized by a paint by numbers algorithm that effectively coerces them to buy shakes to advance and graduate from Universidad del Exito.
How brilliant is it too to require a "student" of Club 100 to actually tour and visit and consume at other neighborhood clubs to qualify for advancement towards the BLING?
McDonald's (NYSE:MCD) should pay attention. Here's a link to the mathematical odds of winning McDonald's Millionaire Monopoly game. (Aren't all the best ideas in the world ultimately stolen?). Getting people who like Big Macs to visit more than one restaurant next go around might be a sweet addition to the algorithm.
After all, don't human animals just follow the incentives that are laid out before them? Of course they do.
Herbalife may just be the most sophisticated fraud in the history of the world. The company makes billions and billions of dollars as its distributors (read: recruiters) perpetually peddle an income opportunity, lifestyle, change of economic circumstances. "the solution to these tough economic times" day in and day out to millions of people around the world.
The only trouble is, the income opportunity is 100% total and complete fiction for the vast majority of the participants in the incentive system.
As Dr. Vander Nat from the FTC has illustrated oh so many times in his expert testimony, whether a pyramid scheme is large like Herbalife or small like Burnlounge, in short order, the mathematical algorithm traps the overwhelming majority of the participants in the bottom of the pyramid effectively dooming them to inevitable failure.
For now, nobody seems to care.
Nobody seems to care that the company had a strategy document written with malice and intent to target the world's poor.
Nobody seems to care that these "target customers" are being lied to each and every day.
Nobody seems to care that each and every single day Latinos are drinking shakes and/or scrubbing toilets or touring other NCs simply to get a punch card stamped by their "mentor" to advance just one step closer towards "THE BLING".
Nobody seems to care that of the 2 million people recruited into the scam in the past year that most of these people will fail in very short order.
Nobody seems to care that since 2008 over 6 million people have chased the Herbalife myth and failed.
Why does nobody care?
A. Isn't it always about THE BLING? Aren't Wall St, investors chasing the diamond studs too?
No smoking gun? No problem. 1,000 shares to me...
Isn't amorality wonderful?
If you are Mr. Icahn or Mr. Stiritz or me or any other investor, perhaps the answer is "That's okay". If I can make a buck why wouldn't I try to make it?
Judging by Mr. Ackman's emotional and authentic response during yesterday's presentation, the ongoing victimization of these so-called "affinity groups" is clearly not ok in his books. I, myself, will forgive Mr. Ackman for the presence of an actual conscience when so many other investors yesterday seemed to discard his moral outrage as "not the knock-out punch we were looking for. Sorry."
For me, this begs the question:
What are investors looking for? Profits seems like the obvious answer. How you generate them? Not my concern. Just keep the cashflow flowing. Don't you love capitalism?
The good news is we still have regulators available to tackle the meat and potatoes of the issue. Namely, is Herbalife a massive business opportunity fraud?
Hopefully global regulators are required to rise to a different standard. Why? In a nutshell, so to speak, poor people are getting scammed out there. Their money is being transferred all the way up the chain to Michael Johnson and Des Walsh and Mr. Icahn and it ain't because they are trying to get skinny.
Regulators should also make no mistake about it. Herbalife has absolutely no interest in policing itself. In much the same way as Bear Stearns acquired and syndicated low quality loans to unwitting investors around the world during the mortgage crisis, Herbalife will continue to peddle shake mix to BLING seekers for as long as regulators turn a blind eye. Recruiters like Susan Peterson and John Tartol and Hector Balbas will continue to evangelize the income myth for as long as they are allowed to do so.
Concurrently, Herbalife's management team will continue to misrepresent to the investing public the actual incentive system that is at work in Nutrition Clubs that is causing its so-called "Members" to personally consume such large quantities of shake mix.
My own takeaway from yesterday's presentation by Pershing Square?
For me, it boils down to this simple idea.
Perhaps the village idiot might conclude that Formula 1 is a legitimate consumer product that is purchased solely for its intrinsic value as a weight-loss supplement.
Common sense reveals that consumption is driven by the pursuit of the income opportunity by participants in both the official and unofficial marketing plans/pyramid schemes that proliferate every single day around the world.
The overwhelming majority of participants will fail if they haven't already.
Trouble is, that's fraud.
It may take Wall St. a day or two to digest this truth. Hopefully, moral investors will evaluate their positions too. Most certainly, that is what the FTC, SEC, DOJ and NY AG is doing.
Are there real victims here?
Of course there are.
Why? Turns out diamonds aren't only a girl's best friend.
"Not to worry amigo, the President's Team awaits you.
But first, there's a few shakes I need you to drink..."
The sooner regulators stop this confidence game the better.
Disclosure: The author is short HLF. The author wrote this article themselves, and it expresses their own opinions. The author is not receiving compensation for it (other than from Seeking Alpha). The author has no business relationship with any company whose stock is mentioned in this article.