By David Russell
Technology stocks are pushing to their highest levels in 2-1/2 years, and the bears are looking for a drop.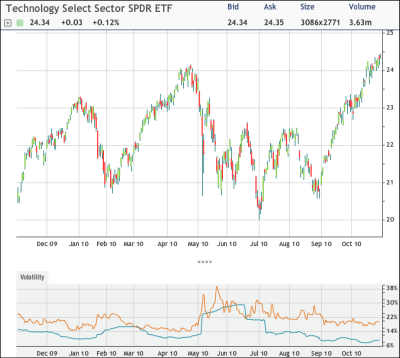 optionMONSTER's Depth Charge tracking system detected the purchase of more than 30,000 December 24 puts on the Technology SPDR (NYSEARCA:XLK) exchange-traded fund for $0.59. The trades accounted for almost all the activity in the fund so far today.
XLK is up 0.12 percent to $24.34 in morning trading and has risen 6 percent in the last month. It touched $24.45 earlier in the session, its highest price since June 2008.
The fund must drop at least 4 percent for the puts to turn a profit. The activity follows a large bearish trade two days ago as investors rolled a put spread out to March.
While overall options volume in the fund is below average so far today, puts account for a bearish 99 percent of the activity.
XLK tracks a broad array of companies in the sector, with Apple (NASDAQ:AAPL), Microsoft (NASDAQ:MSFT), and IBM (NYSE:IBM) among its largest holdings.
Disclosure: No positions