Ocular Therapeutix, Inc. (NASDAQ:OCUL), a biopharmaceutical firm focused on developing and commercializing treatments for diseases of the eye, plans to raise $75.0 million in its upcoming IPO.
The Bedford, Massachusetts-based firm will offer 5.0 million shares at an expected price range of $14-$16 per share. If the IPO can find the midpoint of that range at $15 per share, OCUL will command a market value of $325 million.
OCUL filed on June 20, 2014.
Lead Underwriters: Cowen and Company, LLC; Morgan Stanley & Co. LLC; RBC Capital Markets, LLC
Underwriters: Oppenheimer and Co., Inc.
Summary: Therapeutics for Eye Conditions
OCUL is a biopharmaceutical firm seeking to develop and commercialize therapies for eye conditions through its hydrogel platform technology.
The firm's bioresorbable products are designed to deliver therapeutic agents to the eye over time through a single application, and could potentially replace the necessity for lengthy periods of repeated dosing through eye drops. Single application treatments are more convenient for patients and eliminate the risk of patient non-compliance, a significant problem with eye drop regimens.
OCUL's two lead product candidates are OTX-DP for treatment of post-surgical ocular inflammation and pain, and OTX-TP for treatment of ocular hypertension and glaucoma. Both candidates combine existing FDA-approved therapeutics with OCUL's hydrogel technology to provide sustained delivery. OTX-DP is currently in Phase 3 clinical development, while OTX-TP is in Phase 2 clinical development. The firm also has several other products in the earlier stages of clinical and pre-clinical development.
OCUL also recently launched its initial commercial product, which it calls ReSure Sealant. ReSure Sealant is a hydrogel-based opthalmic sealant used to close incisions on the cornea after cataract surgery.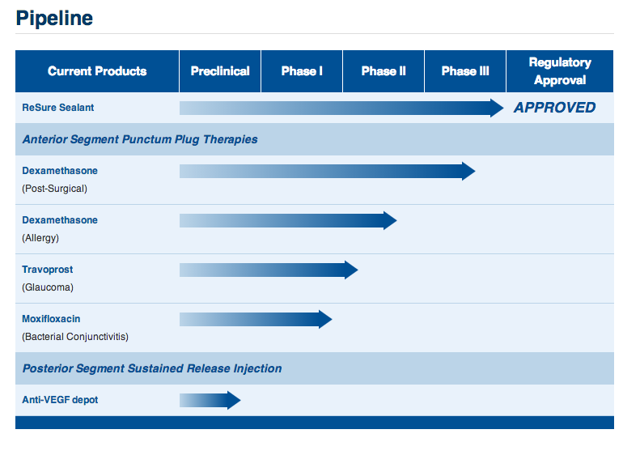 Click to enlarge(http://ocutx.com/pipeline)
Valuation: Minimal Current Revenues Expected
OCUL offers the following figures in its S-1 balance sheet for the three months ended March 31, 2014:
Revenue: $27,000.00
Net Loss: ($7,008,000.00)
Total Assets: $15,080,000.00
Total Liabilities: $4,328,000.00
Stockholders' Equity: ($63,598,000.00)
OCUL's minimal current revenue figures are a result of the firm having only very recently commercialized its first product, and we do not believe that they should be taken as an indication of the firm's potential success moving forward.
Significant Competition
OCUL's products and product candidates may face significant competition from similar products developed by other biopharmaceutical and biotechnical firms as well as from academic institutions and governmental institutions, some of which may have access to greater financial and technical resources than OCUL.
OCUL's products may also face competition from traditional methods of dosing, such as eye drops.
Management Credentials
Amarpreet Sawhney, Ph.D. has served as the President and CEO of OCUL since 2006 and as Chairman since June 2014.
Dr. Sawhney also served as CEO of Augmenix, Inc. from 2008 until April 2014, during which time Augmenix was an affiliate of OCUL. Dr. Sawhney previously founded and served as the President and CEO of Confluent Surgical, Inc., and was a technical founder of Focal, Inc.
Dr. Sawhney received a Ph.D. and M.S. in Chemical Engineering from the University of Texas at Austin and a B.Tech. in Chemical Engineering from the Indian Institute of Technology, Delhi, India.
Conclusion: Given Early Commercial Success, Investors Should Consider Buying In
We are neutral to positive on this IPO.
The possibility for OCUL's products to effectively replace eye drops gives the firm huge future potential in of itself, and the firm has a solid product pipeline to follow up its initial products.
The firm has also managed to commercialize its first product, an encouraging sign.
Though there is risk in investing in a biopharmaceutical firm that is primarily banking on product candidates that have yet to complete trials or receive approval, we believe that OCUL merits investor consideration.
We invite readers wishing to join the discussion on IPOs to click the +FOLLOW button above the title of this article -- and those looking for the latest developments to click +Get real-time alerts.
Note: As a large sample of information sources does not yet exist for OCUL, we have taken much of the information for this article directly from OCUL's S-1 filing.
Disclosure: The author has no positions in any stocks mentioned, but may initiate a long position in OCUL over the next 72 hours. The author wrote this article themselves, and it expresses their own opinions. The author is not receiving compensation for it (other than from Seeking Alpha). The author has no business relationship with any company whose stock is mentioned in this article.